VTMN Packs Review April 2021
VTMN Packs is Canada's first vitamin subscription service providing personalized daily vitamin packs tailored to your body's needs. In just a few clicks, your vitamins are delivered right to your door. They kindly sent us this box for review.
I'm pretty darn excited about today's review because it's a subscription box I've had on my wish list for quite some time. A vitamin subscription box based in Canada! Until now I have been subscribing to a US based vitamin subscription and I am so happy to have found a Canadian alternative. The ONLY Canadian alternative as far as I know.
Subscription Details
Each VTMN Packs order comes with enough packs to cover you for 30 days, so depending on how often you take your supplements (most of theirs are taken twice a day), the total number of packs you get may be between 30 and 60.
Your month's supply of daily dose packs come pre-loaded and coiled in a stylish and convenient dispenser box. Inside each box, you will find a personalized supplement chart that outlines all the important information you need to know about your packs and what's inside. You can choose to get separate morning and evening dispenser boxes or have your morning and evening packs alternate within the same box.
How It Works
1: Take the evidence-based Health Assessment and instantly get a pack tailored to you that's been assessed and approved by the advisory board.
2: Have a regimen you're happy with? Add what you'd like to your own custom pack from the wide variety of high quality vitamins and supplements.
3: Your VTMN Packs order is delivered to your door and comes with enough packs to cover you for 30 days.
Here's a closer look at my very first delivery from VTMN Packs….
Packaging
I decided to have my vitamins separated into morning and evening dispenser boxes. I may decided to change this at a later date but for now I liked the idea of them being separate. I also saw some beautiful "premium dispenser boxes" on their website and hope they are available soon. I will keep you updated.
Booklet
My first box came with a VTMN Packs booklet which is full of great information. It has the following:
note from the founder
a list of what's in the box
how to get started
how to store my vitamins, when to take them and how to take them
a list of all the vitamins available on their website
details about each vitamin
Vitamins
For my first delivery I decided to stick with the vitamins I am currently taking on a regular basis. Some of these were suggested as a result of filling out the evidence-based Health Assessment and some of them I added on my own.
Vegan Omega
B Complex
Prenatal Multi
Vitamin C
Probiotic AF
Iron
For each review I will feature one of the vitamins in my pack, provide you with more details and the reasons as to why I have included it in my delivery.
Prenatal Multi
Vitamin and mineral supplementation, while planning for parenthood and during pregnancy, helps ensure optimal nutrition for the health of the mother and unborn baby. Our prenatal provides therapeutic doses of a variety of supplemental nutrients aimed at preventing and correcting vitamin and mineral deficiencies, and achieving benefits seen beyond typical dietary intake levels.
For the maintenance of good health in both the prental and post partum period
Contains active forms of critical minerals including L-5-MTHF & Methylcobolamin
Daily dose provides 1mg active folic acid, 30mg iron glycinate and 200mg choline
I first discovered vitamin subscriptions when we were trying to get pregnant with baby Steven. I wanted to start taking a prenatal vitamin ASAP and since I am horrible when it comes to actually taking vitamins I figured a monthly delivery would be the way to go. Here we are a couple years later and yes…..I am still taking my prenatal because we are currently trying for baby #2.
If it weren't for a monthly vitamin subscription I definitely wouldn't have been as diligent when it comes to taking my prenatals so for all the new mamas out there and all those TTC, I would HIGHLY recommend a subscription like VTMN Packs.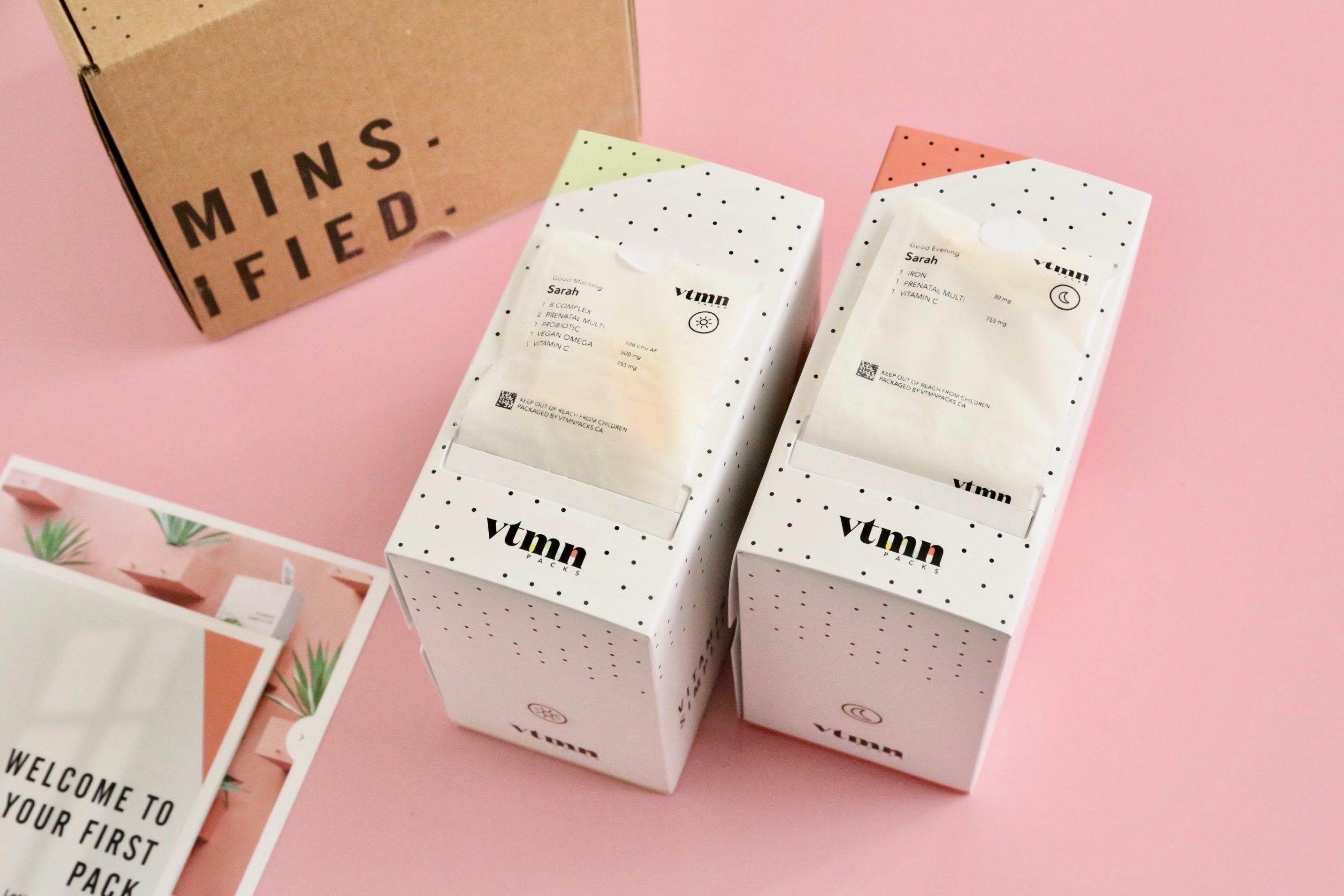 VTMN Packs Review April 2021 – Final Thoughts
My first delivery from VTMN Packs has exceeded my expectations. I'm yet to try the vitamins because I am still finishing my current box, but everything else looks amazing. The packaging is beautiful, the price point is reasonable, the customer service was amazing, the shipping was fast, and I love that they give subscribers the option to receive a separate box for day and night. They also have a really great selection of vitamins on their website and some gorgeous premium dispensers that will be coming soon. So far I am a HUGE fan!
-AYOB Sarah