VTMN Packs Review September 2022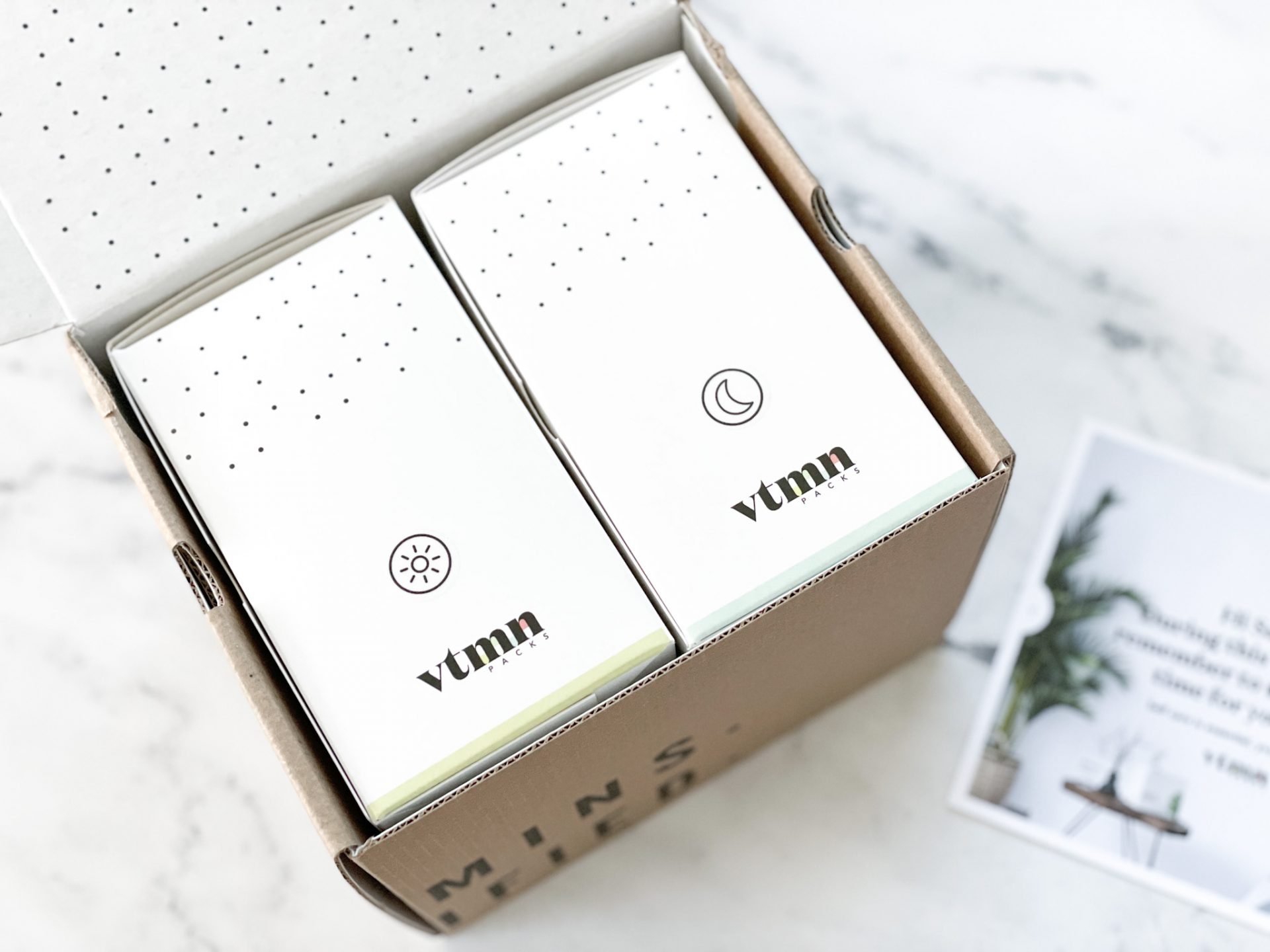 VTMN Packs is Canada's first vitamin subscription service providing personalized daily vitamin packs tailored to your body's needs. In just a few clicks, your vitamins are delivered right to your door. They kindly sent us this box for review.
Subscription Details
Each VTMN Packs order comes with enough packs to cover you for 30 days, so depending on how often you take your supplements (most of theirs are taken twice a day), the total number of packs you get may be between 30 and 60.
Your month's supply of daily dose packs come pre-loaded and coiled in a stylish and convenient dispenser box. Inside each box, you will find a personalized supplement chart that outlines all the important information you need to know about your packs and what's inside. You can choose to get separate morning and evening dispenser boxes or have your morning and evening packs alternate within the same box.
How It Works
1: Take the evidence-based Health Assessment and instantly get a pack tailored to you that's been assessed and approved by the advisory board.
2: Have a regimen you're happy with? Add what you'd like to your own custom pack from the wide variety of high quality vitamins and supplements.
3: Your VTMN Packs order is delivered to your door and comes with enough packs to cover you for 30 days.
Here's a closer look at my current VTMN Packs………
My current pack includes:
MORNING: Rhodiola, Spirulina, Omega 3, Probiotic, Vitamin D
EVENING: Spirulina, Magnesium, Omega 3, L-Theanine, Probiotic
How It's Going
I have have been on this current vitamin routine for a few months now and think it is going great. The packs are extremely convenient and as such, I have been able to stick to my routine better than I did prior to using VTMN Packs. We have been on a few road trips over the last little while and I love that I can just tear off a few packs and tuck them in my toiletry bag.
In addition to that, and I'm not totally sure if it is related, but my skin/complexion has been amazing and I have been sleeping better. Regardless of what it is…..I'm extremely happy and definitely want to continue with the current vitamins I have in my pack.
VTMN Packs Review September 2022 – Final Thoughts
If you take vitamins on a regular basis, or have been thinking about starting a vitamin plan, then I HIGHLY recommend VTMN Packs. I can't say enough about this subscription. The convenience alone is reason enough to subscribe, but in addition to that you will get help assessing your vitamins needs, you will save money, and you will never be without your vitamins. For me personally, my health is extremely important and as a result, a subscription like this is a necessity.
-AYOB Sarah