WagWell Box Review November 2020
WagWell Box is a monthly subscription of organic treats and premium toys for your dog. Each box is filled with great quality products from brands that manufacture with integrity. They kindly sent us this box to review.
Subscription Details
WagWell Box costs $34 per month with free shipping to the USA and $7 shipping to Canada. Each box contains 2 bags of 100% organic treats, 2 all-natural bully sticks, a premium toy, and a fashionable bandana. All treats are made in the USA or Canada.
How it Works
1. Select your dog's size – There are size options for small (up to 20 lbs), medium (between 20-50 lbs), or large dogs (50 lbs or more). WagWell recommends that you size up if your dog is close to the top end of a size category.
2. Choose an extra toy option – You may select to receive an extra toy for an additional $9.
3. Sit back and your box will be shipped to you!
Everything is neatly wrapped in printed paper. I really appreciate little details like this that make the unboxing experience all the more special.
Every WagWell Box contains an information card about all the toys and treats in the box. Pet parents may share a photo of their dog enjoying the box on social media with the hashtag #wagwellbox
Hatchables Drac-U-Lantern
The first item in the box is a Hatchables Inside Out Toy. In keeping with the spooky season theme of this box, we got one of a dracula that flips inside out to become a Jack-O-Lantern. Our dog loves these toys. It can function as both a squish toy and a fetch ball, providing hours of fun. It is also super cute!
Huggle Hounds Pumpkin
The second toy is a pumpkin boy. Huggle Hounds toys are really well made and can withstand a lot of rough play. This toy is just the right size for our dog to carry around with him, and is his new favorite.
Coco Therapy Pure Hearts Banana Brulee Dog Treats
We are so happy to see another bag of these coconut banana flavored treats! We received this treat in previous months and our dog really loved it. As a pet parent, I am happy to see that these treats contain no egg, dairy, gluten, grains, preservatives, or artificial flavors and colors. The ingredients include coconut, buckwheat flour, coconut nectar, coconut oil, banana, and cinnamon. These treats are suitable for both dogs and puppies.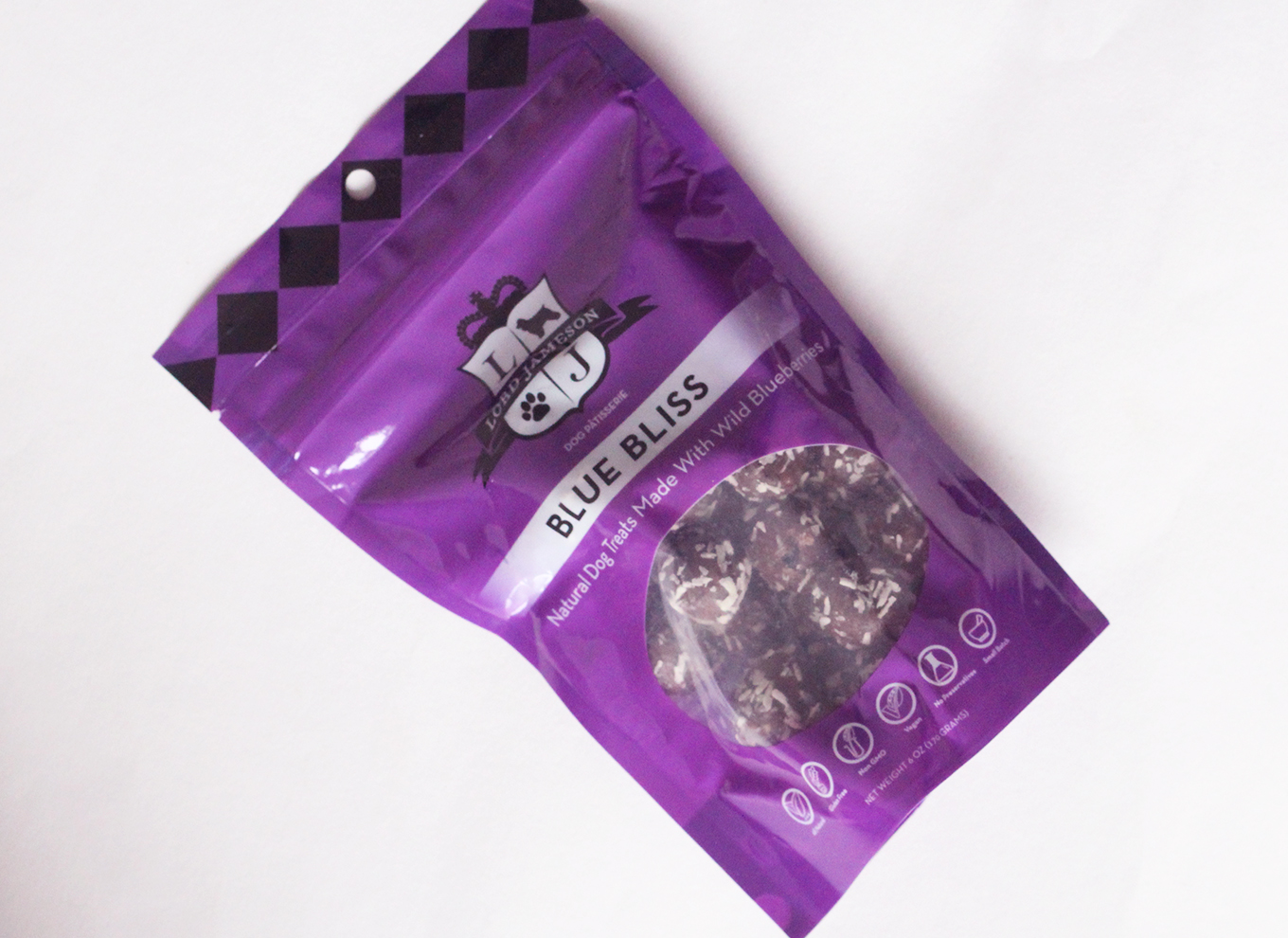 Lord Jameson Blue Bliss Treats
We also received a bag of all natural wild blueberry treats from Lord Jameson. The strawberry flavored treats from this brand was a hit with our dog last month, so we are happy to try another flavor. These small batch treats contain 100% organic ingredients such as oats, brown rice syrup, date paste, peanut butter, wild blueberries, purple carrot juice, and coconut. They are also gluten free and vegan. Lord Jameson donates proceeds from every sale to animal welfare organizations.
Butcher's Block Bones
Every WagWell Box includes two 100% all-natural bully sticks. We give these treats to our dog quite a bit to chew on for some extra teeth cleaning, so we are always happy to get these.
Tail Trends Bandana
How cute is this! This is my favorite bandana so far. I am definitely using this in some cute photos next Halloween. This bandana is of great quality with reinforced stitching around the edges. The bandana comes in two sizes, medium for dogs with neck circumference of 10-15″, and large for dogs with neck circumference of 16-24″. I got the one in large.
WagWell Box Review November 2020 – Final Thoughts
We loved this month's WagWell Box! This is the first box we received that had a theme to it, and it's so cute! I hope they will have a box with a holiday theme to it next. Our dog really enjoyed all the treats as usual and had loved both toys. I love that everything in the box is of great quality and the treats are from good trusted sources. I highly recommend this box for anyone looking for a treat for their fur baby.
Toby & Rocket – http://www.tobyandrocket.com
Explore.
Save.
Enjoy!
Sign up for a free account on A Year of Boxes to receive exclusive offers, be added to our monthly mailing list, and much more! We are always adding features to improve the experience for our users, from their valuable feedback!
Join Today!