Wantable Intimates Review April 2016
Wantable is definitely one of the more established subscription boxes on the market, and probably one of the most diverse. I'm not aware of any other subscription box that offers 5 different boxes – beauty, intimates, accessories, style, and fitness. I've received some pretty great items in my Wantable boxes over the last few years, but I've also received some questionable items…..it's a love/hate relationship.
If you aren't familiar with Wantable it is a monthly subscription box that offers 5 different box options: a beauty box, intimates box, fitness box, style box, and a jewelry/accessory box. This page contains referral and affiliate links.
The Box: Wantable Intimates Box
Cost:  $50 for your first collection, $46/month thereafter
What You Get: Stylists will handpick 3 pieces of intimates apparel that perfectly fit your preferences. Choose comfy loungewear or sultry lingerie. Keep what you love, return what you don't.
Ships to: US, Canada, Australia, UK
Shipping Cost: $6 to Canada, $10 to Australia, $7 to UK
Tax & Duty: $5.01 to Canada
I realized that I've been lazy when it comes to my Wantable subscription. They give you the option of customizing your subscription based on your style preferences. You can let them know what kind of stuff you like and what kind of stuff you don't like. You can also leave them a message with any other style preferences you have for each specific order. I hate filling these kind of things out because it takes time, but maybe if I had done this a few months ago I would be receiving items I love…….maybe?
Lace Thong ($16) – As much as I love a pretty thong, I was kind of hoping to see something different in this month's box. I received a black thong last month and would have liked to see a cute pair of socks instead.
Racerback Tank ($28) – This top is perfect. I live in racerback tanks this time of year, and this one is really soft. I could receive a top like this every month and be happy.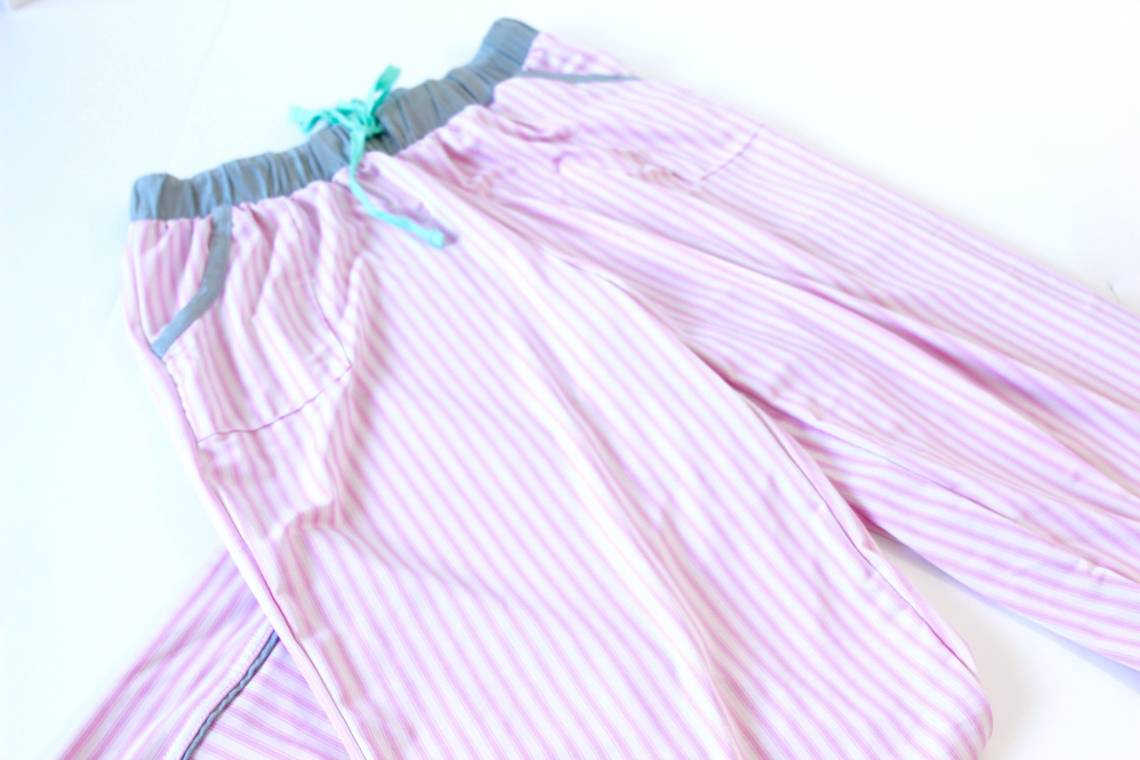 Lounge Pants ($32) – These pants are really pretty, and really soft, but I probably won't be able to wear them. This style of pant always ends up being too short for me. I'm blessed with long legs and a short torso (blessed might not be the best word) so I definitely prefer shorts to pants. Maybe I can put that in my comments? And…..it has a big stain on it which I'm not too happy about. The Wantable customer service team is going to get sick of hearing from me.
Thoughts: This month's Intimates box has a value of $76. I would really like to see a higher value in my Wantable boxes but this kind of seems to be the norm lately. I don't like this month's box as much as last month's, but I'm not going to love them all. I would have preferred to see something a little more appropriate for warmer months, maybe a night-shirt, or a pair of shorts, rather than the lounge pants. I also think I want to update my style profile to indicate that I don't want to receive thongs anymore. I'm still a little torn when it comes to this box. I really wish I loved it more than I do. I'm not sure if I want to keep my subscription.
What do you think of the Wantable Intimates Box?
XOXO