Wantable Review & TRY-ON July 2021
Wantable is a personal styling service that uses a combination of expert stylists and technology to handpick apparel or active gear based on your budget, size and style. They kindly sent us this box for review.
One of the things I love most about Wantable is the fact that they offer 4 different edits. My favorite is definitely the Style Edit, with my second choice being the Active Edit…..which also happens to be the one I will be reviewing for you today. The Active Edit is a great way to motivate yourself and stay on track with your weekly workouts. If you are anything like me, a new workout outfit is a great way to reward yourself for getting in those weekly yoga sessions:)
Subscription Details
CHOOSE YOUR EDIT: Select the Style, Active or Men's Edit and take the quiz. They'll send the perfect pieces based on your unique needs. Your $20 styling fee is applied towards items you buy.
YOUR EDIT ARRIVES: Take five days to try on seven items at home. Pay only for what you love, return/exchange the rest.
FREE RETURNS & PICK-UP: Enjoy free shipping with free drop-off/pick-up for returns. Zero commitment—update your Edits at any time.
Here's a closer look at my July Wantable Active Edit…
Note From Stylist
"This Active Edit is filled with pieces that will keep you cool in and out of the gym all day long. Pop on a fun sneaker to hit the latest workout class or your favorite sandals for a comfy athleisure look for running errands or meeting up with your girlfriends for brunch!
One of my favorite pieces this month is the adorable graphic tank from Spiritual Gangster! Wear it with the BB Dakota Joggers for a cute outfit idea or with some leggings. The Beyond Yoga tank is so "beyond" soft, and the tie front detail adds some extra style!"
Thread & Supply Sweatshirt
This simple grey sweatshirt has my name written all over it. The material is thin, super soft and oh-so-comfy. It hangs nicely, and the length is just right. I will live in this top….I already know it.
THIS IS A KEEPER!
Sketchers Python Legging
I love, love, love the pattern of these trendy python leggings. Super fun but not too over the top. The colors also make them very versatile. I love the way they look with the grey sweatshirt and also kind of like the way they look with the black/white tank below.
THESE ARE KEEPERS!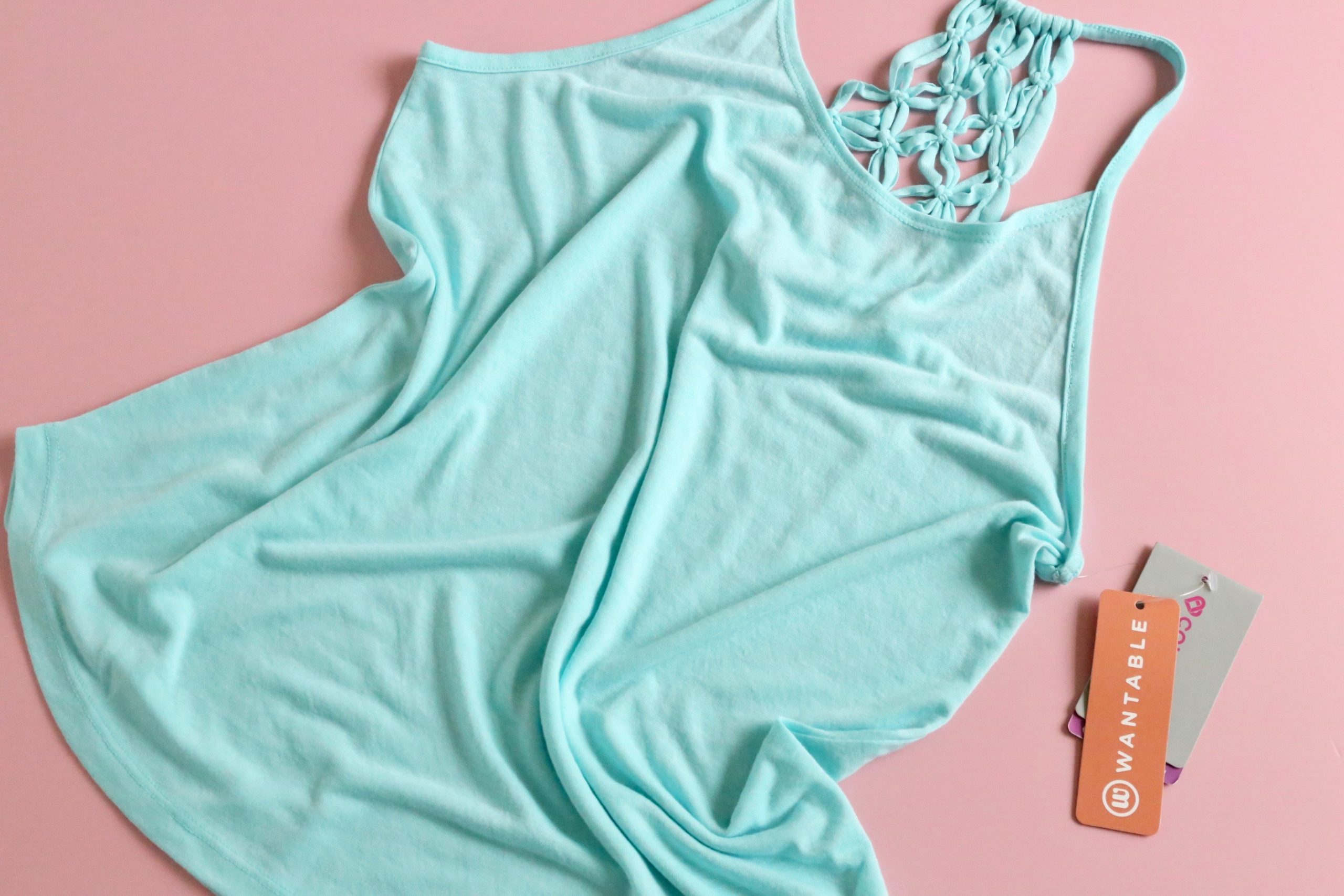 Colosseum Tank
I'm not a huge fan of this robins egg blue color, though I really do like the fit of the tank. It's definitely a nice change from my black, white, grey color preferences, but I'm not sure I would wear it often enough the justify keeping it.
THIS IS A RETURN!
BB Dakota Jogger
These tie dye joggers are pretty darn awesome. The colors are fun, the fit is comfy and they make for the perfect lounge pants. I wouldn't necessarily wear these to run errands, but I will definitely rock them for cozy weekends spent at home.
THESE ARE KEEPERS!
Z Supply Crop Tank
Crop tanks are hit and miss with me. I love the look of them, and find them to be very comfy, but I'm very specific when it comes to length. They need to be long enough to hit the top of my leggings and/or jeans and I think this one just barely makes the cut. I'm a little on the fence with this one but leaning more towards yes than no.
THIS IS A MAYBE!
Spiritual Gangster Tank
How cute is this graphic tank?! I especially love the way it looks with the tie dye pants. It makes for such a cute outfit. Add a pair of white sneakers and you are good to go. I could maybe even add a denim jacket?!
THIS IS A KEEPER!
Beyond Yoga Tank
Lastly we have this super cute black/white tank with knotted detail on the side. The material is amazing – soft, comy and it hangs nicely. This is a tank I can see myself wearing often. It would make for a super cute outfit with black leggings, black Birkenstocks and a denim jacket.
THIS IS A KEEPER!
Wantable Review July 2021 – Final Thoughts
Even though I prefer my Style Edits to the Active Edits I still appreciate a box of athleticwear every now and then. Especially now that I am working out again on a regular basis. It's great motivation, and who doesn't love a new workout outfit?! My July box brought with it a few new faves. The python leggings, Beyond Yoga tank and grey sweatshirt to be exact. I already know I am going to wear those three pieces on repeat. I'm going to take a break from Active Edits for a few months, but I have a feeling I am going to miss them.
-AYOB Sarah