Wantable Review: The Cozy Edit
Wantable is a personal styling service that uses a combination of expert stylists and technology to handpick apparel or active gear based on your budget, size and style. They kindly sent us this box for review.
Did you know that Wantable releases limited edit edits from time to time? Yup, it's true! And if you haven't heard of them prior to this, here's a little tip…..keep your eyed/ears open for them because they are pretty darn awesome. Today I am having a look at The Cozy Edit. I believe it might be sold out, it was VERY popular, but a little birdie told me they are releasing an even better edit very soon…..as if it can get better than a box full of cozy clothes?!
Subscription Details
CHOOSE YOUR EDIT: Select the Style, Active or Men's Edit and take the quiz. They'll send the perfect pieces based on your unique needs. Your $20 styling fee is applied towards items you buy.
YOUR EDIT ARRIVES: Take five days to try on seven items at home. Pay only for what you love, return/exchange the rest.
FREE RETURNS & PICK-UP: Enjoy free shipping with free drop-off/pick-up for returns. Zero commitment—update your Edits at any time.
Here's a closer look at the Wantable Style Edit my stylist put together for my Cozy Edit….
Z Supply Ava Leo Jogger
When I think about cozy clothes, I automatically think about cute joggers. Leggings are great, but joggers are SO much better! Especially when you want to be super comfy. These ones in particular ar perfect for me because I love black and I love animal print. It's safe to say my stylist is getting to know what I like:)
These are a KEEPER!
Free People Back Into It Jogger
I was thrilled to see an item from Free People in my box this time around because it's a brand I truly love. These joggers are so pretty, and unbelievably comfy. I can't get over how soft the material it, and the color…..how can you not love this color?!. These will look great with the black top below or the cream cardigan.
These are a KEEPER!
Elegant Essence Scarf
A "cozy" themed box wouldn't be complete without a plaid blanket scarf, in my personal opinion, and this one is absolutely perfect because it's a color I don't have as of yet. I think this will be a versatile piece as army green goes with so many different colors. I'm also a huge fan of blanket/square scarves as there are so many ways you can wear them.
This is a KEEPER!
Project Social T Longsleeve
This top is something I was hoping to see in my box. A versatile piece that's simple and comfortable. Black goes with everything, it's loose-fitting, has a hood and it's not too long. Basically it's the perfect piece to wear with both of my new joggers thanks to the style and color.
This is a KEEPER!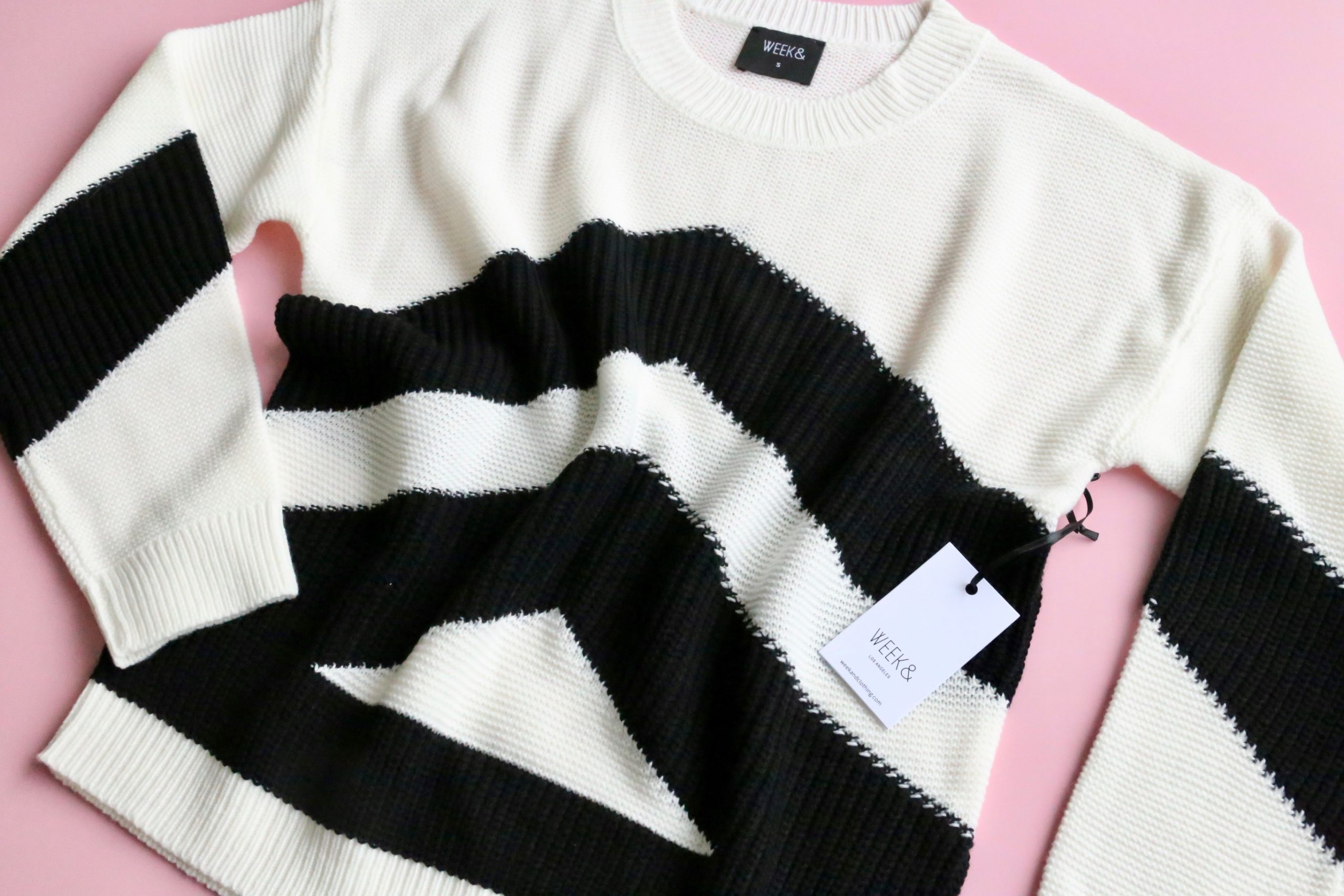 Week And Sweater
Oh my goodness! Just look at this sweater! It's pretty darn great! Not only does it go perfectly with my "cozy" pieces but it will also look great with jeans and sneakers. I love the versatility of this item. Perfect for lounging but also great for coffee dates, running errands, etc….
This is a KEEPER!
Thread & Supply Long Cardigan
Eeeek! My box just keeps getting better and better. I wish you could feel how soft this cardigan is. It's that really lush fuzzy material…hard to explain. I love the length, I love the weight (not too thick) and I love how cute it will look with the mauve joggers and the cream tee from last month's box. But in saying that I feel like it will go with pretty much anything. I will be wearing this a ton.
This is a KEEPER!
Thread & Supply Reversible Jacket
Lastly we have this awesome reversible jacket. I was thrilled to see it in the box as I was hoping for a jacket but I am sad to report it might be too big. I get size small in all my tops as I don't like for things to be too fitted, but when it comes to jackets I've realized I need an x-small. I really want to make it work because I absolutely love it. It would be so good for my daily walks. It might be ok with a sweater underneath, but we will see.
This is possibly a return!
Wantable Review: The Cozy Edit
Oh my goodness….I am in love with my Cozy Edit from Wantable! What a great idea! I love that they are coming out with limited edition themed edits, especially ones like this that are season appropriate. It's the time of year when I like to be comfy and cozy as often as my lifestyle will allow, so all of these pieces are much appreciated. I also love the Cozy Edit specifically because I feel like cozy loungewear is something I put off purchasing, or don't take the time to shop for.
Overall my Wantbale deliveries have been pretty darn amazing. Each collection has only included one item that was a return and I've ended up keeping everything else. That's pretty good odds if you ask me……or a pretty good stylist:)
-AYOB Sarah