Wantable Review & TRY-ON: Patio Perfect Edit
Wantable is a personal styling service that uses a combination of expert stylists and technology to handpick apparel or active gear based on your budget, size and style. They kindly sent us this box for review.
I have been reviewing Wantable for a number of months now and one thing is for sure, I absolutely LOVE this fashion subscription box. I especially love the themed edits and that's what we are looking at today. They usually release a few each month, I would say 3-5, and I was lucky enough to get my hands on one of their more recent edits – The Patio Perfect Edit.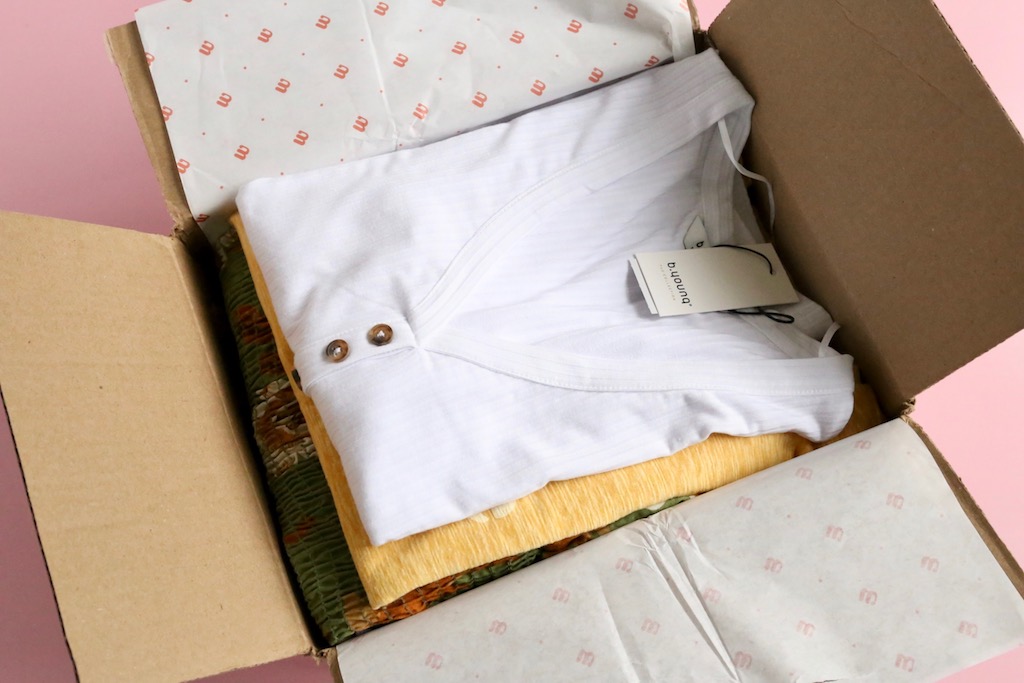 Subscription Details
CHOOSE YOUR EDIT: Select the Style, Active or Men's Edit and take the quiz. They'll send the perfect pieces based on your unique needs. Your $20 styling fee is applied towards items you buy.
YOUR EDIT ARRIVES: Take five days to try on seven items at home. Pay only for what you love, return/exchange the rest.
FREE RETURNS & PICK-UP: Enjoy free shipping with free drop-off/pick-up for returns. Zero commitment—update your Edits at any time.
Here's a closer look at my Patio Perfect Wantable Style Edit…
Ribbed Knit Midi Skirt
I'm really in to midi skirts right now so I was happy to see this in the box. The color is neutral and will go with everything. I picture this with a band tee and denim jacket. It's perfect for Summer but can also transition into Fall.
THIS IS A KEEPER!
Heron Kimono in Brown Tie Dye
I've actual been thinking about getting a kimono now that the warm months are here. They are great as a beach cover but also look super with with jeans shorts and a tank. This one is soft, flowy and oh-so-pretty.
THIS IS A KEEPER!
Linden Dress in Sage
How adorable is this dress?! I actually saw it on one of their marketing images and fell in love with it immediately. It's extremely lightweight and it's super fun. It's unlike anything I currently have in my closet. And while I might not be able to pull it off with a pair of sneakers (like I would prefer) it will still look cute with a simple pair of sandals and I am more than ok with that.
THIS IS A KEEPER!
Bytoella SS Jersey Top
I love, love, love this top! I actually kind of want it in a couple more colors, that's how much I like it. The crop fit is exactly what my closet is in need of, and I love the button detail.
THIS IS A KEEPER!
Be the Sunshine Tee
I am always happy to receive graphic tees as I wear them on a regular basis. This one is fun and bright and Summery. It's an easy piece to throw on with any of your favorite denim.
THIS IS A KEEPER!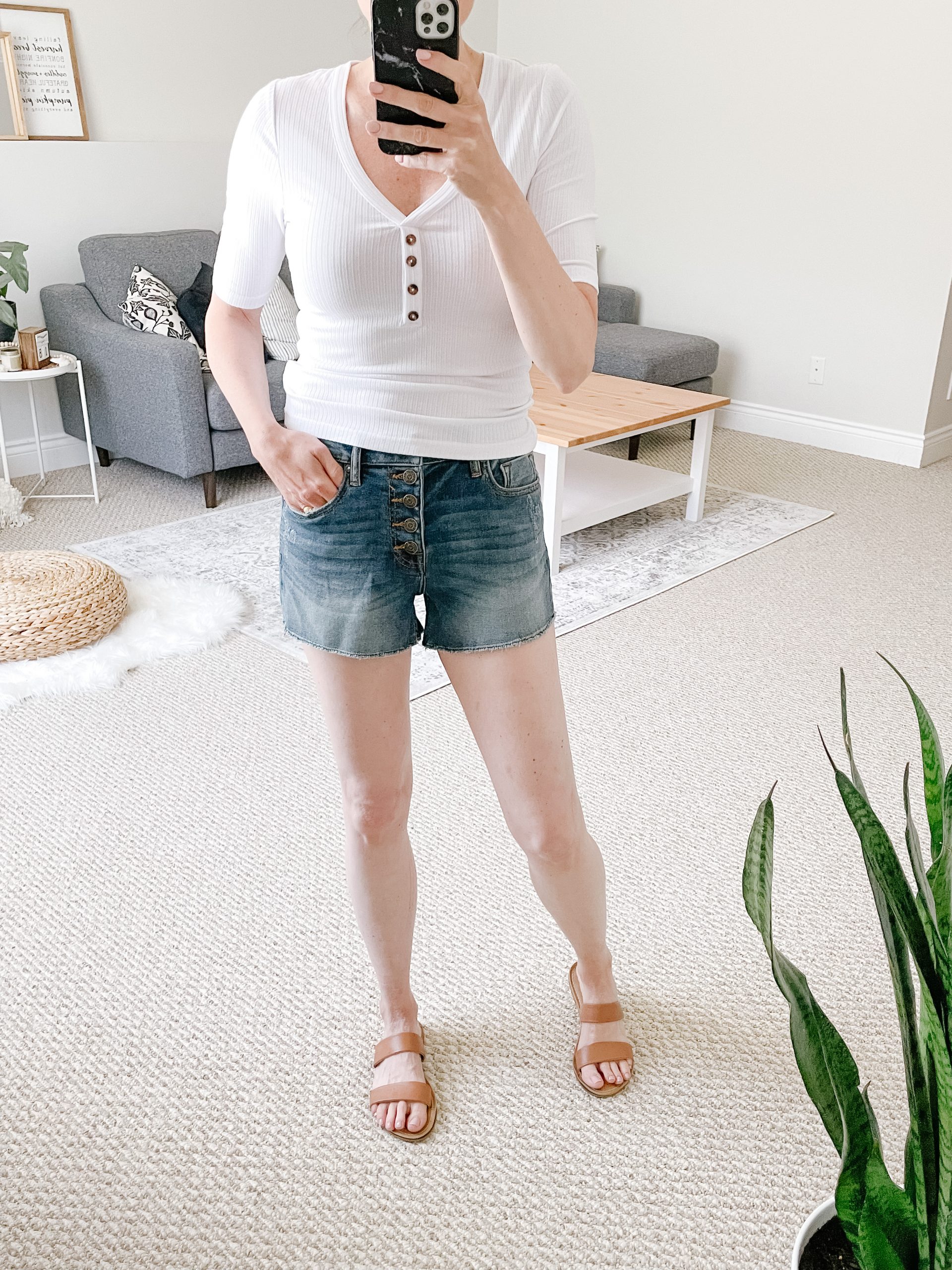 Ace High Rise Short
At first glance I was a little worried these shorts would be too short, but I am happy to report that they fit me like a glove. They have the perfect amount of stretch, and the rise is flattering. They look super cute with the white top, the kimono or the sunshine tee.
THESE ARE KEEPERS!
Luka Short in Navy
These shorts are the only item in the box I'm not loving. I like the look of them but they are a tad big and I'm just not sure I can pull them off. But…..with that being said, I not going to write them off just yet. I am going to play around with them and try styling them in different ways because if there's one thing I have learnt from my Wantable boxes, it's that you never know until you try it.
THESE ARE A MAYBE!
Wantable Review – Final Thoughts
My Wantable Patio Perfect Edit is super fun and has me excited for Summer days and patio dates. Overall I would say the pieces are pretty darn perfect for the warm months ahead, and they fit my style preferences while still getting me a little out of my comfort zone. Take the dress for example, it's definitely not something I would have picked out on my own but now that I have it in front of me I really love it. That's the great thing about having your own personal stylist, they get you out of your box, so to say, and open your eyes to new styles. Overall this month's Wantable box gets a big ol' A+!
-AYOB Sarah