We Craft Box Review January 2020
We Craft Box provides you every month with 3 to 4 crafts for you to do with your kids and a story that matches the theme. There is always a cute monthly theme and you get all the materials and instructions to do the craft. Of course, if your kids feel creative, why not let them go and enjoy the stuff to make their personal creation? No obligations here, just fun!
Crafting with your kids is the fun part, but if you are like me, finding new ideas, materials and time to do so is not the best part. I want to spend time with my kids and have fun but struggle to find the time to prepare all the items and just wish someone did it for me. Well, in We Craft Box, I found exactly what I needed.
If you want to try it out, you can buy a box with the theme of your choice for $29.99 + shipping or buy a subscription. Here are your We Craft Box options:
a month to month subscription ($29.99/month)
3 months prepaid ($84.99)
6 months prepaid ($159.99)
1 year prepaid ($299.99)
*Prices are in USD. Shipping is free in the USA and $5 for Canada.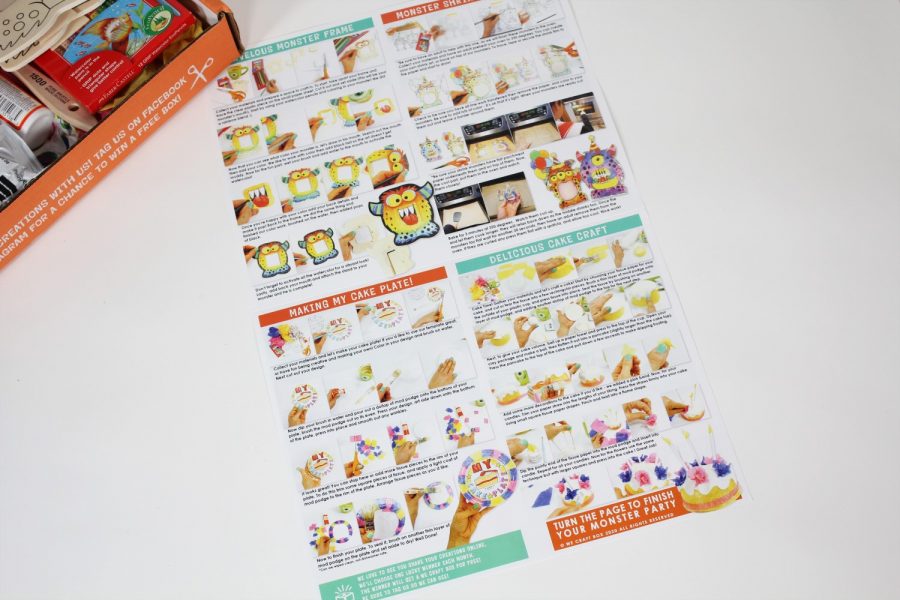 I had so much fun doing the December We Craft Box crafts with my boys, and I am now hooked just like my kids. It is basically just the fun part of the crafts and the activities are perfect for my kids age. My oldest (8 years old) who cannot read English (we speak French at home) could easily do the projects with almost no help and my five year old needed a little bit of help but had as much fun.
This month's We Craft Box theme is "A Monster Party!" The first page of the instructions is the story related with the theme and a preview of all the activities for January. Let me show you the 5 activities that We Craft Box kindly sent me to review.
First Activity: Marvelous Monster Frame
The first activity is to create a colorful monster frame with an interchangeable mouth. You can put a picture in it or have fun and create different types of mouths for your monster. The pencils provided are watercolor pencils and come with the brush. So, you can add some water to add punch to your design. I cannot wait to see what my kids will make with this one.
A little close-up on the beautiful watercolor pencils from Faber Castell. The shape and the grip drops make them very easy to hold for you and more especially for little hands. I appreciate that it comes with the brush and I believe we will have a lot of fun creating many projects with these quality pencils. Personally, I wanted to give water color painting a try. I might just start with those!
Second Activity: Monster Shrinkey Dink Fun
That is so cool. I bought a kit of shrinkies for my oldest son last Christmas and he liked it a lot. Both kids were very impressed to see the result and how much the plastic shrunk. The younger kids might need some help with the monster tracing but the oldest may enjoy creating his own style. There are two plastic sheets, so two monsters for both (or one for the kids and one for mom?)
Third Activity: Making my Cake Plate!
Such an original idea! With transparent plates, watercolor pencils, some colored tissue and mod podge, your kid can create a fun cake plate (or fruit plate, or mac n' cheese plate, why not!). Choose the design provided or have fun drawing what you like most to eat to make it extra special. Note: I would totally go for the cake design!
Fourth Activity: Delicious Cake Craft
With a cake plate, there was something missing. Yes! A delicious looking cake. We Craft Box created a cute paper version of a party cake. That activity might be the longest to make and has the most steps of the five and it looks like a lot of fun. I know my boys will like all the details in it. I will gladly help with that one and might add a special touch with some sparkles on top.
Final Activity: Making Your Monster Party!
To finish your monster party, you are invited to create a party themed background for you little monsters and their cakes. A great time to let your kid get creative and create the party of his dreams. We Craft Box gives good tips to draw realistic balloons and how to create paper flowers. Once your decor is finished, put all your little monsters, cakes and plates together and snap a souvenir of the party.
We Craft Box January 2020 – Final Thoughts
This month's We Craft Box theme was super fun and I liked that it is so colorful and festive. My January box arrived a little bit on the late side, so the new year feeling did fade a bit but these little monsters full of colors brought a lot of light to a month of cold and white. The monster frames will be a keeper (I might ask if I can have one for my office) and I know the two activities with mod podge will be a hit. My boys already have their first activity picked out and cannot wait for the next weekend to craft with us. Follow me on Instagram to see us in action and see how our crafts turned out.
Jacynthe Létourneau – https://www.instagram.com/miss_minamie/