White Willow Box Limited Edition Bliss Box Review Winter 2016
White Willow Box Limited Edition Bliss Box Review Winter 2016
You guys, I am SO excited to be reviewing this box today, you don't even know. I am a huge fan of White Willow Box, but I am an even bigger fan of their limited edition boxes. Just a heads up, I am reviewing the Limited Edition Bliss Box which is already sold out. If I were you, I would get on the White Willow Box website and order one of the Limited Edition Joy Boxes which are still available, because if the Joy Box is anything like the Bliss Box…….you are gonna want one!
White Willow Box Details
If you aren't familiar with White Willow Box it is Canada's only upscale lifestyle subscription box for women with a stylish flare shipping across Canada and the US. Every two months you will receive four to five full-sized and sample products valued at over $70. This box was provided complimentary for review.
**Please Note: The Limited Edition Bliss Box is now SOLD OUT, the following are details for their regular bimonthly box**
Bliss Box Details
The Bliss Box is valued at $190 CAD and was created specifically for the Holiday season. This means they do not include the same products as the regular December Box. They are completely separate, and that is why they are so FUN!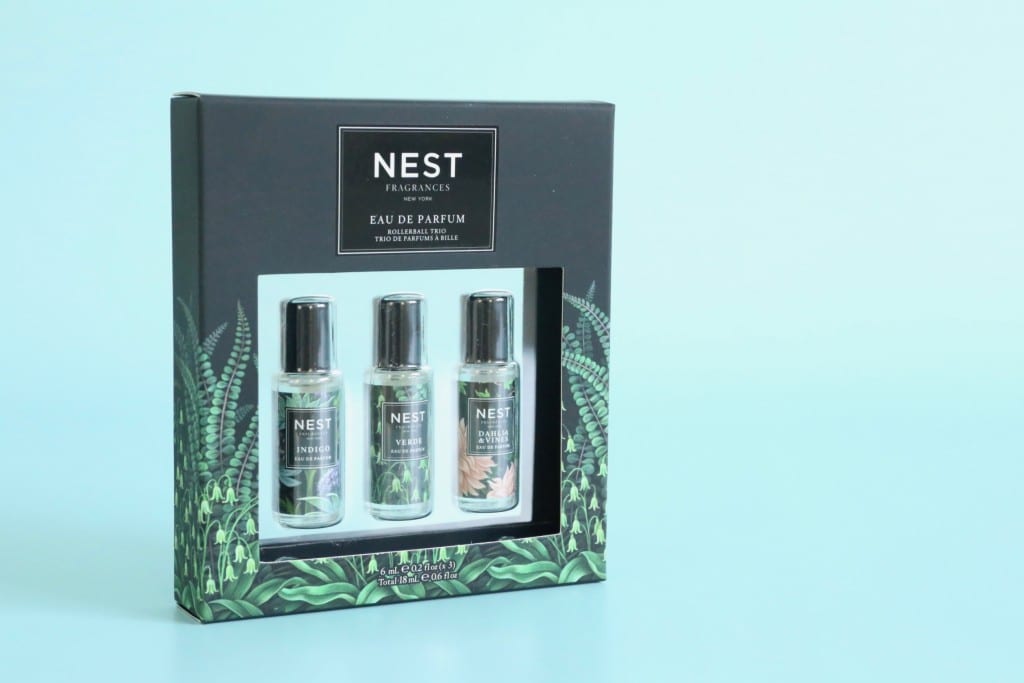 NEST Fragrances Eau De Parfum Rollerball Trio Set
A great way to experience three distinctive Eau de Perfumes within the NEST Fragrance Collection including: Verde, Dahlia & Vines and Indigo.
I really like to see perfume in my subscription boxes. I feel like it adds value and it's something I rarely purchase for myself. It's also really nice that they included a trio set. It kind of guarantees that you will like at least one of the scents…..if not all.
Rose Gold String Bracelet by Cherrypick
A delicate and elegant Rose Gold String Bracelet that is a blast from the past! Featuring modern classic pave crystals on a shiny rose gold plated string chain.
Ummm….this is hands down, the prettiest bracelet I have ever received. I am obsessing over this little gem. I put it on during my YouTube unboxing and haven't taken it off since. I love everything about it. Cherrypick really has some gorgeous pieces in their collection……with this being the best of the bunch.
Organic Coffee Body Exfoliant by Mullein & Sparrow
Exfoliating your skin on a regular basis helps slough off dead, dry skin and stimulates cell renewal and radiance. This delicious blend combines coffee and cane sugar for intense exfoliation and replenishes and rehydrates with coconut oil and shea butter.
I love a good coffee scrub. It makes my skin soft, and it smells amazing. And…..how pretty is the little jar this one comes in. It is absolutely perfect for a limited edition holiday box.
Black & White Classic Houndstooth Pattern Scarf
Keep warm this season with this chic and classic houndstooth pattern scarf. Scarves are such an important element to add to your looks as they can be the focal point on an ensemble.
Woo Hoo!! I definitely wasn't expecting this. Any subscription box that contains a scarf gets an A+ in my books. And how nice is it that they picked a pattern other than plaid. Don't get me wrong, I LOVE my plaid scarfs, but this gorgeous houndstooth number will spice up my scarf game.
Wild Lilac Petit Candle by Bijou & Set of 2 Refills
One smell and you'll be in love. A bouquet of young lilac blossoms and rich oriental lilies are paired with a touch of sweet rosewater. Perfect anywhere in the home for that extra touch of ambiance all year round. The white ceramic bowl can be reused as a container once the candles and the refills run out.
As much as I prefer holiday scented candles this time of year, the lilac scent is kind of a nice change from what I have been receiving. I also really love the fact that they included 2 refills. Such a wonderful idea.
Green & Black's classic Organic Chocolate Collection
Green & black's put all of their signature dark and milk chocolate bars together so you could experience the spectrum of their flavours.
This is one of my favourite brands when it comes to chocolate bars. Their dark 70% bar is wonderful. It's one of the few dark chocolate bars that doesn't have a chalky aftertaste. It's really nice with a glass of red wine…..just sayin'. And, I happen to think a chocolate sampler box is an AWESOME idea for a holiday box.
White Willow Box Limited Edition Bliss Box Review Winter 2016 – Final Thoughts
Wow, they really nailed it with the Limited Edition Bliss Box. I know that White Willow LE boxes always sell out fast, which means they must be amazing, but I didn't realize they were THIS amazing. I am super excited about all of the items they included, with the scarf and the bracelet being my absolute favourites. I honestly can't get over how gorgeous the bracelet is. And a houndstooth scarf! Does it get any better! Like I mentioned above, the Bliss Box is sold out, but you can still purchase the Joy Box. However, I don't think it will be around too much longer so I wouldn't wait if I were you.
XOXO
Explore.
Save.
Enjoy!
Sign up for a free account on A Year of Boxes to receive exclusive offers, be added to our monthly mailing list, and much more! We are always adding features to improve the experience for our users, from their valuable feedback!
Join Today!