White Willow Box Review April 2019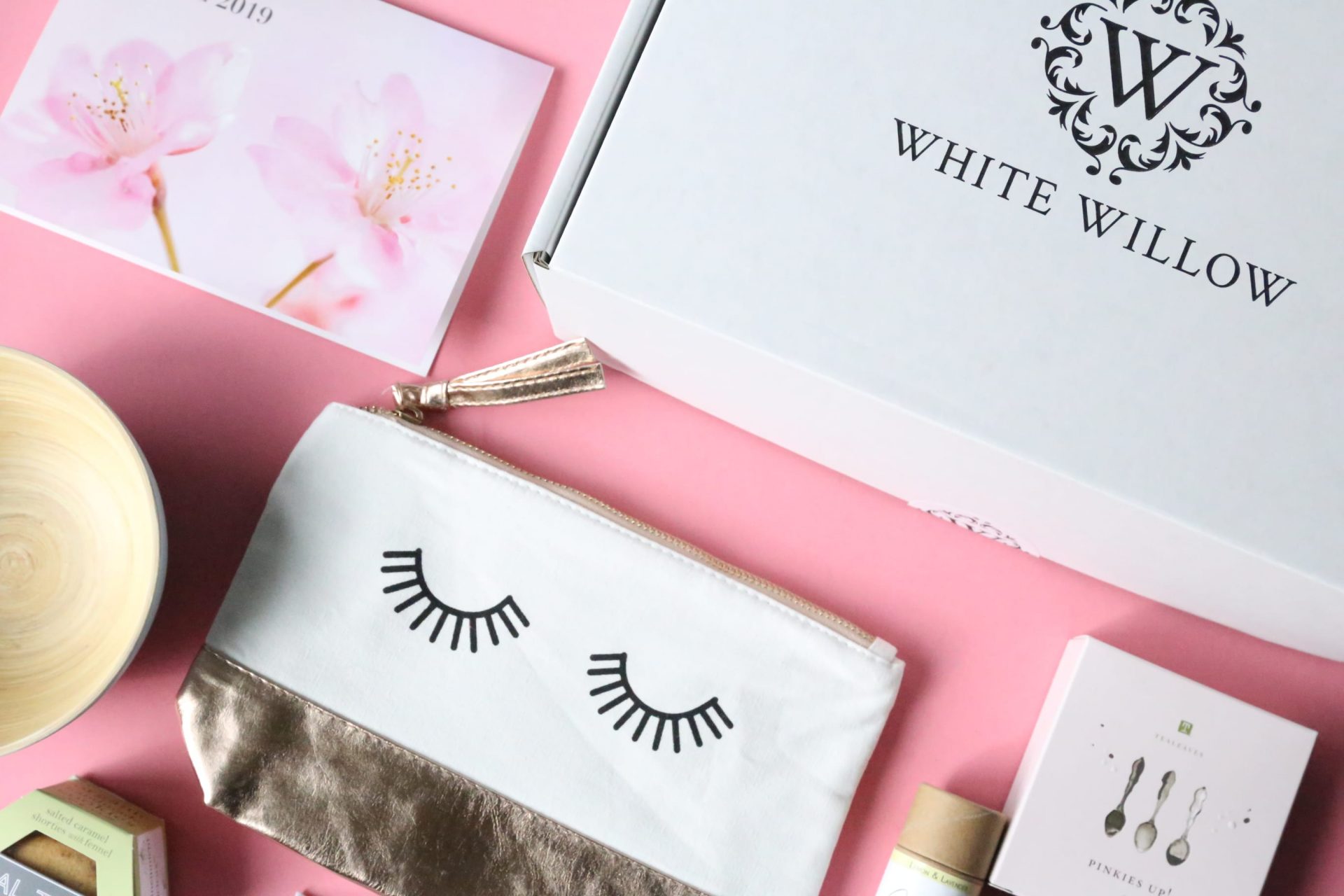 White Willow Box is Canada's leading lifestyle subscription box for women with a stylish flare shipping across Canada and the US. Every two months you will receive four to five products valued at over $80 CAD. They kindly sent us this box for review.
It's always a good day when my White Willow Box arrives. There's just something about this box that puts a smile on my face. I love the classic white box and crisp white packaging. Everything about this box is gorgeous…..as are the items we receive inside.
Subscription Details
Here's how White Willow Box subscriptions work…
Choose Your Plan – Join White Willow and select your subscription plan from our two available options.
Leave the Rest to Us – We will curate the perfect box filled with exciting products for a great experience.
Unveil Your Surprise – Enjoy your new found delights and share your experiences with family and friends.
Here's a closer look at the items we received in the April White Willow Box…..
Spa Stone by Salt & Stone ($16)
Featuring Himalayan Pink Salt, this gentle exfoliating and conditioning salt bar is rich in minerals with natural moisturizing butters and oils to help soften and rejuvenate the skin. Indulge in an unscented luxurious creamy lather excellent for sensitive skin. Adorned with pink crystals this bar is truly 'luxury by nature'.
I've never used something like this before but the idea intrigues me. It's sounds luxurious and indulgent. A salt bar for my skin that promises to soften and rejuvenate. This is something I will save for spa nights.
Lemon & Lavender Body Lotion Bar by Wild Jasmine ($16)
Body lotion bars are essentially the same as liquid lotion, except they are solid at room temperature. Once applied to your skin, your natural body heat warms up the bar allowing you to glide it on smoothly to moisturize your skin. Great for targeting dry areas such as elbows, heels & knees. Available in 4 scents combinations.
I love the idea of lotion bars. It's such a great idea, especially for travelling. This is something I will keep in my purse or in my travel bag. It's smells lovely. It's relaxing thanks to the lavender but also uplifting thanks to the lemon. I can see myself using this often.
Eyelash Vanity Bag ($25)
This adorable vanity bag is the best addition to your collection! Keep your makeup, beauty essentials or even jewelry in this cotton bag with cute eyelash printed design. Great for home as well as for travelling on the go!
I was in need of a new makeup bag and this one is so stinkin' cute!! I always keep a bag like this in my purse and I stock it with all those little things you need on a regular basis – lip balm, hand lotion, nail file, hair elastic, gum, etc…..
Pinkies Up! Kit by Tealeaves ($3.80)
A tea lover's dream. Offering the superior flavour and aroma of whole leaf teas with the convenience of a teabag. This box contains two silk pyramid teabag blends. One teabag each of Organic English Breakfast & Organic Earl Grey offers a bold or uplifting moment respectively. Each of these oversized teabags is strong enough to steep two cups of tea. Don't forget to pair them with the lovely cookies included in your box this month.
This is a small item, we received two tea bags (enlist breakfast & earl grey) but it pairs perfectly with the next item we received……
Salted Caramel Shorties by Real Treat ($2.95)
These shorties are at once familiar and a surprise to your palate. Brown sugar, browned butter, delicious bits of salted caramel, and what's that? Fennel?! But of course. Real Treat Cookies are handmade in small batches with no preservatives, artificial flavours, or substitutions. They are equally committed to organic, fair trade, non-GMO food cultivation, and are proud to be certified organic.
Another small item but a lovely one at that. I will save these for a day when I need a little afternoon pick-me-up and enjoy them with a cup of tea served in one of my favorite mugs.
Bamboo Bowl by Indaba ($18.50)
A modern twist on the spun bamboo bowl, this contemporary take features matte texture in stylish pastel colors. Perfect for spring and summer hosting. Food safe. Hand wash and dry immediately.
This is easily my favorite item in the box! I've been dying to get my hands on some cute little bamboo bowls and now I have one. I received a beautiful pale blue which is perfect for spring. Now I just need to decided what I want to do with it. Use it for smoothie bowls, oatmeal in the morning, or as table decor……..decisions, decisions.
White Willow Box Review April 2019 – Final Thoughts
The April White Willow Box is exactly what I was hoping to would be……lovely. It's simple and beautiful and it provided me with some amazing items. The makeup bag will be used in my purse, the bamboo bowl is something I've had my eye on for quite some time, the salt bar is a lovely little treat for bath nights and the lotion bar goes perfectly in my new makeup bag for dry skin emergencies when on the go. And we can't forget about the tea and cookies. I will be saving those for a weekend reading session or an afternoon pick me up. A lovely box from a lovely company.
-AYOB