White Willow Box Review August 2016
White Willow Box Review August 2016
White Willow Box Review August 2016 – I've been a fan of White Willow Box since they opened their doors last December. I loved my first box, and have loved every box (except one) since then. They are based in Canada, and they have the most amazing customer service. So why am I telling you all this? Well, I wanted to give you some background info before telling you about the changes White Willow has recently made. I will talk about this more below.
White Willow Box Details
If you aren't familiar with White Willow Box it is Canada's newest and only upscale lifestyle subscription box for women with a stylish flare shipping across Canada and the US. Every two months you will receive four to five full-sized and sample products valued at over $70. This box was provided complimentary for review.
The Box: White Willow Box
Cost: $49.95 bimonthly
What You Get: Four to Five full-sized and sample products from beauty and personal care, fashion accessories, home decor accents, culinary delights, technology gadgets and other lifestyle surprises.
Ships to: US & Canada
Shipping Cost: $8.50 to Canada & $19.50 to US
White Willow Box Changes
Towards the end of last month, White Willow Box sent around an email to all of their customers letting them know that changes were headed their way. The email was very well written, and it was very transparent. I loved their open approach, and their honesty. Here is a summary of the changes:
White Willow Box will now be a bimonthly box – shipping every 2 months
Priced have increased slightly:

Plan "A" you will receive 1 Box every other month for $49.95 CAD charged every 2 months. Plan "B" where you receive 1 Box every other month for the duration of 4 months (2 boxes total) at $94.90 CAD charged every 4 months.

Gift Options have been updated – they now offer 1 box, 2 box, and 3 box gift options.
The box I am reviewing today is the first box sent to subscribers since the recent changes. Therefore, the next box will be shipping in October. Let's have a look:
Ceramic Berry Basket
Serve up your berries in style. This unique ceramic bowl brings whimsicality and summer style to your table. 
This is such a cute little dish, and I love receiving kitchen items and serving pieces. And…..I have been on a blueberry kick lately so this will definitely come in handy.
Julep Glass Dish by MUDLARK
This glass dish answers to many names: vanity tray, candle plate and soap dish. They even make beautiful appetizer or mini dessert plates when you really want to impress. 
It's always fun to receive items like this in subscription boxes. I would never go out and buy something like this, but it's so darn cute that I will definitely put it to use. I find this is the case with most home decor items. I'm horrible at decorating and picking things out on my own, but if I have it in front of me I can certainly figure out what to do with it. I appreciate items like this.
Bonus Item: Citrus Amaro Hand Cream by Skin & Co. Roma
Recharge your skin with this freshly scented, ultra soothing hand cream. The shea butter and sweet almond oil in it will protect and renew your skin while leaving lingering notes of lavender and orange. 
This is a small, travel-sized cream, but that is totally ok because it is a bonus item. The scent is really nice and fresh. It is perfect for summer. I will have to make room for it in my purse.
Sephora Collection Sleeping Mask
A line of rich cream-gel textured sleeping masks, each with a skin refreshing benefit. Each of these masks is infused with a different active ingredient for releasing the skin and achieving a brighter, more revitalized complexion. 
I've never used a product like this so I had to do some research. I looked it up on the Sephora site and it had 4 really great reviews. Customers say that it makes their skin baby soft, even in places where they usually have problems with dryness. I might have to give it a try.
Herbs de Provence Oil by La Tourangelle
This Herbs de Provence infused oil is infused with fresh rosemary and thyme. It is BPA-Free and non-GMO. Grown in France by a five generation family owned producer, the herbs are cultivated with a specific focus on aromas. Perfect for salad dressings, dipping sauces and even high-heat cooking. 
Ummm…..so excited about this item. We received the same brand in our March box but it was infused with Basil. I have been using it on a regular basis and am seriously in love. I especially like it on spaghetti noodles to keep them from sticking together. The Italian BF also approves. I'm not sure what I will use this one for, but I am certainly looking forward to trying it.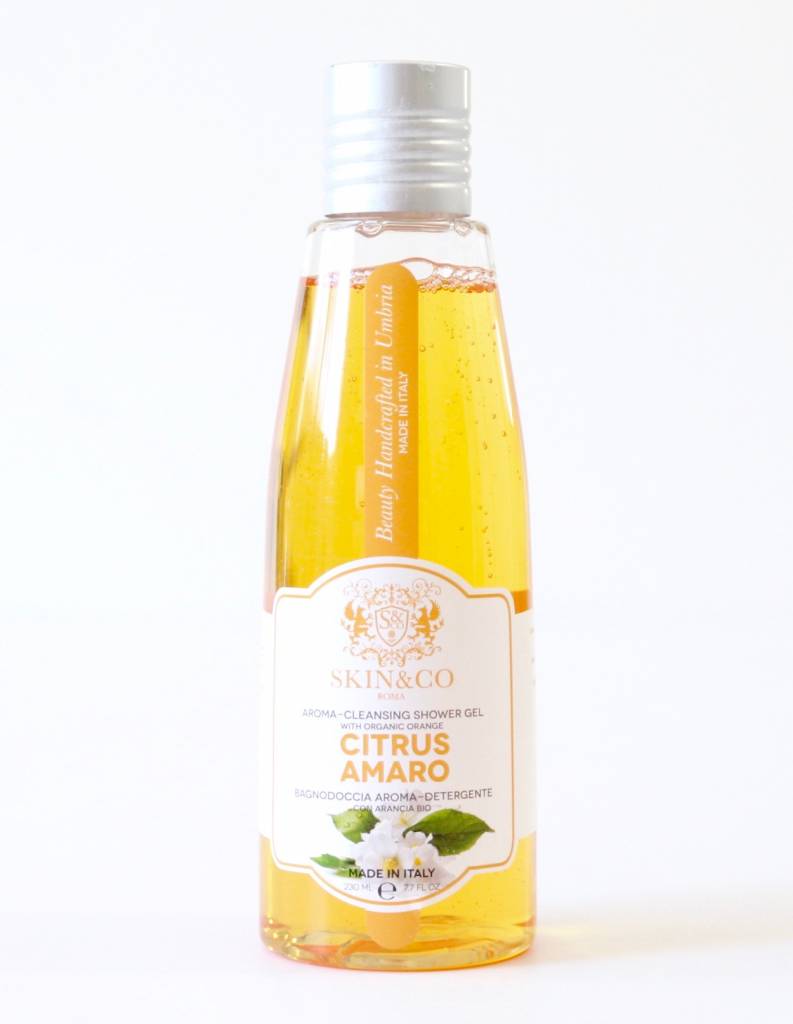 Citrus Amaro Shower Gel by Skin & Co. Roma
This hydrating shower gel preps your skin for the day. The rich lather stimulates and moisturizes your skin while irradiating your bath with soft and pleasant aroma. It leaves skin irresistibly soft and clean. It is free of sulphates, parabens, mineral oils, pretrolatum and paraffin. 
Funny enough, we also received a shower gel in the March box (same box we received the Basil Oil in) but that is ok. I actually just pulled out the March shower gel and have really been liking it. I was kind of wondering what I was going to use when it ran out, and now I have this one.
White Willow Box Review August 2016 – Final Thoughts
So, I kind of feel like this was another highly anticipated box from White Willow. My July box was also highly anticipated due to the fact that they had a bit of a "blah" box in June. Everyone was wondering how they would follow-up a box that wasn't received well, and let me tell you,  they did it beautifully. The July box was amazing. And the reason I say this month's box is highly anticipated is due to the fact that it is their first box since making the changes.
So, what do I think? Well, I think they did a good job. I noticed that we have received similar items in the past (tray, shower gel, infused oil) and now that I think about it we have also received a Sephora Mask before. Kind of interesting, but definitely not bad. I am so freaking excited about the oil that I don't care if we have received a similar one before. I love it so much that I would be fine if we received one in every box. All-in-all, this is another great box. I will be using all of the items and that's all I can ask for. I am a huge fan of this subscription and always will be…….changes or no changes.
XOXO