White Willow Box Review August 2019
White Willow Box is Canada's leading lifestyle subscription box for women with a stylish flare shipping across Canada and the US. Every two months you will receive four to five products valued at over $80 CAD. They kindly sent us this box for review.
White Willow Box is a gorgeous subscription. Whether it be a gift for yourself or a gift for a friend, you can't go wrong with White Willow Box. It arrives beautifully packaged, shipped in an outer mailing box so as not to damage the pretty white logo'd box inside. It's wrapped with a bow and pretty white tissue paper. Everything about this box is beautiful. It's a box I truly look forward to receiving.
Subscription Details
Here's how White Willow Box subscriptions work…
Choose Your Plan – Join White Willow and select your subscription plan from our two available options.
Leave the Rest to Us – We will curate the perfect box filled with exciting products for a great experience.
Unveil Your Surprise – Enjoy your new found delights and share your experiences with family and friends.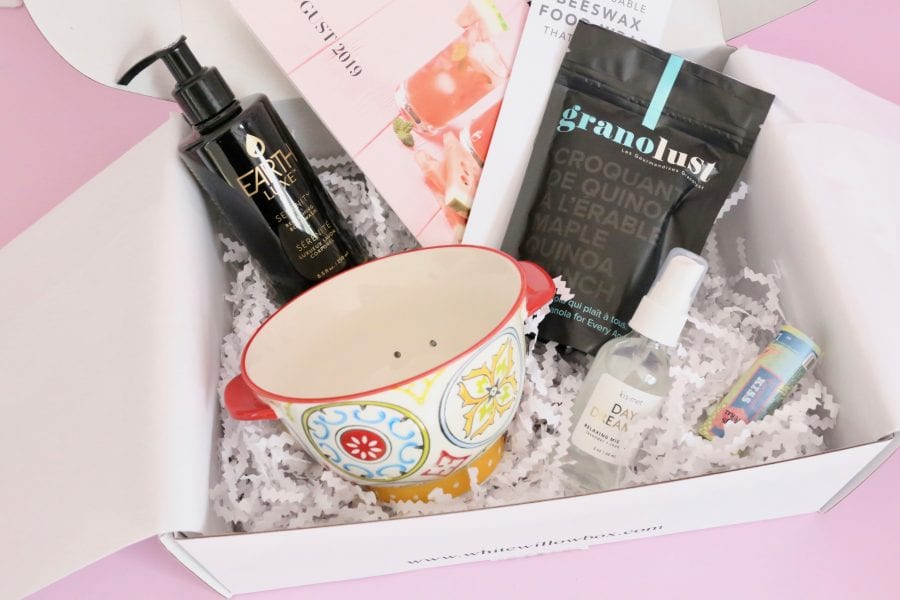 Here's a closer look at the items we received in the August White Willow Box…..
Serenity Refreshing Body Wash by Earth Luxe ($16)
Earth Luxe Serenity Refreshing Body Wash offers a luxurious lather of Citrus and Eucalyptus with notes of Fresh Balsam, creating a sense of serenity. With moisturizing benefits of Coconut Oil and Fruit Extracts, this refreshing body wash is a treat for the senses, soul and skin.
I know I have received this brand before but for the life of me I can't remember what product I received. This time I get to test out a refreshing body wash and you all know how I feel about receiving body wash in my subscription boxes – I love it.
Mist Spray by Kismet Essentials ($19)
Embrace your inner DAY DREAMER with our Lavender + Chamomile Relaxing Mist Spray. USE as a facial toner to give your skin a natural glow, as a room spray to relax in your surroundings, or spritz on your pillow for sweet dreams.
MADE OF only 100% natural ingredients: Lavandula Angustifolia (Lavender) Floral Water, Anthemis Nobilis (Chamomile) Floral Water, Hamamelis Virginiana (Witch Hazel) Distillate, Cocos Nucifera (Coconut) Oil.
This item was available in a few different scents and I am SO glad that I received Day Dreamer. I love a relaxing spray, especially one like this that can be used a few different ways. I might not use it as a toner but I will definitely use it as a room spray or pillow spray.
Maple Quinoa Crunch by Granolust ($5.50)
Granolust is a sinfully addictive collection of premium granola made with the finest vegan & gluten-free ingredients. Plant-based, non-GMO and made in Canada so you know it's sexy, Granolust is the ultimate, guilt-free way to indulge. Fair warning – Granolust is HIGHLY ADDICTIVE. Once you try it, you'll find yourself physically yearning for your next batch. So go ahead. Devour it. You deserve it. We know you'll be back for more.
Maple quinoa crunch is our most popular flavour with pure Canadian maple syrup and a subtle mix of salty and sweet flavours.
For our food item this month we received Granolust, a brand that I am very familiar with. In fact, I have secretly been waiting for them to start their own subscription box – maybe one day. Until then I will just enjoy it as is. I like that we received Maple Quinoa as it sounds really good. I will be suing this as a topping for my smoothie bowls.
Coconut Kiss Lip Balm by Barefoot Venus ($7.50)
Moisturizing Mango Butter chock full of Vitamin A, and deeply nourishing Shea Butter bursting with Vitamins A, C and E combat free radicals found in the sun's rays.  The Meadowfoam Oil serves as a natural SPF and the Aloe Butter all work together in this seriously cute, 100% natural Lip Bliss.
This is another brand I am very familiar with and happy to see in the box. I have received Barefoot Venus products a few times over the years and am always very happy with them. This time I received a coconut lip balm which will come in very handy. I am always happy to receive a new lip balm.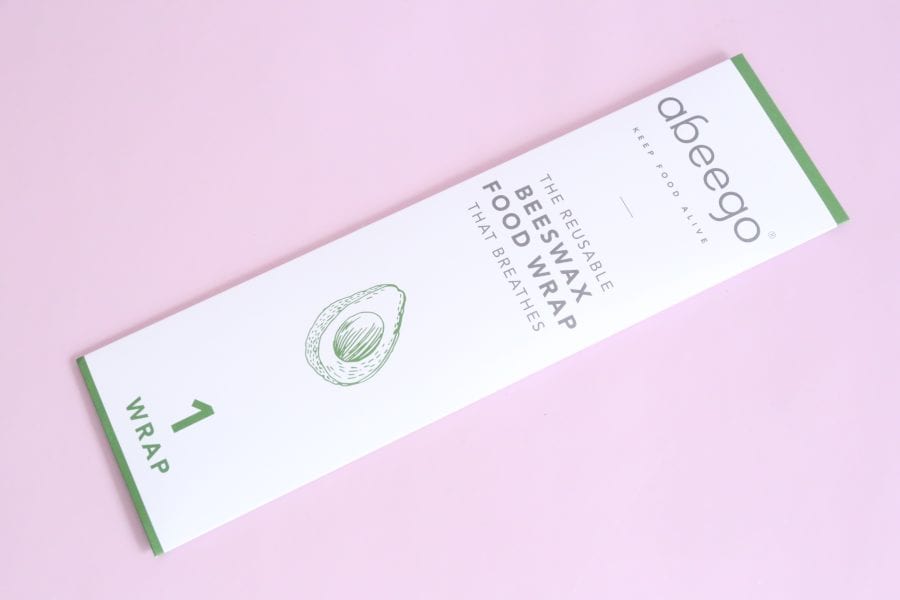 Beeswax Food Wrap by Abeego ($6)
Keep lemons luscious, half-cut avocados fresh, and snacks ready to go with this Abeego Food Wrap. It is made with a formula using beeswax, tree resin, jojoba oil, infused into a hemp and organic cotton cloth. Wash in COLD water and air or towel dry – never wringing.
Lasts one year or longer: Reusable | Antibacterial | Breathable | Plastic Free | Compostable
I have received these food warps before, but I ended up gifting them the last time. I came to regret that decision because it's such an amazing product. Environmentally friendly and perfect for the half avocados I always have in my fridge.
Chintz Ceramic Series Colander ($32)
Stylish and functional, this colander is perfect for washing and serving summer fruits and vegetables or as a beautiful decorative accessory for your home. Crafted from ceramic, and hand-painted with vibrant and charming colourful patterns, this colander is the perfect complement to any kitchen or home decor.
This gorgeous little colander was available in three different styles/colors – Damask, Garden or Tile. I think all of them are beautiful so I would have been happy to receive any one of them. It will be a nice little decor piece and perfect for hosting. Great for raspberries, or blueberries.
White Willow Box Review August 2019 – Final Thoughts
The August White Willow Box is lovely – as per usual. The thing I appreciate most about White Willow Box is the mixture of items we receive in each box. We have skincare, a room spray, snack, lip balm, a kitchen tool and home decor. The August box also features some my favourites brands – Granolust and Barefoot Venus. The next box will be arriving in October and I am SO excited about it already. I'm hoping for Fall goodies and cozy accessories.
-AYOB