White Willow Box Review December 2016
White Willow Box Review December 2016
A couple of days ago I reviewed one of the Limited Edition Holiday boxes from White Willow Box and today I am reviewing their regular box. I should point out that their LE box was AMAZING!! Oh my goodness, they really did a great job with the Bliss Box. I'm pretty sure it is sold out, but you can still purchase the Joy Box. I have a feeling it won't last long though.
White Willow Box Details
If you aren't familiar with White Willow Box it is Canada's only upscale lifestyle subscription box for women with a stylish flare shipping across Canada and the US. Every two months you will receive four to five full-sized and sample products valued at over $70. This box was provided complimentary for review.
I have mentioned this before, but I really should mention it again. White Willow Box would make the PERFECT Christmas gift. It comes in such beautiful packaging that you wouldn't have to worry about wrapping it yourself. I would definitely give this as a gift to one of my friends, my sister, or my Stepmom.
Double Layered Necklace With White Marble
Marble is in and it is here to stay! This versatile double layered necklace is the perfect fashion accessory to pair with either your formal attire or even in less formal outfits. It combines two of our favourite elements – gold detailing and marble.
This was the December spoiler so I already knew I was receiving it. I have to say, it is much prettier in person than it is in pictures though. I am a huge fan of anything gold, and the marble goes with it perfectly. I love this piece.
"Glistening Snow" Gilded Winter Candle
Frosted glass tumbler with gold dipped rim in hand printed muslin bag. The Glistening Snow scent has hints of green pine with a bit of vanilla. These candles are hand poured in small batches.
If you are looking for a candle that smells like Christmas, this is it!! The pine/vanilla combo is perfect! I can't stop smelling it. I will be saving this for the next time we have guests over. And the fact that they included a pretty little box of matches makes it ten times better.
Manna Kadar Lip locked Priming Gloss Stain
Manna Kadar's lip stains are the latest innovation in lip stains. This #1 selling shade is a powerhouse product containing a lip gloss, primer, and stain all in one.
Manna Kadar is a very popular brand right now, and for good reason. I have enjoyed all of the products I have received from their makeup line. And I really love the fact that this gloss is a multitasker – primer, gloss and stain all in one.
Dry Hands Rescue Mask
Kocostar Dry Hands Rescue Mask is formulated to quickly improve skin hydration and protect hands against dehydration in the future. Package includes one set of intensive serum-lined gloves that you simply put on each hand, tighten using the adhesive tab, and wear for 20 minutes.
These little gloves really are a genius invention. I used a pair for the first time last week and was extremely happy with this results. My poor hands get so dry in the Winter, they need all the help they can get.
Munchie's Fine Tea & Coffee Chocolate Chip Walnut Biscotti
Treat yourself to Munchie's own version of this Italian favourite, handmade from all natural ingredients. Twice baked to a delicate crispness, they are great for dipping with your afternoon tea or coffee.
This little treat rounds out the box nicely. I like to have snacks like this on hand for guests, and for afternoon pick-me-ups.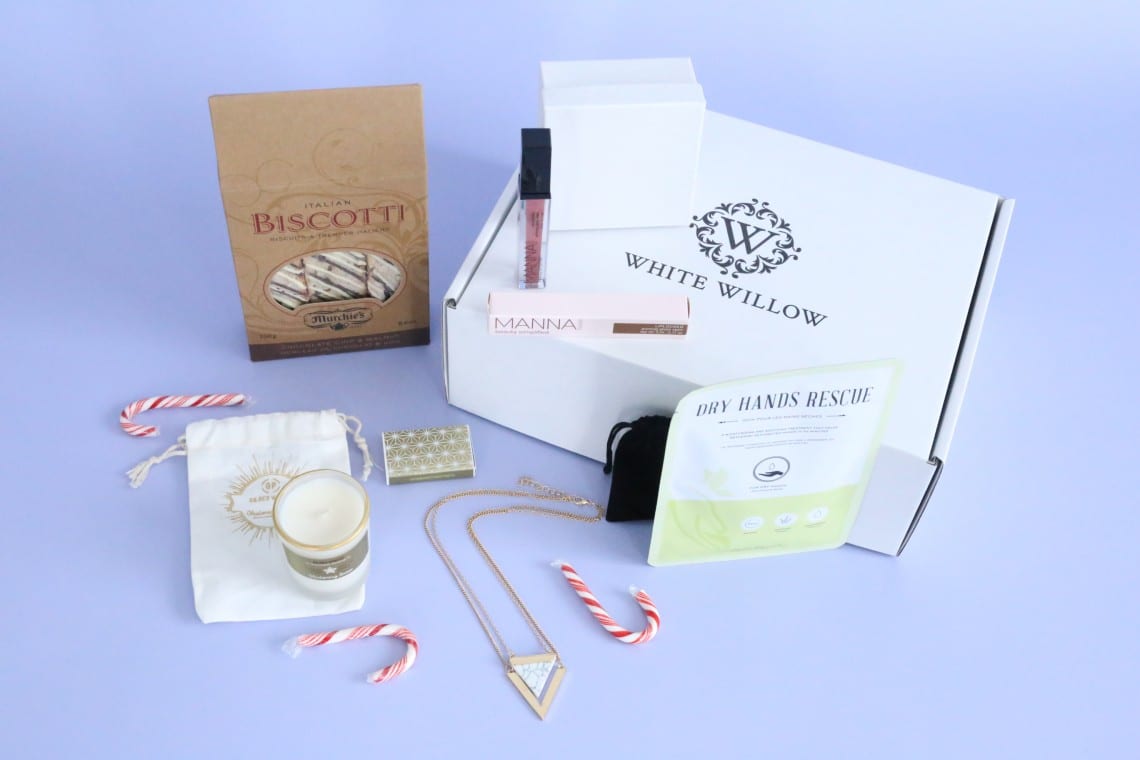 White Willow Box Review December 2016 – Final Thoughts
White Willow Box has done it again. They always put together such beautiful boxes. I love the variety of items, and I love the quality. We received a jewelry item, a makeup item, a home decor item, a bath & body item, and a treat. This is exactly what I like to see in my lifestyle subscription boxes, a little bit of everything. This is also why White Willow Box would make such an amazing gift. With the variety of products, your gift recipient is bound to find something they love tucked inside. This will always be a favourite.
XOXO
Explore.
Save.
Enjoy!
Sign up for a free account on A Year of Boxes to receive exclusive offers, be added to our monthly mailing list, and much more! We are always adding features to improve the experience for our users, from their valuable feedback!
Join Today!