White Willow Box Review December 2019
White Willow Box is Canada's leading lifestyle subscription box for women with a stylish flare shipping across Canada and the US. Every two months you will receive four to five products valued at over $80 CAD. They kindly sent us this box for review.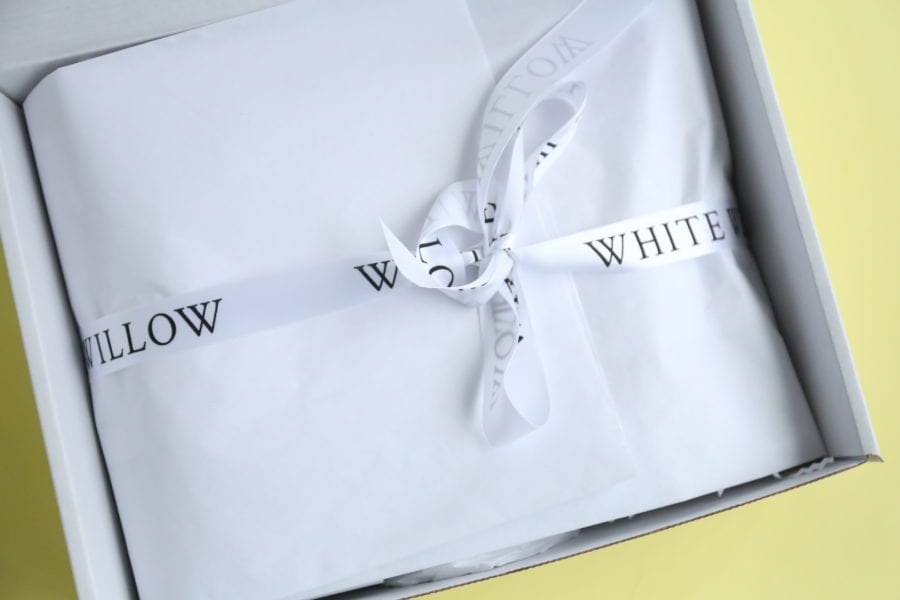 It's here!! My December White Willow Box is here! I look forward to this box all year long. It has become one of my favorite boxes to receive – well this one and their Limited Edition Holiday Box of course. There's just something about the December/Holiday White Willow Boxes that I love. If there's a time to start subscribing to WWB…..it's right now!
Subscription Details
Here's how White Willow Box subscriptions work…
Choose Your Plan – Join White Willow and select your subscription plan from our two available options.
Leave the Rest to Us – We will curate the perfect box filled with exciting products for a great experience.
Unveil Your Surprise – Enjoy your new found delights and share your experiences with family and friends.
Here's a closer look at the items we received in the December White Willow Box…..
Winter Warm Cable Knit Infinity Scarf ($34)
This is a must-have fashion accessory of the season. This simple and easy-to-wear cable knit infinity scarf is a cozy and warm neck wrap, guaranteed to keep you warm through the cold fall and winter months, while complimenting your fabulous fashion sense. This scarf adds the perfect finishing touch to any ensemble. Can be worn wrapped around your neck or just hanging over a coat or sweater. This cable knit infinity scarf will also make a great holiday gift. Great for dressing up any outfit and suitable for both formal and casual occasions.
I am loving this scarf more than I thought I would. Subscribers could have received one of two color options – black or white. I received white, and even though I usually prefer black, I am VERY happy with my color selection. The white marble is gorgeous. I picture this with a black cardigan and medium wash denim. The cable knit style is classic and it will be oh so warm. I will wear this a lot.
Ginger Snap Macadamia Oil Hand Cream ($9.50)
Make the season bright and treat yourself or someone you love to this exclusive Holiday Collection. A portion of proceeds from the sale of every Ginger Snap product will be donated to grass-roots organizations that improve the quality of life for individuals and families living with Autism. Available for a limited time. We featured the body wash from the Ginger Snap line two years ago in December and it was such a hit that we decided to feature them again! This time we are bringing you the hand lotion. Your hands will be pampered in an ultra-rich potion of macadamia nut oil, sweet almond oil, sesame seed oil and elder flower extract for long-lasting smoothness.
As soon as I saw this in the box I was immediately reminded of the December 2017 box. It's funny how I remember specific items from specific boxes, even if I received them two years ago. We received the body wash version and I loved it. I'm even more excited about the hand cream as it is something I can keep in my purse.
Mistletoe Candle by Coconut Candle Company ($11.95)
Coconut Candle Company hand pours all their candles in small batches. All of their candles are made with premium coconut wax and crackling cedar wood wicks. Premium coconut wax burns slowly and cleanly, and throws the scent extremely well. This Mistletoe candle will make you want to pucker up this Christmas. The woodsy fragrance of pine blended with notes of berry and spice create this magical holiday scent. Remember, what happens under the mistletoe, stays under the mistletoe! Candle burns for about 20 hours.
Give me all the candles!! I am always happy to receive a new one, especially this time of year. I usually have a candle burning every day come December, but it must be a holiday scent. When it comes to this candle specifically, I LOVE the scent. I have been wanting a holiday scented candle with a outdoor/Christmas tree fragrance and that's exactly what this one is.
Chocolat Chaud by Wildly Delicious ($8)
A warm cup of cocoa beside a crackling fire is the perfect remedy this winter. Add 250ml of milk (or any other dairy-free milk of your preference) to a saucepan and bring to a simmer while stirring constantly. Add three level tablespoons of Chocolat Chaud mix and continue to simmer and stir 2-3 minutes until slightly thickened. Watch that the mixture does not scorch. Pour into a mug and top with freshly whipped cream or marshmallows or just by itself.
The perfect little treat for a December box. There's just something so relaxing and enjoyable about a warm cup of hot chocolate this time of year. Subscribers could have received Salted Caramel or Rich & Dark. I received salted caramel and it sounds heavenly. This will be a nice little treat at the end of a long day.
Wildflower & Argan Body Oil ($5)
Barefoot Venus makes the most delicious bath and body products and this body oil is no exception. Spray on instant moisture and bid dry, water-starved skin a fond farewell. Super-hydrating Argan oil, Apricot kernel oil and moisture giving Meadowfoam oil cloak skin in silky-smoothness. Perfect to keep in your purse or in your desk vanity drawer for quick access.
Our second of two Barefoot Venus products this month. It was a nice little surprise to see this in the box. I love Barefoot Venus products so I'm always happy to receive them. I sprayed a little of this oil on the back of my hands and was pleasantly surprised with the outcome. It has a lovely scent – a little bit sweet and a little bit floral. It kind of felt like a dry oil when first applied and it absorbed instantly. It adds just the right amount of moisture – not too much and not too little.
Bracelet by Avenue9 ($23)
This stylish and delicate bracelet with 1.5 inch of adjustable chain goes with every outfit. It is an elegant and charming accessory piece perfect for the evening but also suitable for the day. A nice combination of colors, sparkle and shapes in a contemporary and unique look.
Lastly we have a gorgeous little jewelry piece to add to your collection. Subscribers could have received one of three colors – black, white or charcoal. I would have been happy with any of them, as they are all gorgeous, but I received black. The nice thing about this bracelet (other than the fact that it is so darn pretty) is that it is adjustable. Bracelets rarely fit my tiny wrists but if I wear this one on the smallest setting it fits like a glove.
White Willow Box Review December 2019 – Final Thoughts
And there you have it. One of my favorite boxes to receive – the December White Willow Box. It brought with it everything I have come to expect…..and was hoping for. A cozy winter accessory, sweet treat, holiday scented candle, festive skincare, and a gorgeous piece of jewelry. Not to mention the fact that they topped things off with a few little chocolate goodies…..a quick way to my heart. I love everything we received this month, as I always do. The December White Willow Box always feels like a Christmas present to myself.
-AYOB