White Willow Box Review February 2016
White Willow Box came out of the gate with guns a blazin'! They are a brand new lifestyle subscription box based in Canada and their very first box shipped in December. I'm always a little sceptical when new boxes open their doors, but White Willow Box has done things right from day one. I have been extremely impressed with the last two boxes and the February box appears to be following suite. All of us Canadian subscription box addicts have been waiting for POPSUGAR Must Have to start shipping here, but now that we have White Willow, maybe we don't need them to?
If you aren't familiar with White Willow Box it is Canada's newest and only upscale monthly lifestyle subscription box for women with a stylish flare shipping across Canada and the US. Each month you will receive four to five full-sized and sample products valued at over $70. This box was provided complimentary for review.
The Box: White Willow Box
Cost: $35 month to month, $34 for 3 months, $33 for 6 months and $32 for a 12 month subscription
What You Get: Four to Five full-sized and sample products from beauty and personal care, fashion accessories, home decor accents, culinary delights, technology gadgets and other lifestyle surprises.
Ships to: US & Canada
Shipping Cost: $8.50 to Canada & $19.50 to US
Last month's White Willow Box was pretty darn amazing, I highly recommend checking out the review if you haven't already. I am really impressed with the quality brands they have been including in their boxes, it's rare to see that with a new subscription. This month's box appears to have a bit of a Valentine's theme going on, which is exactly what I was hoping for. I also have to say how much I freakin' love their packaging. Everything about their subscription is beautiful, from the logo, to the wrapping, to the website, and everything in between. Love, love, love!
Hand Made Chocolates ($8) – Every Valentine's themed box needs some chocolate, so I think I would have been a little disappointed if these weren't included. They are from world-renowned chocolatier Chef Christophe, and come in 4 different flavours. I love chocolate that looks so pretty you don't want to eat it….and these ones definitely look pretty. I'll have no problem eating them though.
Votive Candle Holder ($6) – I absolutely LOVE it when lifestyle boxes include home decor, but you already know that. This candle holder is gorgeous and fits with the theme well. I feel like these kind of items add value to subscription boxes.
Victoria's Secret Fragrance Mist & Body Lotion ($28) – I was very surprised to see such a recognizable brand in this month's box; White Willow must be doing something. Big name brands like this add credibility to subscription boxes, and how perfect are these items for Valentine's Day! Subscribers received 1 of 3 different scents. I received Sheer Love which is a mixture of white cotton and pink lily.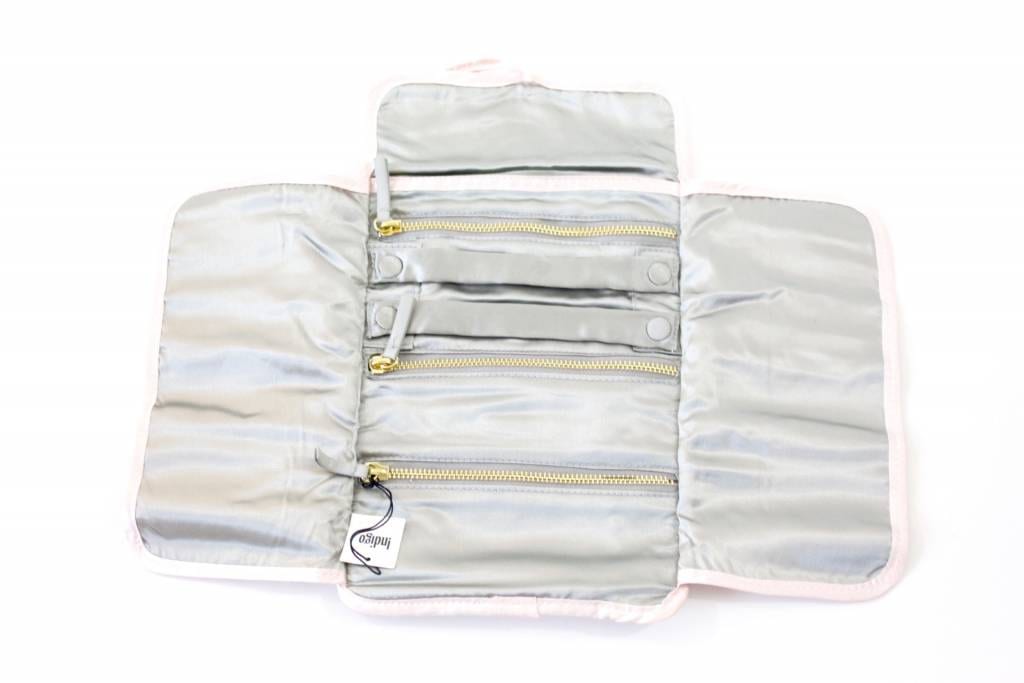 Jewelry Roll ($39.50) – I was extremely happy with this item, and then I saw that it is from Chapters and the excitement level was taken up a few notches. Another great brand and another great item. I already have a jewelry roll but I use it so often that I don't mind having another one.
Value: $81.50
Thoughts: This month's box is on point! There's absolutely nothing bad I can say about it, but that doesn't surprise me. White Willow Box has definitely taken a spot in my top 5 favourite subscription boxes, and deservedly so. At the beginning of this review I compared this box to POPSUGAR Must Have, and I stand behind that comparison. I've been waiting for a box like this to launch in Canada, so I really hope they are here to stay. I without a doubt would recommend this box to anyone looking for a lifestyle subscription. I love what they are doing, and can't wait to see more.
XOXO