White Willow Box Review February 2020
White Willow Box is Canada's leading lifestyle subscription box for women with a stylish flare shipping across Canada and the US. Every two months you will receive four to five products valued at over $80 CAD. They kindly sent us this box for review.
My February White Willow Box is here and I'm pretty darn excited about it. I always look at my White Willow Box as a gift to myself. It feels like a special treat, it's fun to unbox, and it's oh so pretty. Happy Valentine's Day to me!
Subscription Details
Here's how White Willow Box subscriptions work…
Choose Your Plan – Join White Willow and select your subscription plan from our two available options.
Leave the Rest to Us – We will curate the perfect box filled with exciting products for a great experience.
Unveil Your Surprise – Enjoy your new found delights and share your experiences with family and friends.
Here's a closer look at the items we received in the February White Willow Box…..
The Making of a Strong Woman Journal ($24.95)
The Making of a Strong Woman is an inspirational and uplifting guided journal for women of all ages and in all stages of life. Whether you're 20 or 60, single or married, fully empowered  or sometimes doubt your greatness – this journal is meant for you. Questions range from childhood to present day, and cover struggles to perseverances.
This is a beautiful journal and a nice little gift to yourself. It will be a nice way to ensure I sit down and make time for me, whether it be 5 minutes each morning or a longer session once a week.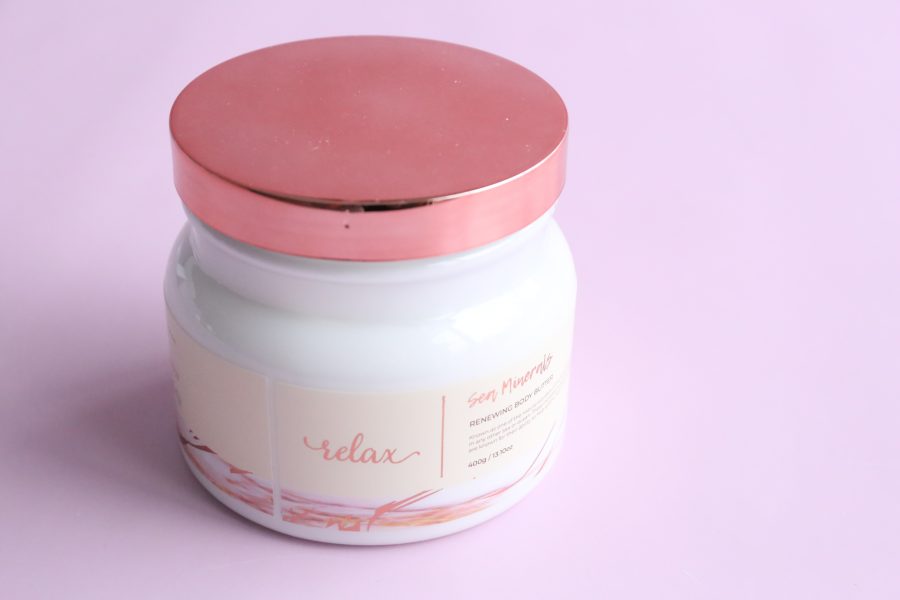 Sea Minerals Renewing Body Butter by Manna Kadar Cosmetics ($32)
Like your favourites seaside spa, Sea Minerals Body Butter with dead sea minerals wraps you in a layer of moisture, keeping your skin hydrated and looking healthy. The key benefits includes, leaves skin instantly smooth, extreme moisturization, and a creamy formula.
I was SO excited to see this body butter in the box. It's one of my favorite bath & body items to receive in subscription boxes. Don't get me wrong, I also love a good body wash, scrub or face care products but body butter is something I use at least once a day, every day so it's something that I will definitely use.
Reusable Fruit and Vegetable Bags by Nostalgia ($15.50)
These mesh produce bags are made of 100% polyester, so they're durable and have a long life without being heavy. The breathable mesh design will make your fruit and vegetables keep for longer time. These bags will not only stop your produce from sweating inside the store's plastic bags but also help the environment by reducing the use of plastic.
This is very exciting. I've been wanting to get some reusable veggie bags and here they are. We received a set of 5, which is awesome. There are 2 different sizes – 30x30cm and 30x45cm. They say the bigger one is good for large items like heads of lettuce.
Raspberry Truffle Dark Chocolate Bar by Rogers' Chocolates ($4.25)
54% dark chocolate paired with the delicious fruit taste of raspberry. If only tastebuds could speak! The perfect snack, grab and go treat, or something sweet to share.
No White Willow Box would be complete without a lovely little snack/treat. We always receive a food item and my favorite food item to receive would definitely be chocolate.
It appears as though this is a lovely dark chocolate bar with a creamy raspberry truffle filling. Perfect for Valentine's Day. I just might enjoy a couple pieces with my coffee tomorrow morning. Chocolate for breakfast is totally acceptable…..right?!
Heart Bowl by Indaba ($18)
Bring personality to your tabletops with this ultra-chic and versatile stoneware heart-shaped bowl. This lovely bowl is perfect to use in your dressing room, as your jewelry bowl, on your front table, as a catch all on your night stand on your desk, in the kitchen, small serving bowl, etc…..
Lastly we have a beautiful heart-shaped bowl, another item perfect for Valentine's Day and the month of February. There are so many wonderful ways to use this little dish but I'm tempted to put it on display in my office on one of my shelves.
White Willow Box Review February 2020 – Final Thoughts
My February White Willow Box arrived at the perfect time. Two days before Valentine's Day to be exact. I mentioned above that this subscription is like a special little treat to myself and this month it made the perfect Valentine's Day gift. It has a lovely mixture of items and just the right amount of V-Day inspired goodies with the heart-shaped bowl and the raspberry truffle chocolate bar. I'm excited to try the body butter (it's sitting on my bathroom counter as we speak) and I am so happy to finally have a set of reusable veggie bags. Another lovely box from White Willow Box!
-AYOB Sarah