White Willow Box Review: Limited Edition Holiday Box 2019
White Willow Box is Canada's leading lifestyle subscription box for women with a stylish flare shipping across Canada and the US. Every two months you will receive four to five full-sized and sample products valued at over $80. They kindly sent us this box for review.
If you aren't familiar with Limited Edition Boxes let me fill you in. They are special boxes, released for a limited time and usually have a theme. Not all subscription boxes offer them, but I really think they should because I LOVE a good LE (limited edition) box. White Willow Box is known for their limited edition boxes. Just like their regular December box, I also look forward to this one every year. It makes the BEST gift. I always have great intentions to gift it to a loved one, but usually end up keeping it for myself…..it's that good.
Limited Edition Box Details
White Willow Box is known for their limited edition boxes. They really are the best. They usually release one for Mother's Day and one or two for Christmas.
This year's Holiday Box is already sold out, which doesn't surprise me at all. It was $109 and curated specifically for the holidays. It has a total retail value of over $250. Limited Edition boxes are different from their regular boxes and will not include repeat products.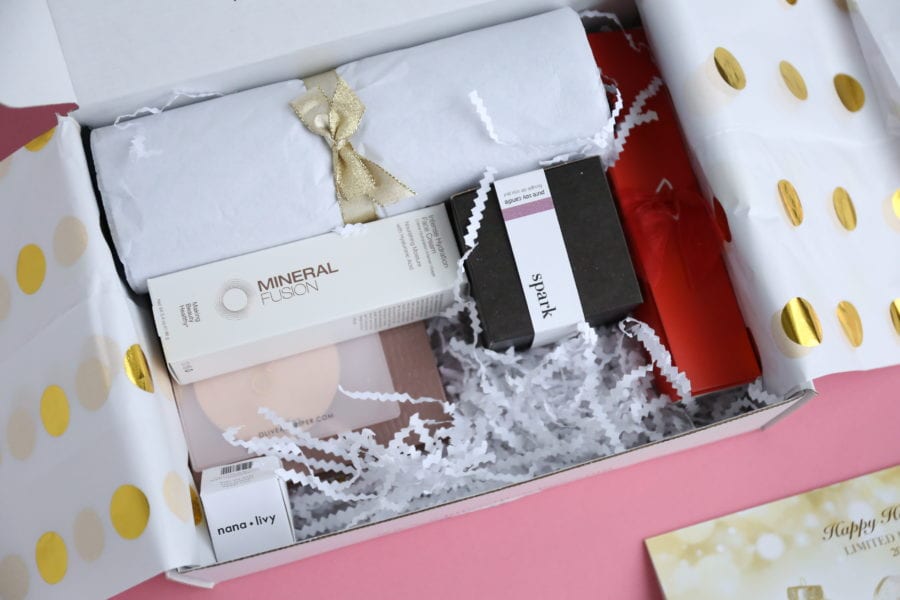 Here's a closer look at the White Willow Box Limited Edition Holiday Box 2019…
Manna Kadar Cosmetics Lip Set ($66)
This collection holds Manna Kadar's best-selling Liplocked Priming Gloss Stains and Priming Lipsticks. With shades ranging from perfect nude to a darker shade. The Liplocked Collection is formulated with bult-in primer and highly pigmented for long lasting wear. Liplocked shades include: Rosette, All of You, Lucky and She. Lipstick shades include: Aura, Zen, Bliss, and Love.
First up we have a lovely set of lip products from a great brand. I am very familiar with Manna Kadar products as I have received them a few times over the last couple years. I haven't tested any of the colors out as of yet because I'm on the fence as to whether I should gift this item or keep it for  myself. I want to keep it for myself, but it would also make an amazing gift for one of my makeup loving friends……..in the end I will probably end up keeping it:)
Windowpane Scarf ($45)
Keep warm this winter with this fashionable and chic windowpane scarf. Scarves are such an important element to add to your looks as they can be the focal point of an ensemble. It is a trendy accessory that can be worn numerous ways, elevating your style to the next level. It is so cozy and feels soft to the touch. The black and white color make it very versatile and hard not to wear every day. Perfect for your fall and winter wardrobe or give as a gift.
Oh my goodness……I feel like White Willow Box read my mind. With baby coming in March I have been stocking up on tops and accessories for nursing. I had a scarf just like this on my list because not only is it gorgeous and versatile, it will also be perfect for nursing. I think this is my favorite WWB scarf to date. The color combo is perfection!
Mineral Fusion Intense Hydration Face Cream ($32)
A hydration powerhouse, this hydration face cream boasts a mix of nourishing Shea Butter, Rosehip Oil, Hyaluronic Acid, and a healthy dose of nutrient-replenishing Mineral Water, for skin that's so plump, so hydrated, so full of bounce. Soothing Aloe, Lavender, and Cucumber infuse your skin with the calming vibes for a healthy looking glow. Best of all, help promote healthier, firmer skin with natural antioxidants that work behind the scenes, while clinically tested, collagen-boosting peptide helps ensure more youthful skin over time.
This is a new brand for me so I did a little research to see what I could find out. It gets great reviews with one reviewer saying "This is truly magic in a tube. The minute you put it on your face feels totally hydrated." I need as much hydration as I can get this time of year. My skin is dry on a good day, let alone during the harsh winter months. I also found out that it is:
Hypoallergenic – Cruelty Free – Vegan – Gluten Free – Talc Free – Fragrance Free – Paraben Free – Phthalate Free
Olive + Piper Pendant Necklace ($49)
Gorgeous gold medallion pendant necklace which is both timeless and classic. Full of pave crystal detailing for extra sparkle and shine. It brings that added touch of glimmer. 15 inch chain and 3 inch of chain extender.
Love, love, love this necklace! It's abolsutely perfect for the holiday season. It might not be a piece I would wear everyday, but it's definitely something I will wear with my holiday outfits and on special occasions – date nights, birthdays, anniversaries, etc.
JOY Candle by Spark Candle ($40)
Our Joy Candle will fill the room with a gentle, embracing blend of comforting Cedarwood, warm Vanilla and relaxing Eucalyptus essential oils. An inviting blend best shared with loved ones and a glass of wine, creating fond memories to cherish for years to come.
A Holiday box wouldn't be complete without a candle (I say that every time). It is something I have come to expect with my LE White Willow Boxes and one of the reasons I love them so much. Even though its not necessarily a holiday scent, it's still lovely. And the decorative container is beautiful and can be reused long after the candle is gone. Use it to hold a succulent, office supplies or makeup brushes.
Daniel Chocolates Assorted Chocolates ($12)
If only taste buds could speak! A charming indulgence with an assortment of delightful dark and milk chocolates handcrafted in Vancouver (Canada) using only natural ingredients. Daniel Chocolates uses a perfect blend of imported cocoas from Dominican Republic, France and Belgium and never uses palm oil, preservatives or artificial colors.
Now we are talking…….is it weird that I get most excited for the chocolate treats we receive in the LE Holiday box each year? White Willow Box always finds the most delicious, quality chocolate. It's something I look forward to because it's a special little treat to myself. I set the chocolates aside and inlcuge in one every so often, usually at the end of a long day. Prior to being pregnant I would enjoy them with a glass of wine but this year I will swap the wine for a big ol' cup of tea.
Nana + Livy Soap Block ($6)
Nana + Livy's Soap Blocks are handcrafted in small batches to ensure quality. Perfect for skin with an appetite. With a minimalist design, this handcrafted Soap Block is small enough to make an easy grip when you use it for facial, hand and/or body cleansing. They contain no preservatives, parabens, sodium lauryl sulphate or other harsh chemicals. Lather and apply soap over wet skin. Rinse thoroughly while avoiding the eyes and irritated areas. To extend the life of your Soap Block, leave to dry on a dish that drains.
How stinkin' cute is this little soap block?! It's 100% vegan, cruelty-free, palm oil free, paraben free and sulfate free. Subscribers could have receive one of 4 different scents – charcoal, rose, lavender, or lemon. I received rose and it's a lovely scent. It's such a cute little block of soap that I am going to have a hard time using it. I may set it aside and use it as a travel soap. Or I might display it in one of our bathrooms.
White Willow Box Limited Edition Holiday Box 2019 – Final Thoughts
I can't say enough about the Limited Edition Holiday boxes from White Willow Box. I really do look forward to them all year. If I look back at all the LE boxes I have received from White Willow Box I can confidently say that I have loved them all. It makes me wish they released more LE boxes throughout the year. This year we received the perfect mixture of items for the holidays – cozy scarf, beautiful candle, quality skincare, makeup, chocolate, and jewelry. If I were to curate an LE box this is exactly what I would include. No wonder I love the boxes so much. If you missed out this year, put it in your calendar for next year. Plan to buy one for yourself, your Mom, Sister and Best Friend. You won't be disappointed.
-AYOB
Explore.
Save.
Enjoy!
Sign up for a free account on A Year of Boxes to receive exclusive offers, be added to our monthly mailing list, and much more! We are always adding features to improve the experience for our users, from their valuable feedback!
Join Today!