White Willow Box Review March 2016
If you are a new subscription box addict and need a good example of a Lifestyle Subscription Box, this would be it. White Willow Box is exactly what I look or in a lifestyle box. They set a great example of what a monthly subscription should look like, and they have raised the bar for Canadian based boxes. White Willow Box is definitely one of my favourites.
If you aren't familiar with White Willow Box it is Canada's newest and only upscale monthly lifestyle subscription box for women with a stylish flare shipping across Canada and the US. Each month you will receive four to five full-sized and sample products valued at over $70. This box was provided complimentary for review.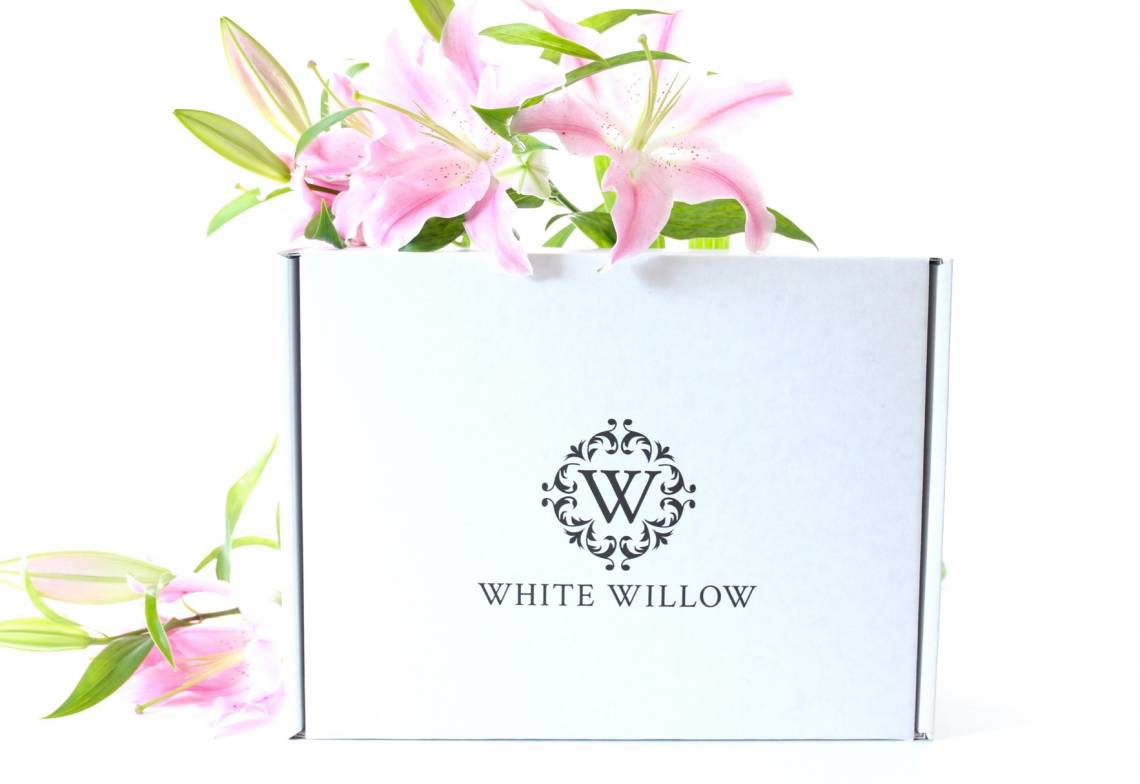 The Box: White Willow Box
Cost: $35 month to month, $34 for 3 months, $33 for 6 months and $32 for a 12 month subscription
What You Get: Four to Five full-sized and sample products from beauty and personal care, fashion accessories, home decor accents, culinary delights, technology gadgets and other lifestyle surprises.
Ships to: US & Canada
Shipping Cost: $8.50 to Canada & $19.50 to US
White Willow Box has all their bases covered…..but I've said that before. The packaging is top-notch, the product card is on point, the price is extremely reasonable for a box of this caliber, and the product mix is perfect. Oh….and did I mention that I LOVED the February box? It was pink, and red, and had Valentine's chocolates!
Mudlark Memento Boxes Notes ($18) – I love the idea of this first product. I don't totally love the design, but love that they included pretty stationery in a cute little keepsake box. This is something I like to have on hand, but rarely purchase for myself……these are the kind of items subscription boxes should be including……great idea!
LOLLIA Breathe by Margot Elena Shower Gel ($30) – This is too funny. I literally just ran out of shower gel and was hoping I would receive more in one of my boxes…….and here it is……..this is another thing I LOVE about subscription boxes, they prevent unnecessary trips to Shoppers Drug Mart. I've never heard of this brand before, but it's pretty pricey so I'm assuming it must be good.
Organic Infused Basil Oil by La Tourangelle Artisan Oils ($12) – Wow, another coincidence. I just discovered the world of infused oil, thanks to my best friend Ashley, and I am addicted. This is such a fun idea for a lifestyle box, and I really hope to see more products like this in future boxes. It says to drizzle over salad, pasta or pizza…..I seriously can't wait to use this. If you haven't tried infused oil yet….you must!
Oil Serving Dish ($6) – A cute little serving dish for my new oil obsession…..can it be any more perfect! I absolutely LOVE receiving any kind of kitchen ware item in my subscription boxes so they get bonus points for this one. Fill this with your basil oil, add some balsamic, and get out your bread.
Lindo Konjac Sponge ($15) – I've received these fun little sponges in a couple other subscription boxes, but I don't mind receiving another one. I have one hanging in my upstairs shower and will probably put this one in my downstairs shower. I like that these can be used without cleanser as I try to give my skin a break from face products as often as I can.
Value: $81
Thoughts: Awwwwe…..what a great box! Try to visualize me sitting here in front of my computer, looking at all the products, and saying awwwwe……because that's the best way to describe how I feel about the March box. It's not one of those "oh my gosh, I'm going to pee my pants" boxes, like their January one was, but it's a great box nonetheless. I know that it is a good box because I can say with confidence that I will be using each and every item……no gifting. I'm especially excited about the oil and the serving dish….I want to see more items like this in future boxes. I'm also very intrigued by the shower gel, it's the big-ticket item in the box and that makes me very curious about the brand. As usual, I am in love with my White Willow Box and it continues to hold a spot in my top 5 favourite boxes…..the April Box won't come soon enough for this girl….
XOXO