White Willow Box Review October 2016
White Willow Box Review October 2016
Woo Hoo! It's here! I've been looking forward to this box since I reviewed the last one back in August. Just to get you all up to speed, White Willow Box recently switched from a monthly subscription model to a bimonthly, we now have to wait two months in between boxes. This just means that the anticipation builds even more, and I get that much more excited when I see it arrive in the mail.
White Willow Box Details
If you aren't familiar with White Willow Box it is Canada's only upscale lifestyle subscription box for women with a stylish flare shipping across Canada and the US. Every two months you will receive four to five full-sized and sample products valued at over $70. This box was provided complimentary for review.
The Box: White Willow Box
Cost: $49.95 bimonthly
What You Get: Four to Five full-sized and sample products from beauty and personal care, fashion accessories, home decor accents, culinary delights, technology gadgets and other lifestyle surprises.
Ships to: US & Canada
Shipping Cost: $8.50 to Canada & $19.50 to US
October Details
White Willow Box doesn't really do a theme, but we did receive spoilers for the October box. I knew that we would be receiving a blanket scarf, and that alone makes me love this month's box. I can never have too many blankets scarves, honestly, I live in them from October to March. Other than that, I had no clue what to expect, the rest of the items are a big ol' surprise. Let's have a look……
Rose Gold Mirror Photo Frame
Striking beveled Rose Gold mirror photo frame compliments your favourite photographs. It's a perfect decor accent and will lend a touch of elegance to any room and space. Accommodates vertical and horizontal 4×6 photos.
This is why I love White Willow Box, we almost always receive a home decor item, and they are always gorgeous. I love rose gold, and now that we are in the new house and have triple the space, I have a lot of extra shelves to decorate.
Juicy Bamboo Gentle Facial Cleansing Oil Cloths by Kaia Naturals
Conventional makeup wipes only remove makeup. They don't cleanse the skin, but instead strip it of its natural oils which can leave it feeling dry. Juicy Bamboo is not a makeup remover, but an actual cleanser. Designed for the most sensitive skin types and eyes.
You know me and my face wipes, I love'em! These ones won the 2015 Earth Day Beauty Award and the 2014 Best/Natural/Organic Product by Canadian Innovation Award.
Maple Pumpkin Butter by Wildly Delicious
Pure Canadian maple syrup, holiday spices and pumpkin are slowly stirred together in open kettles to create the ultimate fall condiment. Delicious paired with brie and goat cheese, spread on toast, topped on muffins or ice cream, used in yogurt parfait, mixed in coffee, or as a filling for autumn tartlets.
Talk about the perfect item for an October Box. This is exactly what I've come to expect from White Willow Box. Awesome little treasures/goodies that are season appropriate and that I never would have found on my own.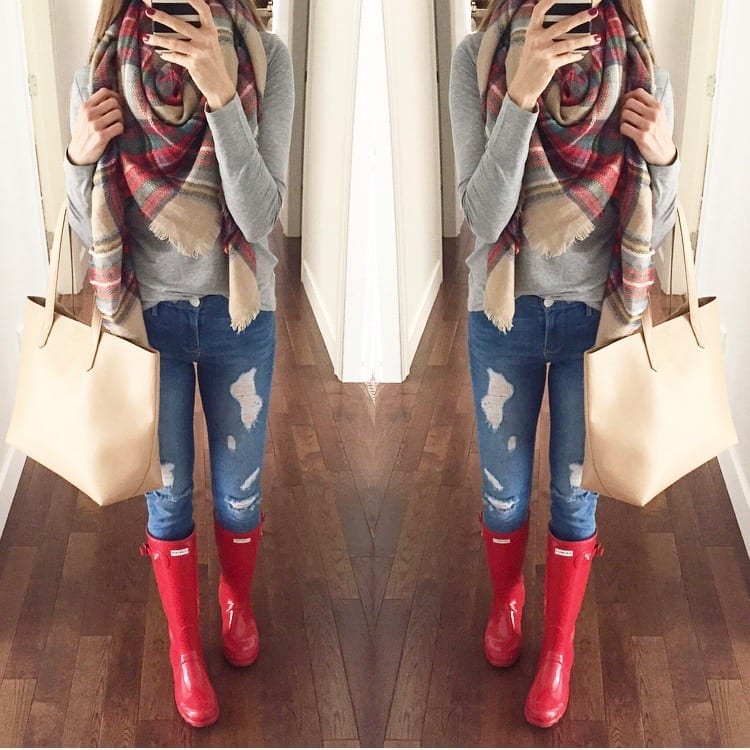 Large Blanket Scarf
Keep warm with this season's trendiest blanket scarf. It can be worn numerous ways, elevating your style to the next level while keeping warm. A trendy accessory that can multitask – now that's what every girl on the go needs most!
This item alone makes the October White Willow Box worth getting. I am in LOVE with this scarf. It is an actual square (very important when it comes to blanket scarves) and it is soft as opposed to itchy, like some of the cheaper blanket scarves on the market. As you can see from my outfit photos, it is extremely versatile. You can wear it with so many different outfits. I have it on as we speak, and probably won't take it off till spring.
Pumpkin Spice Lindt Truffles
Please enjoy these decadent fall flavoured Lindt Pumpkin Spice Truffles on us!
Ummm…….bonus chocolates……#awesome!
White Willow Box Review October 2016 – Final Thoughts
I love it! But I knew I would. As soon as I saw the blanket scarf spoiler I knew I was going to love the October White Willow box. And then they go and throw in some Maple Pumpkin Butter…..what! We received a fashion accessory, a home decor item, a Fall inspired food item, and beauty item…..what more can you ask for! Other than maybe a makeup item or a jewelry item, but that's if I am being extremely picky. This is exactly what I like to see from White Willow Box. They nailed it this month by including some seasonal items. Nothing will be gifted this month, all of these items will be put to use by little ol' me. I am SO excited!!
XOXO