The Willie Wags Review June 2016
The Willie Wags Review June 2016
The Willie Wags Review June 2016 – Are you familiar with this new lifestyle subscription box? If not, you need to be. I honestly LOVE this subscription. They do a phenomenal job of putting it together. And the fact that they support women owned businesses makes it even more awesome. I used the word "obsessed" for my May review, and this month I am using the word "adore".
If you aren't familiar with The Willie Wags it is the first subscription box that supports & gives back to women owned small businesses. It is a quirky and fun subscription service for professional women based on two core values: women supporting women and discovering those must have essentials that are hidden off the beaten path…or as they refer to it, The Willie Wags. This box was provided complimentary for review and may include affiliate links.
The Box: The Willie Wags
Cost: $59.99 per month
What You Get: 7 products from different women owned small businesses. When you subscribe to The Willie Wags, you will receive a box each month filled with carefully curated items from women owned small businesses. Each box is designed to empower, motivate, inspire, and encourage you. A portion of each box subscription goes back to fund growth opportunities for the small businesses we collaborate with! A subscription box never felt this good!
Ships to: US
Shipping Cost: Calculated at checkout
Theme Details
This month we got a cute little card talking about the themes from the last two months (Read Up & Enjoy Surprise) and it also told us the theme for this month. Have I mentioned how much I love the attention to detail, and all the adorable information cards they include? This month it's time to remember to "Rock On!"
"Impromptu dance parties and singing in the car will put a smile on anyone's face. Give yourself a mid-day pick me up by rocking out to The Willie Wags "Reminder to Rock On" playlist on Spotify. All female artists. All will get you singing. All the motivation you will need" – SUCH A GREAT IDEA!!
Coaching Call With Kaitlyn Stephens
Meet Kaitlyn Stephens. A published Author and leading empowerment coach for aspiring female entrepreneurs. Kaitlyn is more than equipped to help any aspiring Lady Boss go from having an idea to having the ideal career.
I'm not a huge fan of these sort of items, but that's only because I never end up using them. Some subscribers will absolutely love this, and will definitely find it valuable.
Soy Lotion Candle by Spinster Sisters
Great for both aromatherapy and massage, these soy-based candles with jojoba oil, cocoa butter, and shea butter melt at a comfortable temperature to rub into the skin. Full of moisturizing ingredients, these candles are an excellent tool to relieve stress. 
To use:  Light candle and allow the desired amount to melt to a pour-able consistency, then rub into skin. 
I've been burning candles on a regular basis as of late. It's almost become a daily thing. I always love to see them in my subscription boxes, and this is a brand/shop I've never heard of before so it's even better. I'm also very intrigued by the whole massage candle thing. It's something I've never tried, but certainly want to.
Aloha Beaches Tank Top by Lazy J
Owner Molly combines her love of screen printing and inspiration of living in California to create fabulous clothing with hilarious tag lines. 
I love this! We haven't received clothing in any of the previous boxes and I really hope we see more in the future. This is the perfect little Summer tank. I can see myself wearing this around the house, for a day of running errands, and maybe to the gym. But at the same time, it's so cute that I won't want to ruin it with all my stinky sweat.
Ground coffee by Ripple Coffee
All beans for Ripple Coffee are sourced from women-owned farms and a percentage of every sale goes back into these coffee growing communities. 
I wasn't overly excited about this item when I first saw it. I was happy, but not ecstatic. But, my opinion changed after I read the product quote above. I LOVE that the coffee beans are from women-owned farms. And I love the Willie Wags Lesson that accompanies it – "Raise your glass and your standards. When women support women incredible things happen". I am now extremely excited about this item.
Summer Koozies by Sucre Shop
Owner Brooke's business started from a DIY blog post she wrote in May 2011. After some publicity and a few wholesale orders, the train hasn't stopped rolling. Her brightly designed line is fun, functional and sure to bring a smile to anyone's face. 
I've never really been a Koozie kind of girl, but these ones are pretty darn cute. I will probably use them for water or juice bottles.
Notebook by May Designs
Owner Mica May was always a notebook junkie – but couldn't find the perfect one. On a whim she began designing them for herself, with patterns and insides she wanted. Clients and friends wanted them too, so she threw some patterns up online and May Books was born. 
Just like the creator of this gorgeous little book, I too am a notebook junkie. If I didn't have such great willpower I would probably have shelves full of these beauties. In regards to this one specifically, I've already started using it. It is sitting beside me as we speak. I am using it for my Etsy Shop to-do list.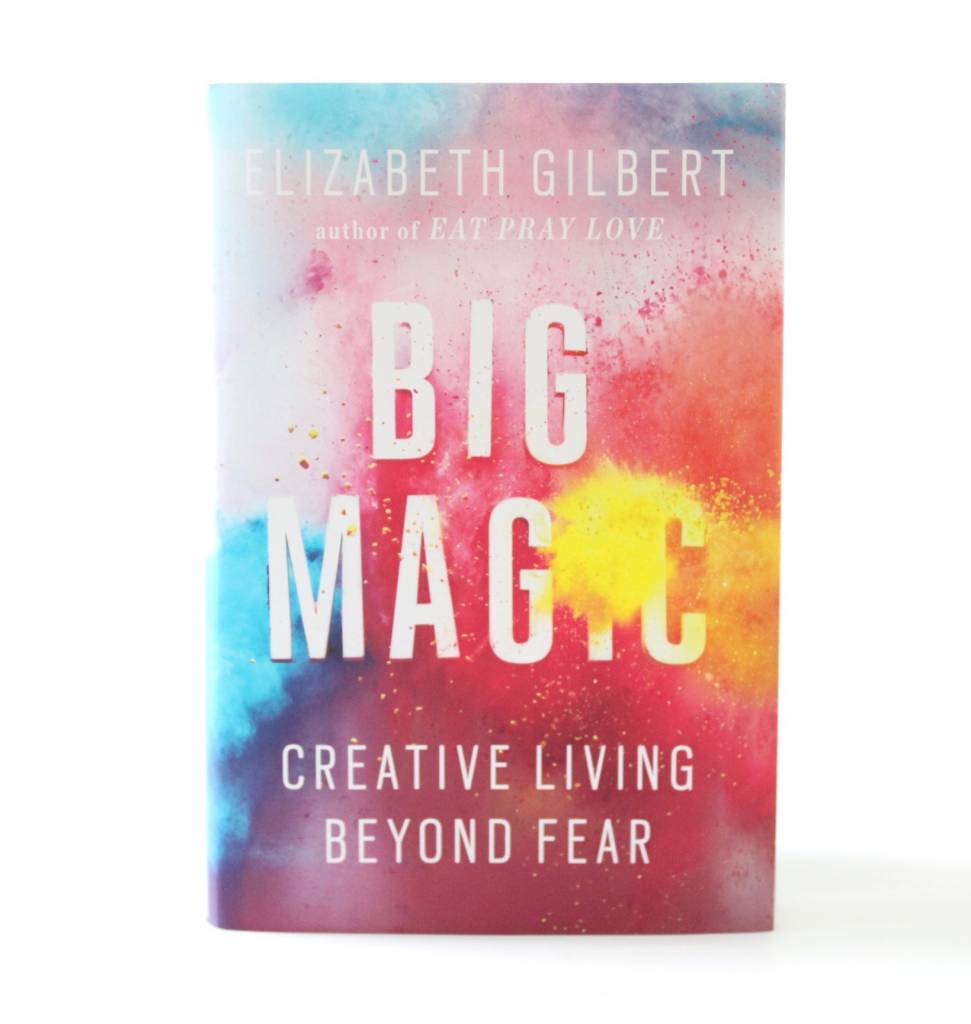 Big Magic by Elizabeth Gilbert
Elizabeth is the author of Eat Pray Love, and she shares intimate glimpses into her life complete with bouts of paralyzing fear and frustration. She attempts to coax the rest of us into walking through the world just a little bit braver. 
I am a huge fan of Eat Pray Love, and I'm sure this book will be equally amazing, but I was really hoping for a trashy beach read. Don't get me wrong, I love that we received a book, and I will definitely read it, but my mind has been so stressed and busy as of late that I would love a mindless, girly novel.
The Willie Wags Review June 2016 – Final Thoughts
I think I need to meet The Willie Wags owner. She seems like my kind of people. Everything about this box has my name written all over it. From the style of the logo, to the attention to detail, to the amazing products, and everything in between, I feel like it has all been customized to my preferences. Basically I love everything. And if you thought the love fest ended there, you were wrong. This month has a bit of a summer vibe going on thanks to the Koozies and the Tank, and I LOVE Summer themed boxes. The love fest continues……….
XOXO
Explore.
Save.
Enjoy!
Sign up for a free account on A Year of Boxes to receive exclusive offers, be added to our monthly mailing list, and much more! We are always adding features to improve the experience for our users, from their valuable feedback!
Join Today!