Wohven Review April 2021
Wohven is a clothing subscription box that sends unique high quality clothing items at a fraction of retail pricing. They kindly sent us this box for review.
How it Works
You will select from a variety of options such as graphic T-shirt, graphic V-neck, blank T-shirt, blank V-neck, long sleeve graphic T-shirt, kids graphic T-shirt, women's graphic T-shirt, or socks. T-shirt sizes range from x-small to 3XL, while socks are one size fits all. Subscription prices range from $10 for a blank T-shirt to $22 for a US made graphic T-shirt.
Everything is shipped neatly packaged in Wohven's signature green mailer.
This is a review of the women's graphic T-shirt subscription that costs $15 per month. Let's take a closer look at the April T-shirt and design!
Wohven Women's Graphic T-Shirt
Wohven T-shirts are made from a super soft blend of 60% combed ringspun cotton and 40% polyester. Care instructions are included on the T-shirt. The Wohven T-shirt fabric is comfortable and hold up really well in the wash without any color bleeding or fading.
Wohven included a note informing us that the ink on this month's shirt is a little different than usual. Typically, you will not feel the ink of the design on a Wohven T. However, because this month's design requires a color combination needing more ink to ensure quality and longevity, you will be able to "feel" the ink of the design on the fabric.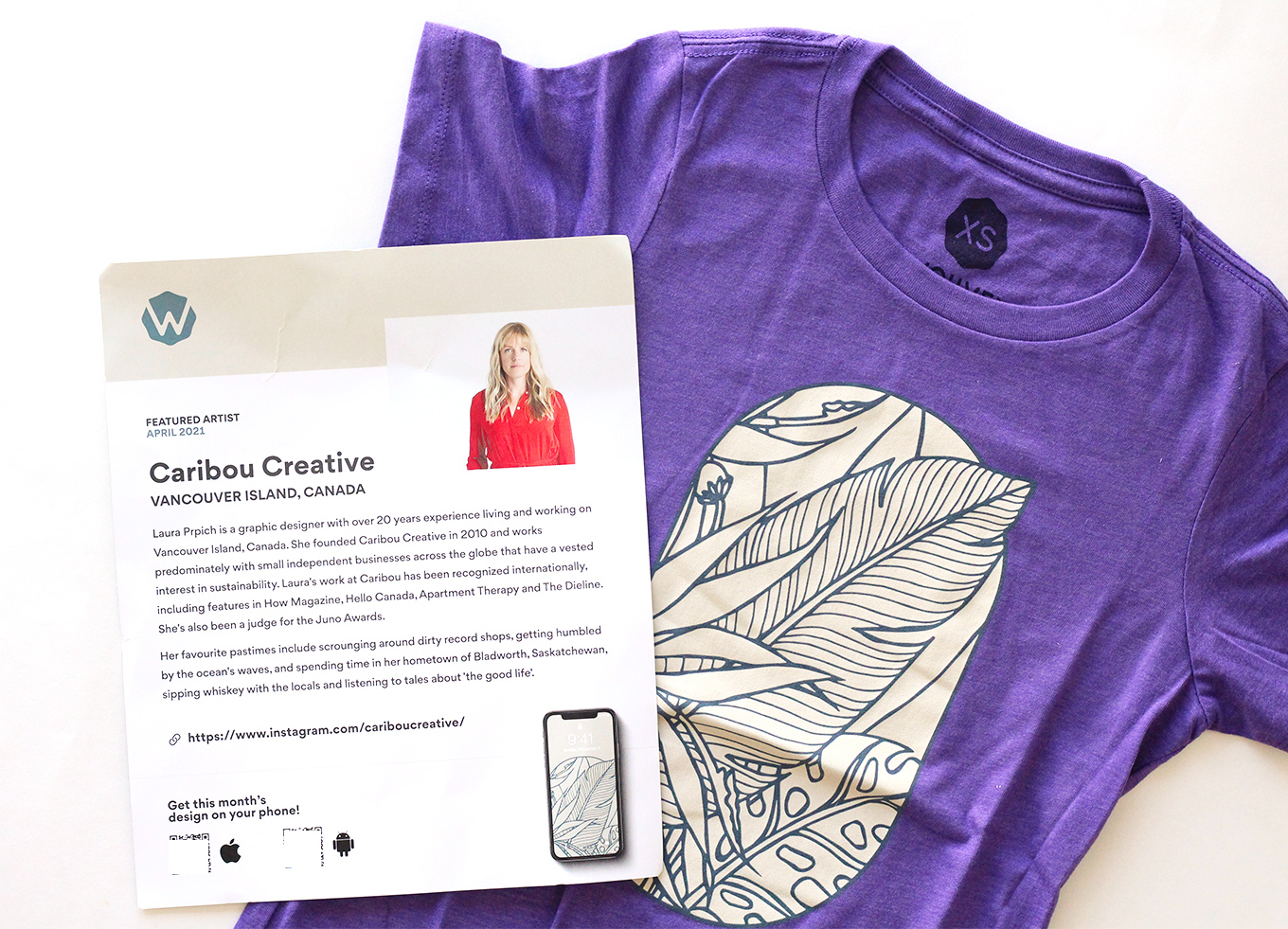 Each month, Wohven features a different designer for the graphic T-shirt subscription. The package includes an information card about the featured designer. The designer this month is Caribou Creative from Vancouver Island, Canada. I am so excited to see a featured designer that is from a city close by! The founder or Caribou Creative, Laura Prpich, is a graphic designer with over 20 years of experience and has internationally recognized works featured in publications like Hello Canada and Apartment Therapy.
The design of the month is on the flip side of the card and you can use it as a poster. If you prefer a digital version, the information card includes a a QR code you can scan to download the month's design to your phone.
The Wohven ladies T features a more defined waist and a slimmer cut that is super flattering. I love the design for this month. The palm leaf motive reminds me of a tropical getaway. Hopefully we will all be able to take a tropical vacation soon! The T-shirt color for this month is a really bright, fun purple. Personally, I am not a big fan of this particular shade of purple on me. But otherwise, I think this is such a great design for summer.
Wohven Review April 2021 – Final Thoughts
Even though I am not a fan of the T-shirt color this month, I still think it is such a fun design with the palm leave graphic. It is perfect for summer, evoking a tropical getaway. As always, the fabric is such an amazing quality, and the different printing technique did not impact quality one bit. Wohven Ts are a favorite in my daily wear rotation, and I look forward to see more unique designs from them! If you are looking for some good quality graphic tees to add to your closet, I highly recommend Wohven.
Toby & Rocket – http://www.tobyandrocket.com