Wohven Review July 2019
Wohven is a better way to buy quality men's essentials. Quality graphic t-shirts, blank t-shirts, and socks delivered monthly to your door at a fraction of the price of retail. Each uniquely and intentionally designed by a new artist every month. They kindly sent us this box for review.
Wohven is a men's subscription box that sends a new t-shirt, or socks, or both, each month. I have been getting this subscription for myself so don't let the fact that it is a men's subscription stop you from subscribing, if you are a lady that is. For all the men out there reading this, I HIGHLY recommend Wohven…..it's a great way to keep your t-shirt game up-to-date and on point.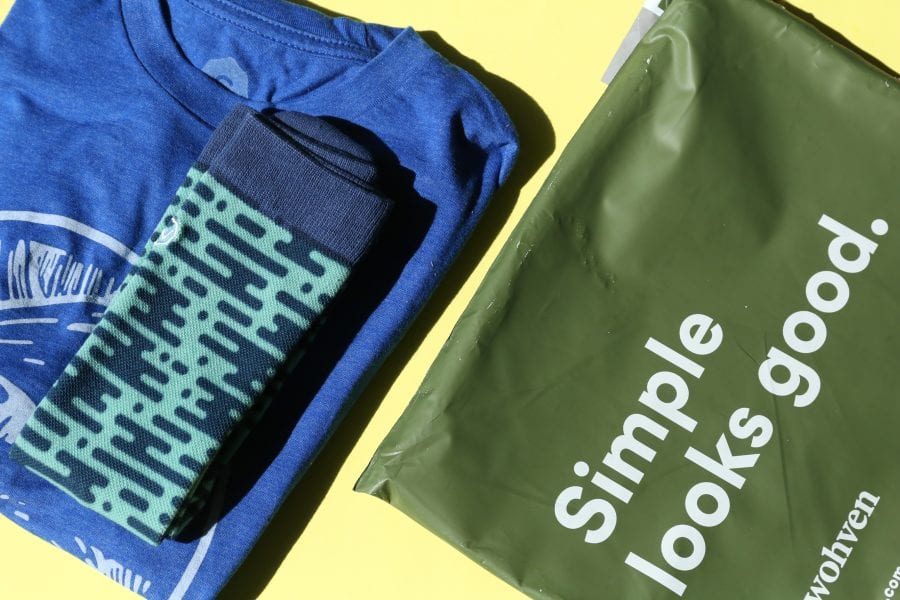 Subscription Details
When you sign up for a Wohven subscription you get to choose from the following…
Graphic Tee
Graphic V-Neck
Blank Tee
Blank V-Neck
Long-Sleeve Graphic Tee
Socks
Sizes range from small to xx-large and shipping is only $2!
Here's a closer look at the products we received for July….
Socks
Wohven socks are a soft, durable blend of cotton, polyester and elastic. They have a reinforced toe and heel which means no more uncomfortable holes. The specially designed calf upper keeps them up all day and they are one size fits all.
Full disclosure –  I didn't really like the June socks, but the July socks are more than making up for it. I love the color combo and the unique pattern. It is unlike anything I have seen on a pair of socks before. Wohven socks are super comfy and the fabric is awesome.
Graphic Tee
Wohven t-shirts offer a new simple, clean graphic every month. They are an exceptionally soft blend of combed, ringspun cotton and polyester. They are pre-shrunk, have an ideal fit and are true to size.
Yes! Love, love, love the July t-shirt. The color is perfect for summer. The bright royal blue is making me want to take a trip to the beach asap. I am picturing this tee as a beach cover, or tied in a knot with a cute pair of jean shorts. The graphic is giving off some serious beachy vibes as well. One of my favourite t-shirt designs to date.
Wohven Review July 2019 – Final Thoughts
Wohven nailed it with the July design. They curated the t-shirt and sock designs perfectly for the month of July. The t-shirt gives off some serious Summer vibes and I appreciate the fact that they curated the box according to the season. The other thing I love about Wohven is the fact that they have a few different style options to choose from. There's a little something for everyone.
-AYOB