Wohven Review July 2021
Wohven is a clothing subscription box that sends unique high quality clothing items at a fraction of retail pricing. They kindly sent us this box for review.
How it Works
Wohven subscribers can select from a variety of options such as graphic T-shirt, graphic V-neck, blank T-shirt, blank V-neck, long sleeve graphic T-shirt, kids graphic T-shirt, women's graphic T-shirt, or socks. T-shirt sizes range from x-small to 3XL, while socks are one size fits all. Subscription prices range from $10 for a blank T-shirt to $22 for a US made graphic T-shirt.
Everything is neatly packaged in Wohven's signature green mailer.
This is a review of the women's graphic T-shirt subscription that costs $15 per month and sock subscription that costs $10 per month. Let's take a closer look at what I received for July!
Wohven Women's Graphic T-Shirt
Wohven T-shirts are made from a super soft blend of 60% combed ringspun cotton and 40% polyester. Care instructions are printed on the inside of the T-shirt. The Wohven quality is really reflected in how comfortable the T-shirt fabric is. The tees I receive from Wohven hold up really well in the wash without any color bleeding, fading or shrinkage – even after months of frequent wear they still look practically brand new!
Each month, Wohven features a different designer for the graphic T-shirt subscription. Each T-shirt package includes an information card about the featured designer. The designer this month is David Rollyn Powell from St. Paul, Minnesota. David specializes in pen and ink illustration, and enjoys being on the road with his wife and dog looking for trout streams, waves, and good rock climbing.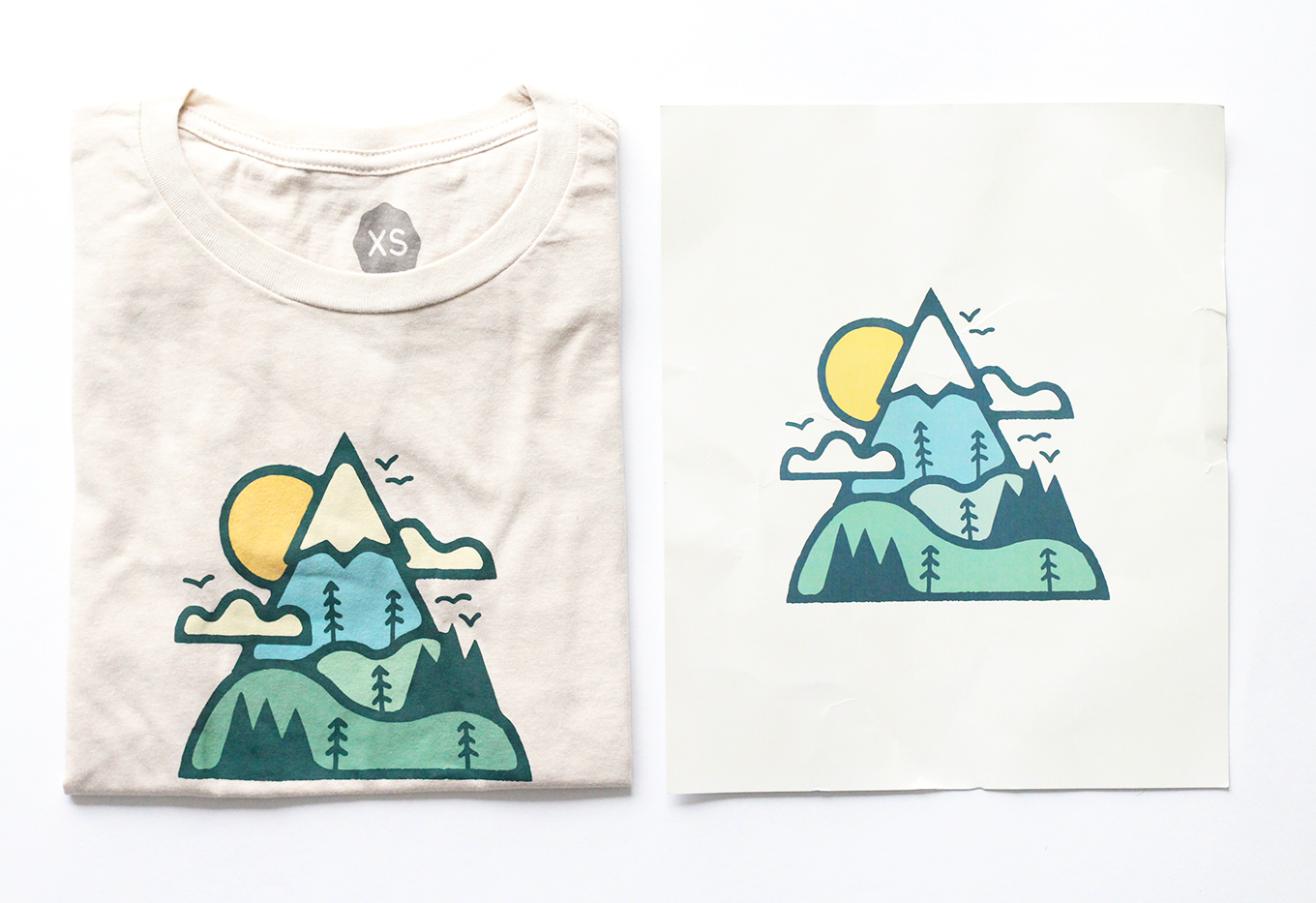 The flip side of the information card is a poster of this month's design. If you prefer a digital version, the information card includes a a QR code you can scan to download the month's design to your phone. I love this month's design and using it as a wallpaper on my phone.
The Wohven ladies tee features a more defined waist and a slimmer cut that is super flattering. This month's design really reflects the illustrator's love for the outdoors. It is a colorful and vivid mountain scene with trees, clouds, the sun, and a snow-capped mountain. Doesn't the mountain top also remind you of a pencil? This design reminds me so much of summer camp. Miss those days! The light beige color chosen for the T-shirt really helps bring out the colors of the graphic.
Wohven Socks
Wohven's socks are a soft, durable blend of 20% cotton, 60% polyester, 17% nylon, and 2% spandex. Wohven's high quality fabrics are also found in their socks. The socks have a reinforced heel and toe for added comfort, and a specially designed calf to help them stay up all day. These socks are one size fits all, and fits both my husband and I really well.
The July socks are a gorgeous mint green color with contrasting olive green heal and toes. The design, also in olive green, are a ink splatter pattern. It may be just me and the fact that I am needing a snack right now, but this design somehow reminds me so much of mint chocolate chip ice cream LOL.
Wohven Review July 2021 – Final Thoughts
Wohven really knocked it out of the park this month! I absolutely love the graphic T design and colors, and the socks are just so cute. These socks strike just the right balance between dressy and casual. My husband usually wears them to work, but I can see these socks being suitable for all kinds of occasions. Both items are the same soft and comfortable quality my husband and I have come to love, a main reason why Wohven tees and socks are a constant favorite in our daily wear rotation. If you are looking for some great quality clothing items, Wohven is highly recommended.
Toby & Rocket – http://www.tobyandrocket.com