Wohven Review June 2018
Wohven is a t-shirt, sock and boxer brief subscription service that allows you to get premium essentials for significantly less than retail pricing. Simply choose whether you want to receive blank or graphic tees, socks or boxers and then sit back and watch the stylish shirts roll in every month.
Looking for a way to up your t-shirt game? Or maybe you are like my fiancé and you go through t-shirts faster than anything else? Or maybe you wear t-shirts on a daily basis (also like my fiancé). Well……let me introduce you to Wohven. One of my favourite men's subscription boxes. It's inexpensive and it will keep your t-shirt game on point!
Subscription Details
When you sign up for a Wohven subscription you get to choose from the following…
Graphic Tee
Graphic V-Neck
Blank Tee
Blank V-Neck
Long-Sleeve Graphic Tee
Socks
Boxer Briefs
Sizes range from small to xx-large and shipping is only $2!
Here's a look at this month's graphic tee design……
Graphic Tee – Thomas Sullivan
This month's graphic tee was designed by Thomas Sullivan of Dana Point, CA. Thomas currently spends his days as senior creative at National Forest Design in Los Angeles, focusing on brand identity, design, and art direction. 
Why We Love This Design
We're known for sticking to a neutral color palette, but sometimes you simply need to mix it up. Thomas' design evokes a classic surf style that we've grown up loving here in Southern California. And the figure relaxing in the shade sets it apart from the plethora of palm illustrations we've seen in the past.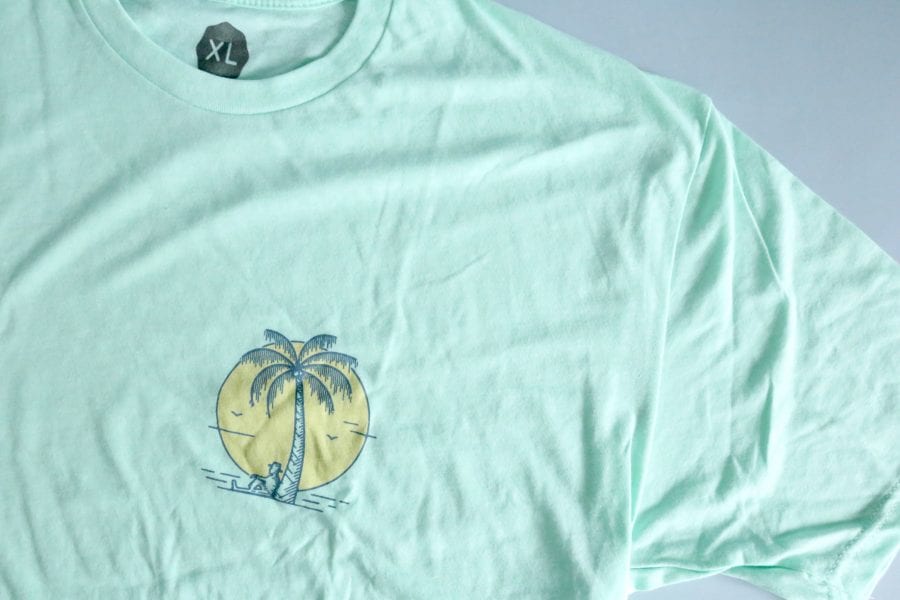 Wohven Review June 2018 – Final Thoughts
Wohven stepped out of their comfort zone this month and went for a color different from the neutrals they usually send us. I love that they mixed things up but personally I prefer the neutrals. This is a great design for Summer and the colors are fun and bright but I prefer understated colors. That's not to say I don't like the shirt itself, I certainly do, and I absolutely LOVE this subscription, the June shirt just isn't a personal fave. Overall, Wohven is still a subscription I love. Both my fiancé and I have loved the last couple graphic tees we received, both of mine are worn on a regular basis.
XOXO