Wohven Review November 2020
Wohven is a clothing subscription box for anyone looking to receive their choice of T-shirt or socks every month. Wohven boxes contain unique high quality clothing items at a fraction of retail pricing.
This box was kindly sent to us for review.
How it Works
You will select from a variety of options such as graphic T-shirt, graphic V-neck, blank T-shirt, blank V-neck, long sleeve graphic T-shirt, kids graphic T-shirt, women's graphic T-shirt, or socks. T-shirt sizes range from x-small to 3XL, while socks are one size fits all. Subscription prices range from $9 for a blank T-shirt to $20 for a US made graphic T-shirt plus $2 shipping.
Everything is shipped in Wohven's signature green mailer.
Let's take a closer look at the women's graphic T-shirt subscription that costs $13 per month and the sock subscription that costs $10 per month.
Women's Graphic T-Shirt
Wohven T-shirts are made from a super soft blend of 60% combed ringspun cotton and 40% polyester. I find the T-shirts to be breathable and comfortable. Care instructions are on the T-shirt. I have reviewed this box for a while now, and the T-shirts I received when I first started reviewing this box are still as new even with constant wear and wash.
Each month, Wohven features a different designer for the graphic T-shirt subscription. The package includes an information card about the featured designer. The designer this month is Audrey Elise from San Francisco, CA. She is a self-taught brand designer and creative director.
This month, Wohven sent a QR code you can scan to download the month's design to your phone instead of a card poster. I really love this change and hope it is here to stay! While a really nice touch, the card poster usually arrives a little dinged from the post. I change my phone background frequently, and will get more use out of the digital option.
This month's design is a colorful graphic with black outlines. This reminds me of a stained glass window! I love the light gray color chosen for the T-shirt. Gray is a color I wear often, and I am sure this T-shirt will be a regular favorite in my rotation.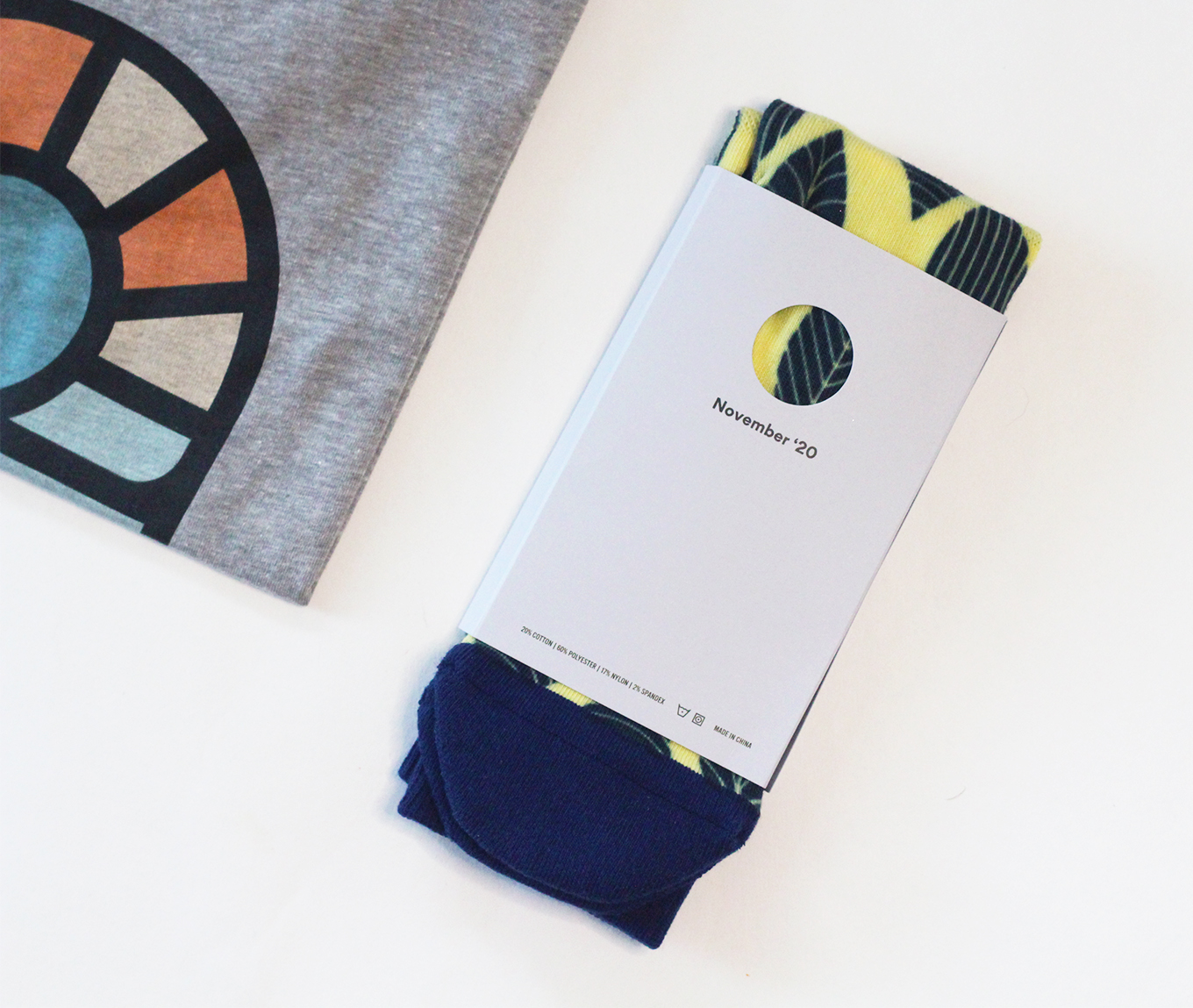 Socks
Wohven's socks are a soft, durable blend of 20% cotton, 60% polyester, 17% nylon, and 2% spandex.
The socks have a reinforced heel and toe for added comfort, and a specially designed calf upper to help them stay up all day.
This month's socks are bright yellow with a leaf pattern and contrasting navy cuffs, heels, and toes. I think yellow is such a happy color. These socks really brighten up a dreary and rainy day! My husband is a big fan of Wohven's socks. He finds them comfortable and just the right thickness. Wohven socks are one size fits all, and I think I am going to claim this month's pair for myself because I really like the design.
Wohven Review November 2020 – Final Thoughts
Wohven does not disappoint again! We love both the T-shirt and socks designs this month. We look forward to receiving this subscription each month. These graphic T-shirts and socks are now staples for us. Now that I have transitioned to work completely from home, I wear graphic T-shirts like these almost daily. The ladies T features a more fitted cut that is really flattering and comfortable. This subscription is a must for anyone looking to build their graphic T or sock collection.
Toby & Rocket – http://www.tobyandrocket.com