Women's Collective Box Review Summer 2021
Women's Collective Box is a quarterly subscription box that has a mission to support and empower women entrepreneurs. Each quarterly box is curated with 6-8 practical, pretty, and sustainable products, by women for women. The full-size items are from women-owned businesses and 5% of their profits go back to empowering small women-owned brands. Women's Collective is more than a box, it's a sisterhood and with your subscription, they encourage you to join their Instagram and Facebook community to connect with women who are putting their hearts into making a name for themselves. Prepare for connections + conversations to turn into lasting relationships.
The Women's Collective Box offers two different subscription options: a recurring quarterly subscription or an annual subscription (four boxes total). The Women's Collective Box ships from Grand Rapids, Michigan, mid-month, of the first month, of each new season! Standard shipping costs are calculated at checkout.
*They kindly sent us this box for review.*
The Women's Collective Box is a new-ish subscription box to the market; They started shipping in March of last year, but this is my very first time receiving it. I love that Women's Collective Box is all about celebrating sisterhood: women, their ideas, and their products and how they flourish within communities that value their voices and empower them to succeed. I am all about supporting one another as it has always been women who have lifted me during my trying times and I too, always do my best to support women.
Here's a closer look at the Summer 2021 Women's Collective Box…
You can check out the featured women in this season's box on the Women's Collective Box website or read all about them in this product guide. There are also product descriptions, retail value and other details listed for each featured woman.
Featured Artist – Steffi Lynn
"Steffi Lynn Tsai was born in Austin, Texas and is now currently residing in Brooklyn, NY. Steffi's work is filled with quirkiness, color and character. She is driven to take normal scenes and moments and make them playful, exciting and enticing. Her work is inspired by everyday things, reactions and feelings, and simple imagery from her imagination or nature."
I am obsessed with Steffi Lynn and have been following her on Instagram for some time now. Her work is stunning and I highly suggest you take a peek at her work and give her a follow!
Let's take a look at the items:
Routine & Things Weekly Planning Notepad ($16)
"Declutter your mind, get focused, and get things done with this gorgeous notepad. This lighthearted notepad is the perfect addition to your planning routine. It features a brain dump section, area for goal setting, a weekly routine tracker, and an abundance of space to schedule in daily tasks and wellness activities."
I love stationery! This notepad is so cool and will keep me on track between school, appointments, work and blogging! I cannot wait to get started using it. I especially love the colour palette used and it looks stunning on my desk. I also love that I can easily tear used pages off and keep going.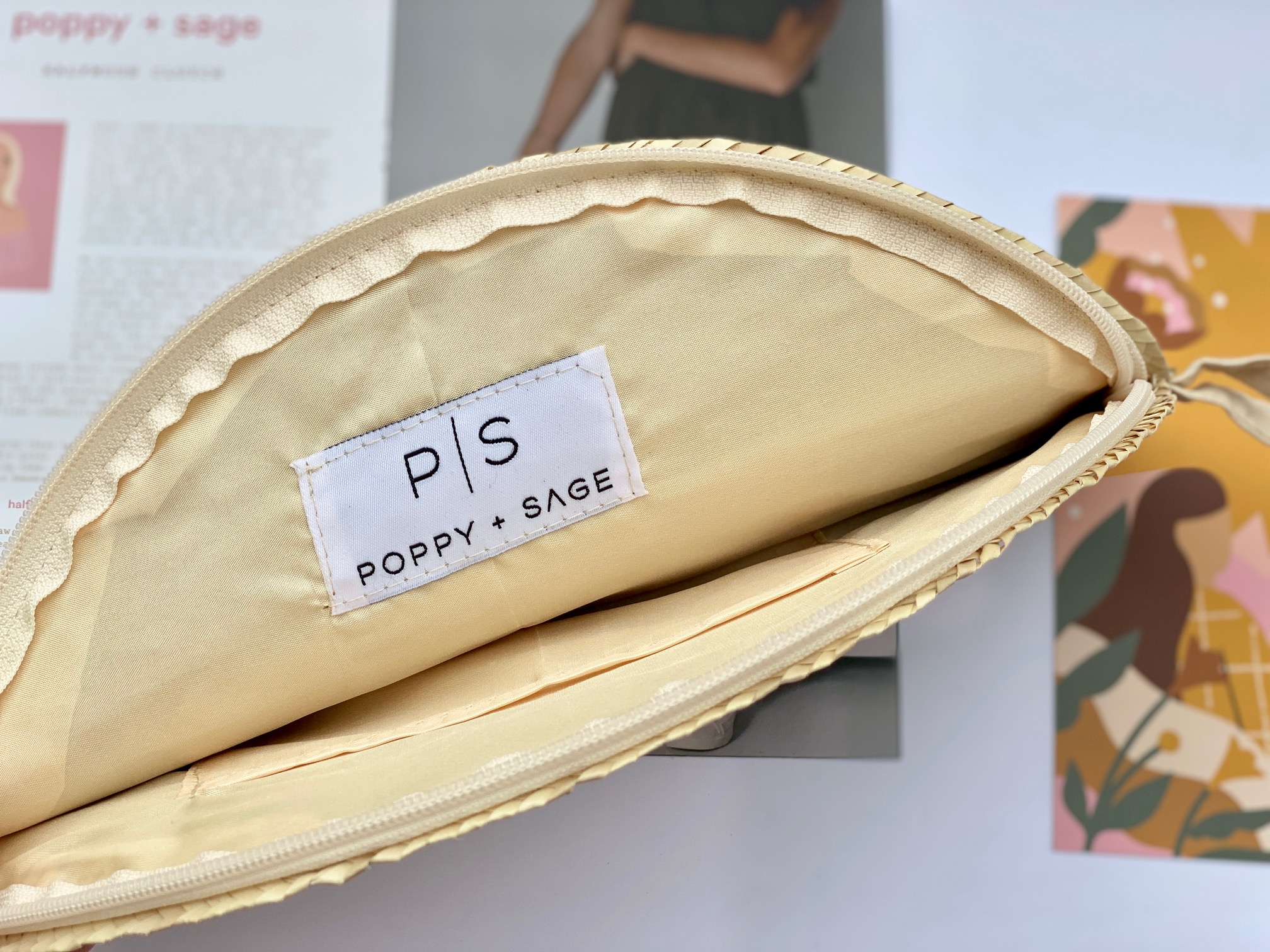 Poppy + Sage Halfmoon Clutch ($48)
"All of our rattan straw items are handwoven by individual artisans. Due to the fact that each clutch is handmade, the item may vary slightly from the online image. The woven pattern is unique to every bag, this is what makes each POPPY + SAGE clutch such a special treasure knowing yours is truly one-of-a-kind!"
This beautiful clutch was handwoven in Bali! I adore that it features a zipper closure, an interior pocket sized just right for your cards or phone, and a functional wrist strap so you can toss this on and carry it by hand easily! I have only had it for a week but have taken it with me for coffee, dinner and to a distanced function and I received so many compliments! I love this clutch and it will e a staple in my Summer wardrobe moving forward.
Have a Nice Day Reusable Nylon Bag ($18)
"An everything bag! For your groceries, wallet, books, clothes or whatever you want. These reusable bags were made to practice sustainability and be more environmentally friendly."
This bag was designed by this Summer's Women's Collective Box Artist Steffi Lynn. I am actually such an earth lover and always try to lessen my carbon footprint. This is my favourite kind of reusable bag as it folds up to be tiny but when open it holds a lot! The little pouch it folds into becomes an inside pocket of the bag – so smart! I also love the design I received as it is bright, just like sunshine!
Ten79LA Mini Ring Pendant Necklace ($60)
"An irregular, semi-flattened ring pendant anchors a delicate chain necklace in 18-karat gold plate. The perfect simplistic design that will go with any summer outfit."
This mini ring pendant necklace is stunning and I have not taken it off since receiving it, other than to shower. I have received many compliments on it from my classmates and love that it can pair well with both casual and dressy looks. Love! I would also recommend taking a look at the other pieces Ten79LA has on their site as they are all stunning!
Sahara Rose Hydra Rich Radiance Mist ($34)
"Hydra Rich Radiance Mist is a luxurious, lightweight mist that energizes and enhances skin's radiance. It is made of a unique blend of youth-boosting, rose petals and ultra-powerful, uplifting ruby crystals. Extracts of chamomile, calendula, along with hyaluronic acid and aloe vera, instantly hydrate and revitalize skin. Sacred Energy Radiance Mist can be used as a makeup setting spray or throughout the day to refresh and uplift the skin and senses for a radiant and luminous complexion."
This spray hydrates my dry sun-kissed skin and gives it a subtle glow. It is the perfect pick-me-up, and makes me feel so good! It also smells incredible and I find myself using it often as it smells so good!
Sundream Sun Speckle Glass ($16)
"Meet the Speckled Sun Glass Can Cup. Your perfect summer go-to iced coffee cup. Fill it with the good stuff and shine on!"
This glass is everything! From the can-shape to the sun-speckled details, I love it. I find that I am often reaching for it as it makes me happy to drink from it. I will definitely be looking into their other products.
Women's Collective Box Review Summer 2021 – Final Thoughts
Women's Collective Box did an incredible job with their Summer 2021 box! I love every single item that came in this box and it featured six incredible women, their products and businesses. All of these items will be so useful for organization, fashion and my summer break. I love the Poppy + Sage Halfmoon Clutch, the Ten79LA Mini Ring Pendant Necklace and the Sundream Sun Speckled Glass. I have started following all of these brands on Instagram and will be supporting them in the future. This is the perfect subscription for anyone who appreciates practical, pretty, and sustainable products, by women for women. I think this is my new favourite box!
Hayley Savanna – https://www.instagram.com/hayleysavanna/
Explore.
Save.
Enjoy!
Sign up for a free account on A Year of Boxes to receive exclusive offers, be added to our monthly mailing list, and much more! We are always adding features to improve the experience for our users, from their valuable feedback!
Join Today!