YogaClub Review December 2018
YogaClub is your personal stylist for the yoga inspired life. Delivering high quality, brand name yoga apparel at an affordable price, they are committed to empowering women to be active, confident and mindful in everything they take on. Choose a package and frequency of delivery then, take their proprietary style quiz to choose your sizes, favorite ways to sweat, and personal style. Every piece of activewear is handpicked by their expert stylists, just for you! They kindly sent us this box for review.
Coupon Code: Use our link to get 20% OFF your first box. Coupon applied at checkout!  – CLICK HERE
YogaClub is my go-to subscription for athletic wear. I LOVE the fact that I get an entire outfit each month for only $79. The price point is unbeatable and the subscription is customizable. You can let your stylist know what kind of items you would like to receive, what colors, what patterns, etc….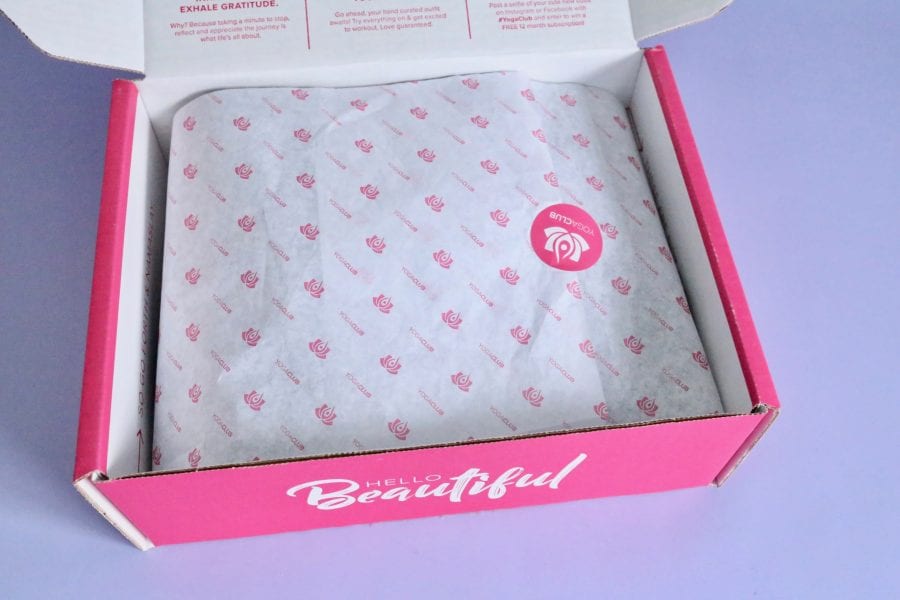 Subscription Details
Box Details: With YogaClub each month their expert stylists will style you in curated pieces of on-trend active wear. Receive a 3-Piece Premium Brand Outfit, 100% Hand Curated starting at $79 per month.
YogaClub Packages:
Guru Monthly – $79
Guru Seasonal (every 3 months) – $89
How it Works:
Step 1: Take the fun & interactive style quiz to tell them about your unique style preferences and select a membership package.
Step 2: Once their stylists know your unique style, they'll get to work on hand selecting the best brand name pieces that match your personality, body type and favorite ways to sweat or relax!

Step 3: Your YogaClub box saves you up to 50% off MSRP and will be delivered right to your doorstep so you can hit the mat with cute new outfits personally styled just for you!
Here's a peek at the outfit my stylist put together for me this month……
Free People Cocoa Leggings
First up we have Free People leggings. They have a thick elastic waistband and really great seams down the side. They also have large pockets on both sides which will be perfect for my cell phone. I'm not loving the color but the side panels make them very flattering.
Free People Black Tank
Next up we have a black tank that will pair with the leggings perfectly. It's a thin material that will be nice and breathable. It will be a great layering piece.
The Free Yoga Grey Shirt
Lastly we have a soft grey tee with a keyhole back. The material has 4-way stretch which will maintain its elasticity. It's super soft and very comfortable.
YogaClub Review December 2018 – Final Thoughts
I have been reviewing YogaClub for over a year now and I am always impressed by the quality of the pieces I receive and the price point of the subscription. I've noticed that the curation has changed a bit from my first few reviews. They definitely focus more on tanks, leggings, sports bras and t-shirts. Whereas I use to receive vests, sweatshirts and hoodies. While I definitely prefer vest and hoodies to sports bras and tanks, I appreciate the fact that subscription boxes evolve as time goes on. They need to find the subscription model that works best for them. So…..if you are looking for athletic wear outfits that include leggings, tanks, tees and sports bras then YogaClub is the box for you. The value is pretty amazing and they work with some wonderful brands. It's a box I always look forward to receiving.
XOXO