YogaClub Review June 2019
YogaClub is your personal stylist for the yoga inspired life. Delivering high quality, brand name yoga apparel at an affordable price, they are committed to empowering women to be active, confident and mindful in everything they take on. Choose a package and frequency of delivery then, take their proprietary style quiz to choose your sizes, favorite ways to sweat, and personal style. Every piece of activewear is handpicked by their expert stylists, just for you! They kindly sent us this box for review.
I get very, very excited when my YogaClub box arrives. In fact, I usually end up opening it in the car, if I drive to the mailbox, and if I walk to the mailbox I open it the moment I step foot in the house. I just don't have enough willpower to wait. I live in comfy clothes and athletic wear so this box is absolutely perfect for me.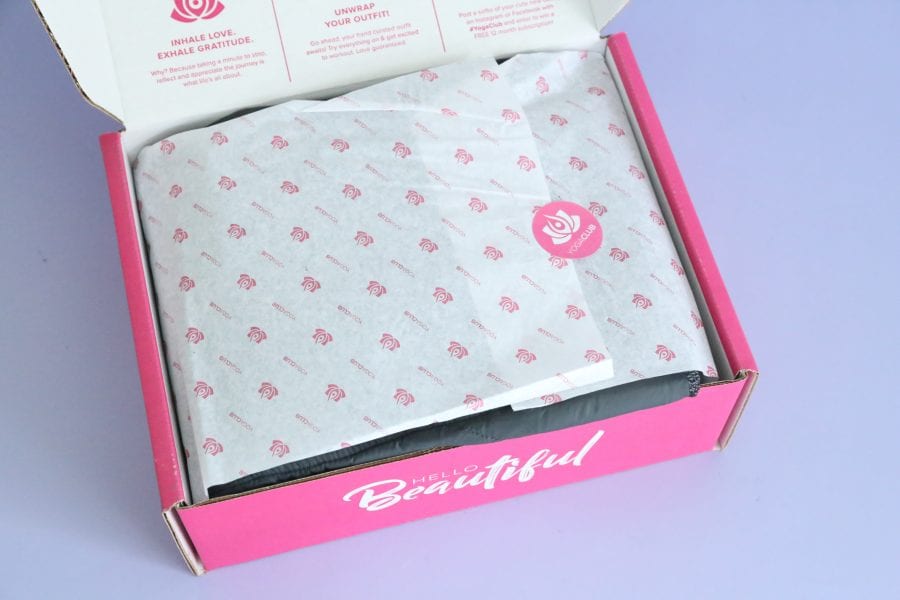 Subscription Details
Box Details: With YogaClub each month their expert stylists will style you in curated pieces of on-trend active wear. Receive a 3-Piece Premium Brand Outfit, 100% Hand Curated starting at $79 per month.
YogaClub Packages:
Guru Monthly – $79
Guru Seasonal (every 3 months) – $79
How it Works:
Step 1: Take the fun & interactive style quiz to tell them about your unique style preferences and select a membership package.
Step 2: Once their stylists know your unique style, they'll get to work on hand selecting the best brand name pieces that match your personality, body type and favorite ways to sweat or relax!
Step 3: Your YogaClub box saves you up to 50% off MSRP and will be delivered right to your doorstep so you can hit the mat with cute new outfits personally styled just for you!
Here's a peek at the outfit my stylist put together for me this month……
Whisper Active Brandy Tee
I am loving the ivory color of this tee. As much as I love a good white tee, I also really love an ivory tee. It is loose-fitting, the material is super soft and it has a large cutout in the back. I will need to pair it with a cute sports bra or layer it with a tank.
Vie Active Leggings
At first glance I was a little worried about these leggings. I absolutely love the pale pink color but I usually prefer to wear a darker shade when it comes to leggings. With that being said, they are super cute on, and I love the fit. The color is so pretty that I feel the need to wear them. I am really loving the pockets on the side as well.
MPG Sport Moto Jacket
Ok….some of you might be looking at this and thinking…..a jacket in a summer box? But, for me personally it is absolutely perfect. I was beyond excited to see this in the box. I am always cold and actually wore a coat when I went for my walk yesterday (it was rainy outside). This moto jacket retails for $158 which is pretty crazy given the box itself only costs $79.
YogaClub Review June 2019 – Final Thoughts
Wow! I am absolutely loving my June YogaClub box. It is bringing back memories of the first few boxes I received (back in 2017) which just so happen to be some of my favorite YogaClub boxes ever. Even though it is Summer, I am beyond excited to have received a jacket and full-length leggings. I'm a little hesitant to where such a light color on the bottom, but at the same time I LOVE the way the pale pink, ivory and dark grey look together. Such an amazing outfit. This is definitely one of my favorite YogaClub outfits to date!
-AYOB