YogaClub Review March 2020
YogaClub is your personal stylist for the yoga inspired life. Delivering high quality, brand name yoga apparel at an affordable price, they are committed to empowering women to be active, confident and mindful in everything they take on. Choose a package and frequency of delivery then, take their proprietary style quiz to choose your sizes, favorite ways to sweat, and personal style. Every piece of activewear is handpicked by their expert stylists, just for you! They kindly sent us this box for review.
Eeeek!!! This is the most excited I have been about a YogaClub delivery since I first discovered the athletic wear subscription back in September 2017. Baby arrived 2 weeks ago and I am almost ready for my "regular" clothes. I have been counting the days until I can start wearing my YogaClub outfits again……I absolutely can't wait!
And…..it will be the motivation I need to get my butt outside and back into my daily walking/hiking routine. A cute workout outfit is the best motivation…….and this month's outfit is C.U.T.E
Subscription Details
Box Details: With YogaClub each month their expert stylists will style you in curated pieces of on-trend active wear. Receive a 3-Piece Premium Brand Outfit, 100% Hand Curated starting at $79 per month.
How it Works:
Step 1: Take the fun & interactive style quiz to tell them about your unique style preferences and select a membership package.
Step 2: Once their stylists know your unique style, they'll get to work on hand selecting the best brand name pieces that match your personality, body type and favorite ways to sweat or relax!
Step 3: Your YogaClub box saves you up to 50% off MSRP and will be delivered right to your doorstep so you can hit the mat with cute new outfits personally styled just for you!
Here's a peek at the outfit our YogaClub stylist put together for us this month……
Whisper Active Milan Leggings
These are hands down my favorite pair of leggings to date. This bordeaux color is beyond gorgeous and it just so happens that I've been wanting a pair of leggings in this color for quite some time. My niece has a pair and every time she wears them I get total jealous vibes. It's such a great color and more versatile than you would think.
The leggings are 7/8 length, they have a key pocket in the waistband, a tapered hem at the bottom of the leg and key hole detail along the side of the calf. They are gorgeous!
Whisper Active Macy Bra
To go with my gorgeous new leggings I have a matching sports bra. Typically I prefer not to receive sports bras but this one is so darn pretty and I love that it matches the leggings. It has a really fun band detail in the back and is racerback style. I'm kicking myself for not updating my style profile as the bra itself is size small and I might be more of a medium right now…….thanks to the breastfeeding.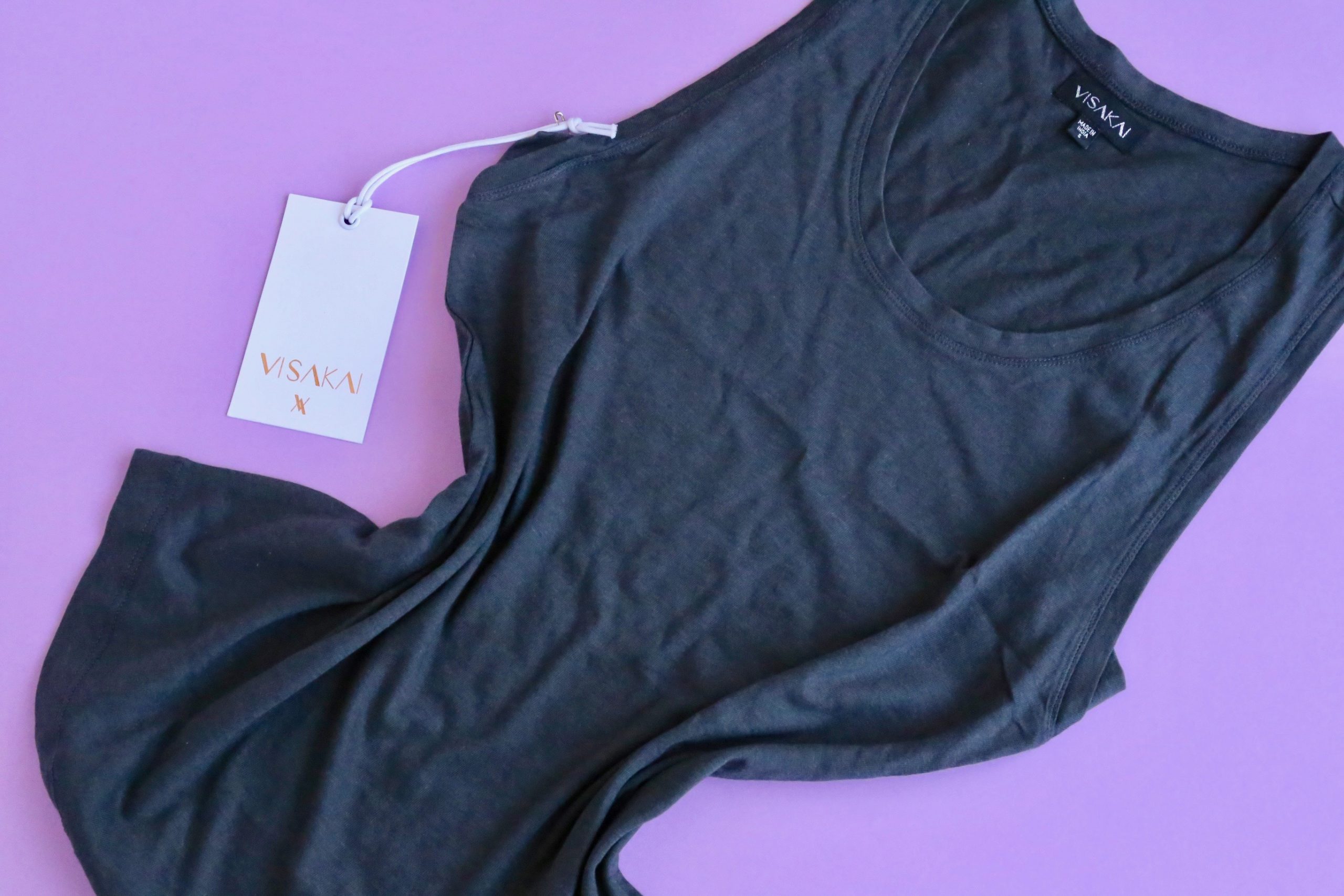 Visakai Everyday Tank
To round out the outfit we have a really great dark grey tank. I love the way it looks with the bordeaux color…..it's a perfect match. I also like that the tank itself is very plain and has a full back. Typically the tops I receive in my YogaClub box have key holes or cutouts in the back.
YogaClub Review March 2020 – Final Thoughts
I am so in love with this month's YogaClub outfit……my stylist did an amazing job. As soon as I opened the box and saw the bordeaux color I knew it was going to be a good box. I wouldn't be mad if my stylist included more pieces in this color. And in regards to the clothes themselves, the leggings are super cute, I love that the sports bra matches the bottoms and I love the simplicity of the tank. It's safe to say this is one of my favorite YogaClub outfits to date.
-AYOB Sarah