YogaClub Review May 2018
YogaClub is your personal stylist for the yoga inspired life. Delivering high quality, brand name yoga apparel at an affordable price, they are committed to empowering women to be active, confident and mindful in everything they take on. Choose a package and frequency of delivery then, take their proprietary style quiz to choose your sizes, favorite ways to sweat, and personal style. Every piece of activewear is handpicked by our expert stylists, just for you! They kindly sent us this box for review.
YogaClub has changed the way I shop. It has saved me trips to the mall, not to mention a ton of money. I use to spend upwards of $250 on a new gym outfit, maybe even more, and now I get a new outfit each month for only $79. How crazy is that!! Oh, and the items you receive are a surprise. Your stylist picks them out for you. That's so much more fun than previewing your pieces ahead of time and paying for what you keep. I love the fact that with YogaClub you pay up front and your stylist does all the work. YogaClub makes my life easier.
Subscription Details
Box Details: With YogaClub each month their expert stylists will style you in curated pieces of on-trend active wear. Receive a 3-Piece Premium Brand Outfit, 100% Hand Curated starting at $79 per month.
YogaClub Packages:
Guru Monthly – $79
Guru Seasonal (every 3 months) – $89
How it Works:
Step 1: Take our fun & interactive style quiz to tell us about your unique style preferences and select a membership package.
Step 2: Once our stylists know your unique style, they'll get to work on hand selecting the best brand name pieces that match your personality, body type and favorite ways to sweat or relax!

Step 3: Your YogaClub box saves you up to 50% off MSRP and will be delivered right to your doorstep so you can hit the mat with cute new outfits personally styled just for you!
Here's a peek at the outfit my stylist put together for me this month……
Glyder Apparel Long-Sleeve in Heather Grey
This super cute grey top has 4-way stretch, moisture management, it is pre-shrunk, free flowing, light-weight and ultra soft. It fits a little big and hangs nicely. I love the material and I love the mesh detail in the back.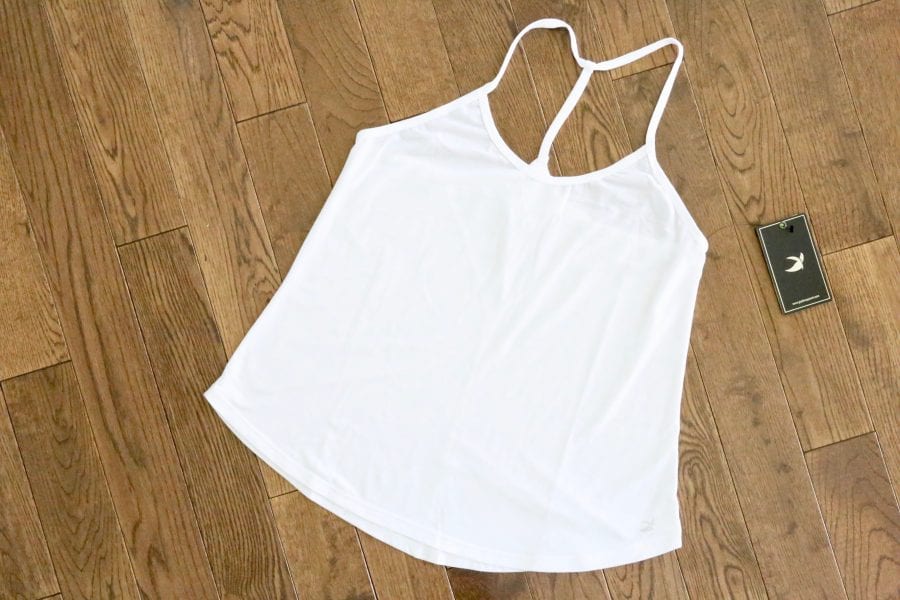 Glyder Apparel Free Flow White Tank
This airy, skinny strap tank is the perfect match for any sweaty workout. With an easy loose fit body, and mesh detailed back, you'll stay cool in a tank designed with breathability in mind.
I have received a few white tanks from YogaClub but I am more than ok with that. White tank tops are a must for any workout or casual wardrobe. They go with everything and are great for layering. This one fits nicely under the Long-sleeve top and it is super comfortable.
Glyder Apparel Crop
These super comfy crops have 4-way stretch, moisture management, they are pre-shrunk, superior form-fitting and a soft cotton-like feel. I am becoming very familiar with Gylder leggings. I have a few pairs and I love them all. The material is quality, the fit is flattering and their styles fit my preferences perfectly.
YogaClub Review May 2018 – Final Thoughts
Yes! This is what I like to see from YogaClub. My last two boxes were a little off, still wearable, but just not my fave. But…..my May box is absolutely perfect. It's everything I look for in an outfit. It's casual, comfy, coordinated and the colours are neutral which means all three pieces will go with a number of other items in my wardrobe. As you can see from the photo, every piece fits perfectly. This will be the perfect outfit for around the house, traveling, road trips or coffee dates. Thank you YogaClub, my stylist nailed it this month, I couldn't be happier.
XOXO