YogaClub Review November 2017
YogaClub is your personal stylist for the yoga inspired life. Delivering high quality, brand name yoga apparel at an affordable price, they are committed to empowering women to be active, confident and mindful in everything they take on. Choose a package and frequency of delivery (monthly, bi-monthly, or quarterly) that fits your lifestyle. Then, take their proprietary style quiz to choose your sizes, favorite ways to sweat, and personal style. Every piece of activewear is handpicked by our expert stylists, just for you! They kindly sent us this box for review.
I can't tell you all how excited I was when this month's YogaClub box arrived. I have completely fallen in love with this subscription. It is hands down my favourite fashion subscription, no questions asked. I have loved both of the boxes I have received so far (today we are reviewing my third box) and I still can't get over the price point.
Coupon Code: Use code AYEAROFBOXES10 to get $10 off your first box – CLICK HERE
Subscription Details
YogaClub – Up to 60% off brand name yoga & workout apparel delivered to your door each month.
Step 1 – Select Package & Style

Pick the package & workout style that fits your personality, tell us your size and join! Each month, our expert stylists will style you in curated pieces of on-trend activewear with a retail value of over $100 that will make you look amazing for as low as $45.

Step 2 – Curated Yoga Apparel & Accessories

Skip the line & never pay retail prices again — with YogaClub we'll deliver top brands like Teeki, Manduka, Splendid, Onzie, NUX, and more monthly or quarterly. Studio styles, chosen just for you and your yoga-inspired life!

Step 3 – Outfits Delivered

We remove the middle man and pass the savings on to you. With deals this good, you'll wonder why you ever paid retail in the first place! Pause or cancel your membership at any time.
Choose from the following boxes….
The Guru ($79) – 3-Piece Premium Brand Outfit, 100% Hand Curated, Box MSRP: $140 – 160+, Your Savings: $60 – $100+
The Karma ($69) – 2-Piece Quality Brand Outfit, 100% Hand Curated, Box MSRP: $100 – $140+, Your Savings: $30 – $70
The Mantra ($45) – 1 Pair Premium Brand Leggings, 100% Hand Curated, Box MSRP: $70 – $100+, Your Savings: $25 – $55+
Every month I review the Guru Box. Here's a closer look at the outfit my stylist put together for me this month…..
MPG Sport Vest
Toss this tunic on pre- or post-workout, or for any casual outdoor event. Windproofing on the front and back torso keep you warm while fleece and insulation are soft and cozy.
Ummm….. how amazing is this vest!!! I love to layer in the Winter and this vest will be perfect for layering. I was wondering if they included pieces like this and now I have my answer. I would be happy if I received items like this on a regular basis. I have to give my stylist a big ol' pat on the back because they really nailed it with this piece. As far as sizing goes, it's a tiny bit big but still wearable. I received size small and probably could have gotten away with an x-small.
Threads 4 Thought Emena Top
This Threads 4 Thought top fits my style preferences perfectly. It's a neutral color (something that I can wear with all the leggings in my collection) and its loose-fitting. I love oversized tops. This one has a bit of a swing style which makes it even more fun to wear. I also love the v-neck.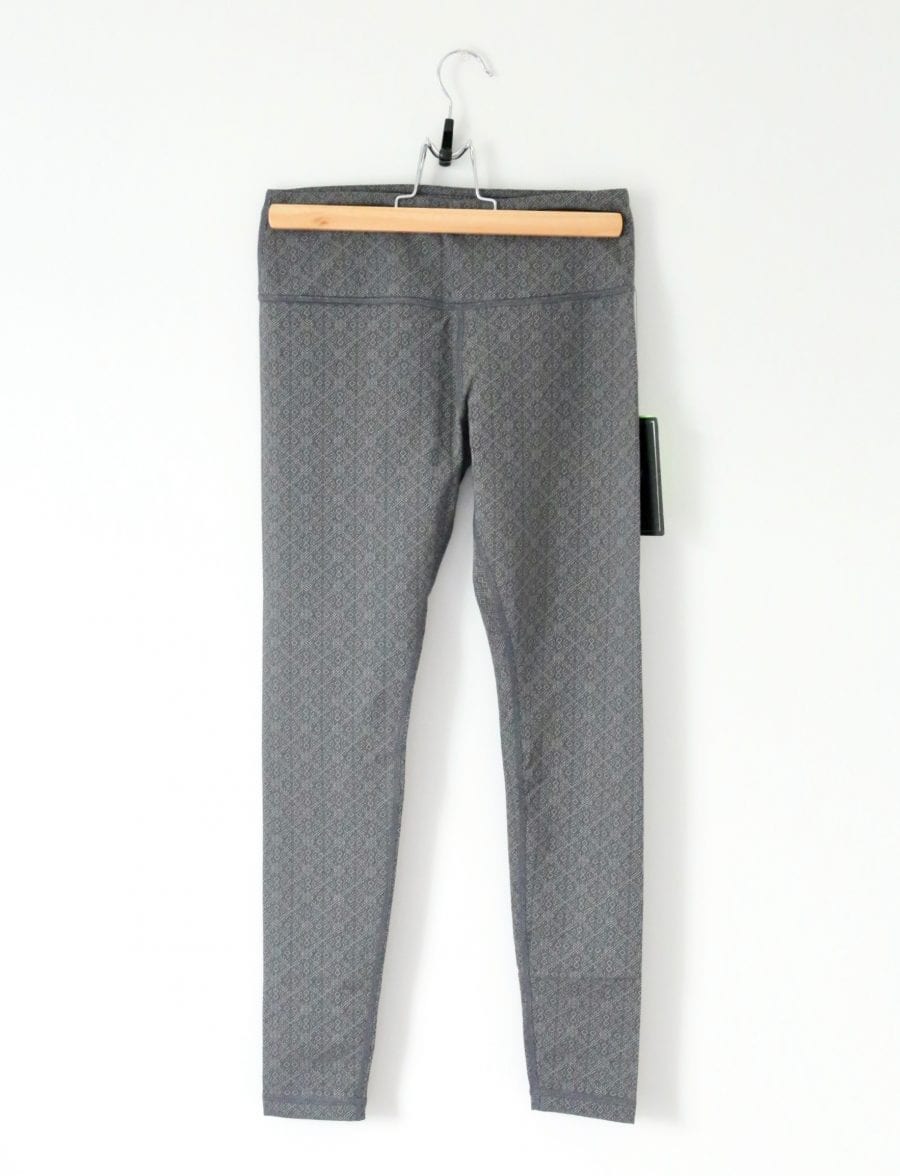 Glyder Leggings
Love, love, love this jacquard print/fabric. I've been wanting a pair of grey leggings like this so they really couldn't be any more perfect. Glyder is a new brand for me so I feel like these leggings are a good test run as far as their sizing goes. I received size x-small and they fit but are definitely a little snug. I'm certainly not complaining though because I love the color and style.
YogaClub Review November 2017 – Final Thoughts
I am so unbelievably happy with my November YogaClub outfit. I wish I could reach through the internet and give my stylist a big hug. I feel like they are really getting to know my style. YogaClub is easily the best yoga apparel subscription on the market. A complete workout outfit for only $79?! I almost feel like it's too good to be true. Are far as colors and styles go, this month's outfit is my favourite thus far. It's making me wish I had two subscriptions so I could receive two outfits every month. In regards to sizing, all the pieces fit but there could be small improvements. This is where I should point out that YogaClub has the BEST customer service ever. Talking about sizing is making me think of last month's outfit. The leggings were a size too small and my stylist reached out to me right away and offered to exchange them. This is just another reason I love YogaClub so much. My stylist/customer service rep also suggested that we make a note on my account that I would like to receive size small in Nux leggings instead of x-small. Nux is the brand of legging I received last month. I told them not to worry about the exchange but now I am kind of regretting it because I just looked back at last month's review and totally forgot how stinking' cute those leggings were. Any who……that's not the point. Right now we are focusing on my November box and it is pretty darn amazing. I am going to make a few notes about the sizing and the brands I received this month so I can adjust my style profile as needed. If you haven't tried YogaClub yet……you MUST. End of story.
XOXO