YogaClub Review October 2018
YogaClub is your personal stylist for the yoga inspired life. Delivering high quality, brand name yoga apparel at an affordable price, they are committed to empowering women to be active, confident and mindful in everything they take on. Choose a package and frequency of delivery then, take their proprietary style quiz to choose your sizes, favorite ways to sweat, and personal style. Every piece of activewear is handpicked by our expert stylists, just for you! They kindly sent us this box for review.
Last month's YogaClub wasn't my favourite. I received an outfit that was a little more suited to Summer than Fall and I really had my hopes set on a Fall worthy, cozy outfit consisting of a vest or cardigan or sweatshirt. So, I decided to update my style profile with the hopes of receiving an outfit more in line with my preferences for this time of year. Fingers crossed…….
Coupon Code: Use our link to get 20% OFF your first box. Coupon applied at checkout!  – CLICK HERE
Subscription Details
Box Details: With YogaClub each month their expert stylists will style you in curated pieces of on-trend active wear. Receive a 3-Piece Premium Brand Outfit, 100% Hand Curated starting at $79 per month.
YogaClub Packages:
Guru Monthly – $79
Guru Seasonal (every 3 months) – $89
How it Works:
Step 1: Take the fun & interactive style quiz to tell them about your unique style preferences and select a membership package.
Step 2: Once their stylists know your unique style, they'll get to work on hand selecting the best brand name pieces that match your personality, body type and favorite ways to sweat or relax!

Step 3: Your YogaClub box saves you up to 50% off MSRP and will be delivered right to your doorstep so you can hit the mat with cute new outfits personally styled just for you!
Here's a peek at the outfit my stylist put together for me this month……
Alternative Airy Tank – Grey
Here we have a lightweight tank that will be perfect for layering this time of year. I love the color and I love the fabric. It has a loose fit and it is super comfy. I also really love the length – not too short and not too long.
Glyder Intensity Collection Crop Leggings
I love that I received black leggings, I'm always happy to receive black, but I'm not really loving the style. I would have loved to receive full-length black leggings in place of these crops, and I'm not really feeling the pink detail. But, I will definitely still wear them. Black goes with everything.
Splendid Hoodie
This is my favourite item in the box. I love the color of this hoodie, as well as the soft material. It has thumbholes, which I appreciate, and some fun cutouts in the shoulder area. It goes perfectly with the grey tank and the black crops. I can see myself wearing this often.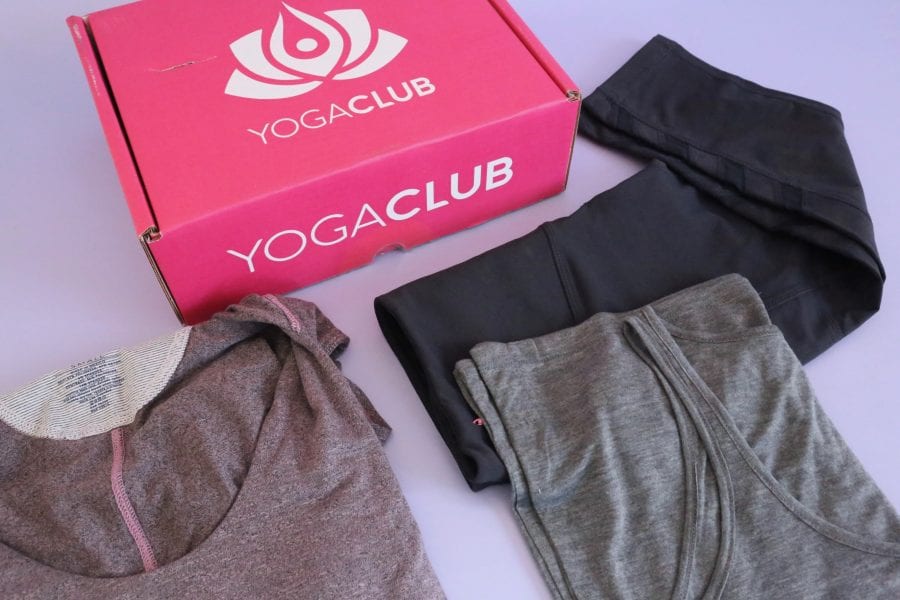 YogaClub Review October 2018 – Final Thoughts
This month's YogaClub outfit is much more my speed than last month's outfit. I love the hoodie and the comfy grey tank. The crops are cute but I would have preferred full-length leggings given the time of year and the cool weather. If the leggings would have been full-length I would have given this outfit a 10 out of 10. But, overall I'm still very happy with what I received. A tank, crops and a hoodie for only $79!!! You can't go wrong with that!
XOXO