YogaClub Review September 2018
YogaClub is your personal stylist for the yoga inspired life. Delivering high quality, brand name yoga apparel at an affordable price, they are committed to empowering women to be active, confident and mindful in everything they take on. Choose a package and frequency of delivery then, take their proprietary style quiz to choose your sizes, favorite ways to sweat, and personal style. Every piece of activewear is handpicked by our expert stylists, just for you! They kindly sent us this box for review.
Coupon Code: Use our link to get 20% OFF your first box. Coupon applied at checkout!  – CLICK HERE
You all know that YogaClub is one of my favourite boxes to review. I fell in love with this box the moment I received my very first outfit in the mail and my opinion hasn't changed…..I still love it.
But did you know that I don't only use my YogaClub outfits for working out? I also use them for loungewear and casual wear. I basically use my YogaClub outfits for everything except dressing up for a night out. I use them for lounging around the house on the weekends, I use them for work and I use them for running errands. The obsession is real……
Subscription Details
Box Details: With YogaClub each month their expert stylists will style you in curated pieces of on-trend active wear. Receive a 3-Piece Premium Brand Outfit, 100% Hand Curated starting at $79 per month.
YogaClub Packages:
Guru Monthly – $79
Guru Seasonal (every 3 months) – $89
How it Works:
Step 1: Take the fun & interactive style quiz to tell them about your unique style preferences and select a membership package.
Step 2: Once their stylists know your unique style, they'll get to work on hand selecting the best brand name pieces that match your personality, body type and favorite ways to sweat or relax!

Step 3: Your YogaClub box saves you up to 50% off MSRP and will be delivered right to your doorstep so you can hit the mat with cute new outfits personally styled just for you!
Here's a peek at the outfit my stylist put together for me this month……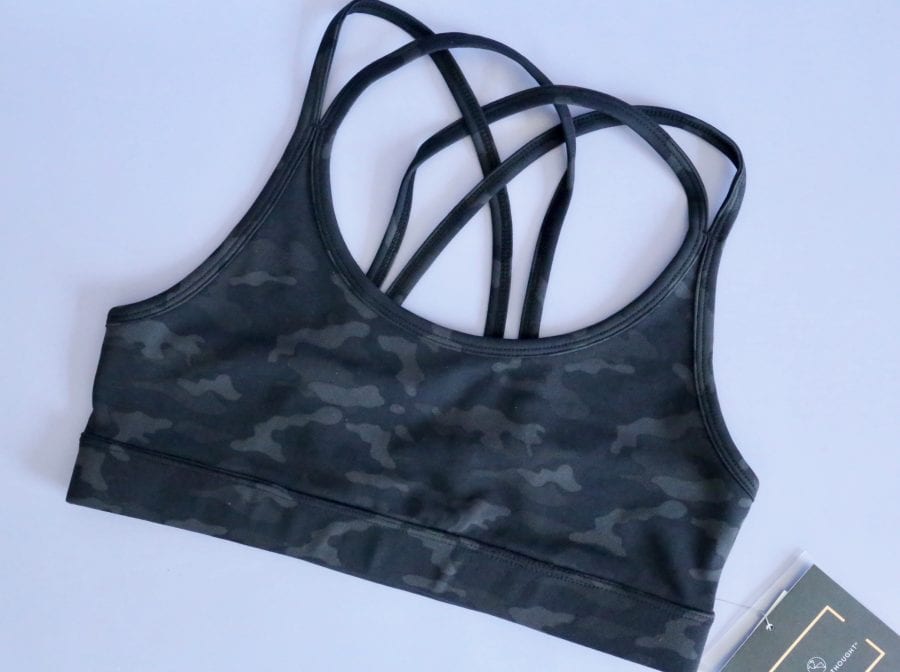 Threads 4 Thought Lotus Sports Bra
First up we have a camo sports bra from one of my favourites brands – Threads 4 Thought. I have received quite a few pieces from their line over the last year and I have loved all of them. I like the fit, the quality, and the style. Sports bras aren't necessarily my favourite item to receive but it's nice to have a few in my collection and this one is super comfy so I'm certainly not complaining.
Electric & Rose Canal Mesh Tank
Next up we have a mesh tank from Electric & Rose. This is a brand I haven't received before, which kind of excites me, but I'm definitely not feeling this tank. It's not my style at all, aside from the color. I've never been a fan of mesh tops but that's strictly a personal preference. I might possibly wear this around the house but I would definitely have to wear a tank underneath as I don't feel comfortable wearing see-through items. I'm a little bit old-school that way.
Threads 4 Thought Kellyn Full-Length Leggings
Lastly we have camo leggings to match the camo sports bra. These are probably my favourite item in the box this month. I love that they are full-length as it is starting to get cool here, I love that they have a subtle pattern, I love that they are mostly black and I love the detail down the side and at the bottom. I also love the way Threads 4 Thought leggings fit, so all-in-all these are pretty darn awesome.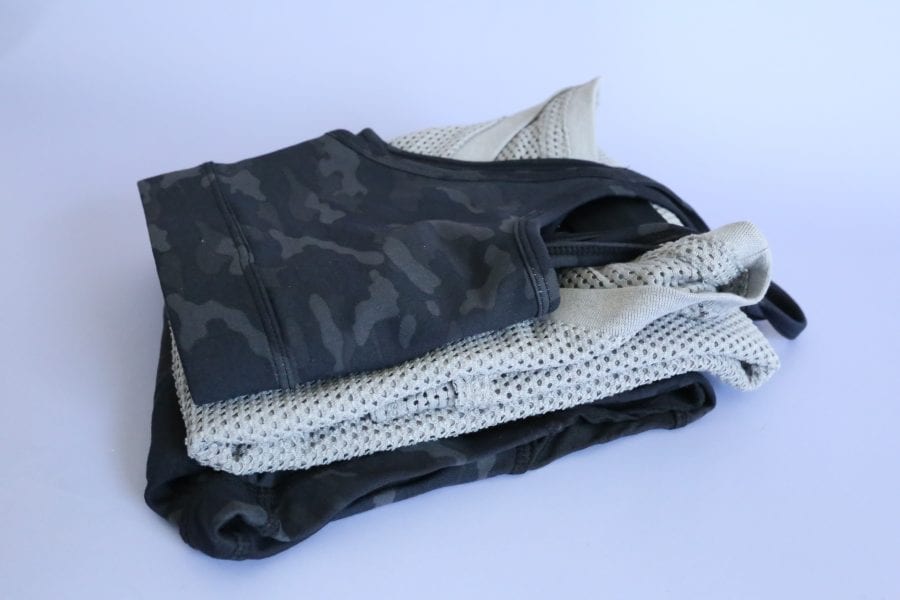 YogaClub Review September 2018 – Final Thoughts
This month's YogaClub outfit is a bit of a miss for me. I was really hoping to see something a little more suited to fall – cardigan, cozy hoodie, vest, etc. The mesh tank really isn't my style and I cannot see myself wearing it. I think I would feel a little too uncomfortable. But I do really like the leggings, and the sports bra is very comfortable, so those two items almost make up for the tank. YogaClub has provided me with some really amazing outfits over the last year so I'm not too upset about the tank. I jumped on to my YogaClub account after receiving this outfit and updated my style profile and removed tanks and sports bras from my "loves" with the hopes that I will receive some cozy Fall outfits in my next couple of boxes. I still LOVE this subscription and consider myself to be their biggest fan. I have high hopes for my October box and can't wait for it to arrive.
XOXO