Your Bijoux Box Review July 2018
Your Bijoux Box is a monthly jewelry subscription box for women. For $39.99 per month, you can expect to receive three beautifully hand-picked jewelry pieces, plus a bonus item all inspired by the latest trends.
July Theme
Bijoux means something small, delicate, and exquisitely wrought; a jewel or trinket which is exactly what you will find in the July Your Bijoux Box! They've included tassels and stones in shades of blue for July's Sweet Sea Glass theme.
Sweeten up your summer with sea glass inspired jewelry! Each subscriber will receive two necklaces, a pair of earrings, and a bonus ring set all packaged up nicely inside personalized dust bags with Your Bijoux Box printed in silver. These small bags are perfect for storing your jewelry after, so I'm pretty excited about receiving these with each piece.
Playa Del Carmen Collar
"Serve up tropical vibes with this two tone collar." This beautiful necklace features a gold band with blue stones and silver circles dangling from the center. You will also notice the slider closure with two blue tassels hanging from the end, making this piece very  fun and unique! The slider gives you the option to style this necklace with different lengths. You can wear it as a collar necklace or have some fun and tighten it to fit like a choker or even leave it long! Your Bijoux Box stylists suggest wearing your hair up with a low back sundress to showcase the cute blue tassels hanging from the back.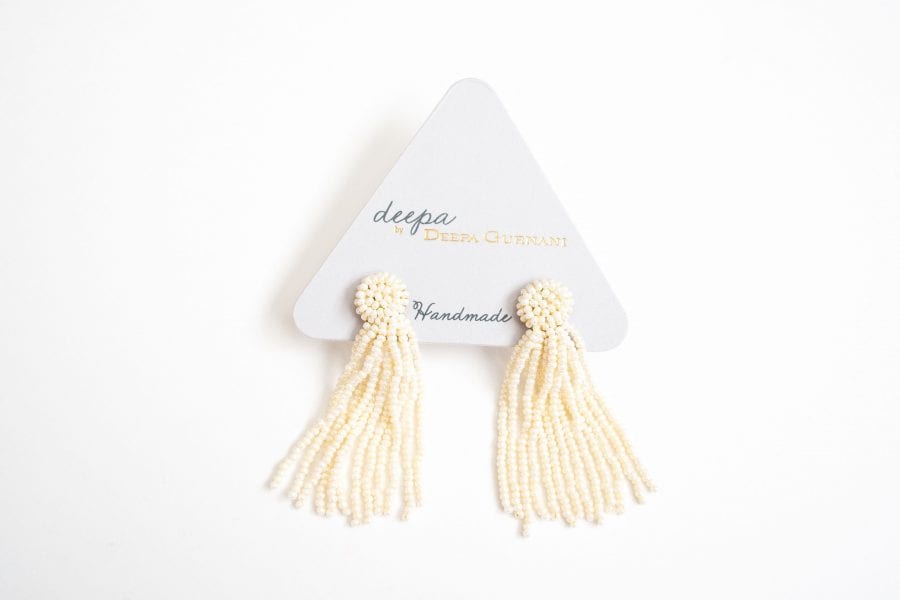 Deepa by Deepa Gurnani Tassel Earrings
These adorable tassel earrings are handmade and perfect for all year styles. They are a gorgeous off-white color, valued at $80! That's double the price of your monthly subscription. They are lightweight and look absolutely gorgeous on. It is safe to say this is my favorite item in the July box!
Playa Del Carmen Bolo Necklace
The third piece is a delicate, silver finish necklace. It is 23″ long with frosted, mint, white, and pale blue stones in the center. Attached from the stones are two dangling strands with a single silver bead on each end. It fits this month's sea glass theme perfectly!
Bonus: Petite Playa Del Carmen Ring Set
Sticking to this month's theme, these stones are beautifully frosted blue sea glass. This 3-piece ring set matches perfectly with the Playa Del Carmen Bolo Necklace and can be combined easily with the other pieces in the box. They can be worn individually or stacked, either way it's a cute addition to your wardrobe!
Your Bijoux Box Review July 2018 – Final Thoughts
Simply put, this box is amazing! The value is well over what you pay for the monthly subscription and all of these pieces are of great quality. I especially love the color choice for this month. The jewelry remains simple, but still very stylish. Tassels and sea glass are trending this season, so you are sure to catch attention with these pieces!
Sabrina – https://dearsarabia.com