Your Bijoux Box Review June 2017
Your Bijoux Box is a monthly subscription box containing 3 pieces of jewelry, hand curated by Shana. The jewelry they select is on-trend, versatile and wearable, and you will receive at least $100 worth of jewelry each month. They kindly sent us this box for review.
Your Bijoux Box keeps my jewelry collection up-to-date and I absolutely LOVE it! I am never without a cute necklace or stylish earrings. I have something for every outfit, and find myself reaching for Your Bijoux Box pieces on a regular basis. I have loved this box from the very beginning…..
Here's a look at the gorgeous pieces we received in the June box: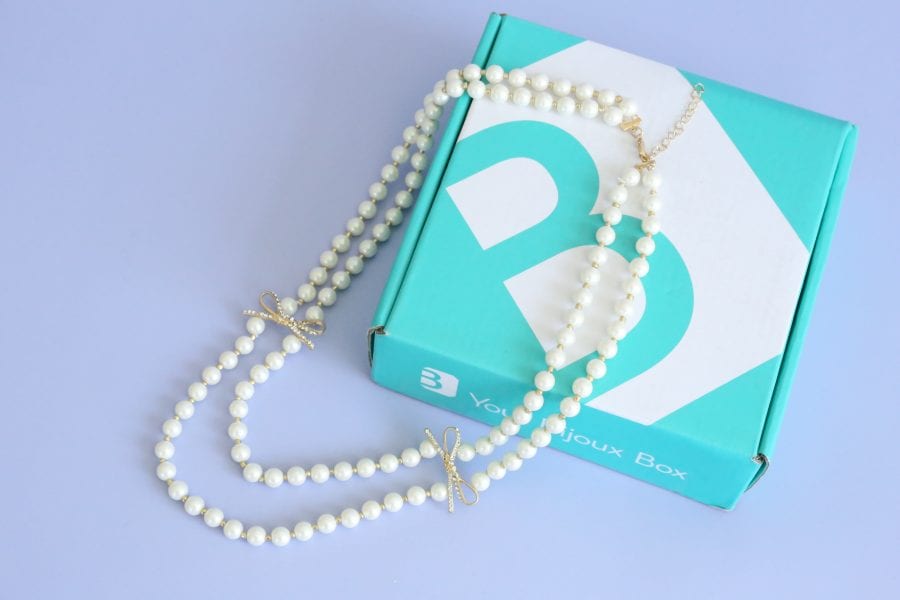 Wrap it with a Bow Necklaces
Glass pearl necklace with pave' bows in honour of our June birthdays! A fun twist on a classic piece. Pearls are ruling the runways this year on everything from bags, to shoes, to belts. A Your Bijoux Box Exclusive. 
Pearls are always a good idea. They are a staple for any jewelry collection. They are classic and will never go out of style. I absolutely LOVE that they included this necklace in the June box. I've been wanting to add more pearls to my jewelry box for quite some time. They will be pretty with a Summer dress and will be even better with a plaid top in the Fall!!
Karen Kane Necklace
In red or blue, perfect for your 4th of July picnic! We love it with the new vertical stripe trend whether teamed with solids or boldly worn head-to-toe.
Pretty and simple. This style will appeal to most subscribers as it makes a statement without being over the top. I'll probably pair this with a really simple outfit……I'm thinking a grey dress and denim jacket.
Evette Summer Watch
A timeless watch just masculine enough to balance a floaty eyelet dress. We love top-to-toe white. This look is the ultimate blank canvas, make it your own just by adding different accessories. A Your Bijoux Box exclusive. 
It's been a while since we received a watch so I was very excited to see this in the box. I love the large face and neutral band. I'm all about neutral colours right now…..it will go perfectly with denim, white, grey, blush and black! Mine has a black mark on the band, but I'm hoping it will wipe off.
Bonus: Rosebud Classic Sunnies
It's sunny season! Classic oversized frames are fabulous when worn with crisp whites and breezy maxis. This feminine, universal design feels extra glamorous with a statement earring and tousled waves. Colors will vary. 
What a fun bonus item for June!! They nailed it with these sunnies. I think some subscribers received brown, but I'm more than happy with my black sunnies. I also love the style. I have a round face so oversized sunglasses look best on me.
Your Bijoux Box Review June 2017 – Final Thoughts
What a lovely box for June! This month's Your Bijoux Box gives the impression of high value thanks to the watch and the sunglasses. I feel like I received way more than the actual costs of the box, and that's pretty awesome. I am also very happy with the pieces we received. The pearl necklace is a classic and the Karen Kane necklace is simple yet fun. Your Bijoux Box has impressed me yet again. We included them in our Top 10 Jewelry Subscription Box list for a reason!
XOXO