YumeTwins Review April 2019
YumeTwins is a monthly subscription box filled with kawaii goodies sourced directly from Japan! Each month you'll receive 6-8 fun items ranging from plushies, household supplies, stationery, and other cute items that you can incorporate into your day-to-day lives. Each month's box costs $35 with free international shipping. They kindly sent me the April box for review.
Box Details: Receive 6-8 kawaii items including plushies, stationary, wearables & accessories, household items & decor, toys and so much more. YumeTwins curates high quality, trendy items to give you the full Japanese kawaii culture and experience. They're all sourced from Japan, too!
YumeTwins Packages:
Monthly Plan: $35
3 Months Prepaid Plan: $100.50 ($33.50 per box)
6 Months Prepaid Plan: $192 ($32 per box)
12 Months Prepaid Plan: $378 ($31.50 per box)
Shipping: Free Worldwide Delivery
Here's a closer look at the items I received this month….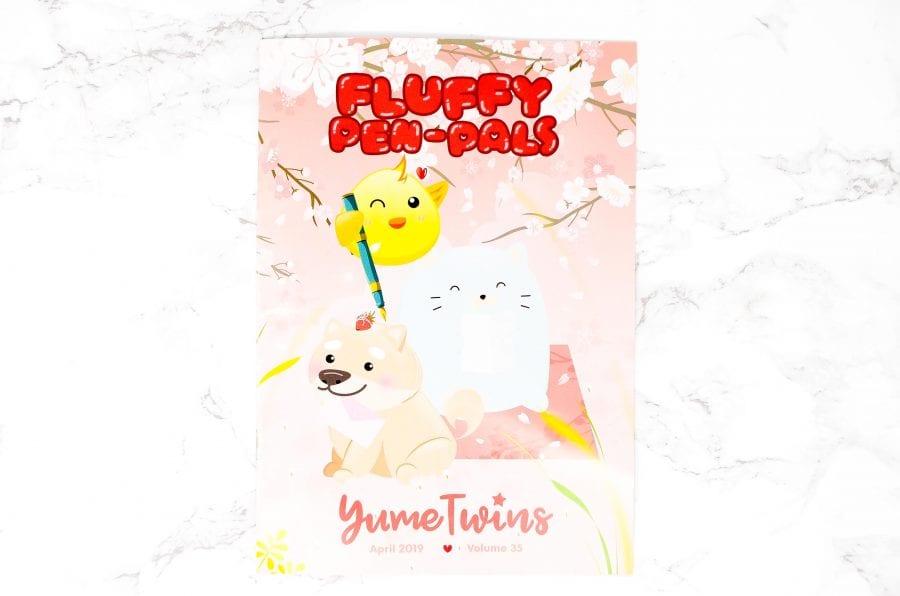 April's Theme – Fluffy Pen-Pals
YumeTwins curated this month's box to include cute animal friends and spring-inspired items.
Included in every box is a mini magazine that gives you in-depth details of each item in the box, upcoming news, and mini activities! If you are a subscriber, don't forget to scan your box in to earn points with their new rewards program!
Shiba and Cat Strawberry Plushie
OMG – This month's plushie is the cutest and softest thing ever! These come in several possible cat or shiba inu designs, and they all come with a detachable strawberry hat. If you want, you could even rock the strawberry hat yourself (if you have a small head). This plushie measures out to be 25cm, which is one of the biggest plushies YumeTwins has ever included in a box.
Plushie Magnet
The Plushie Magnet is made of a soft material and is filled with cotton to give it its fluffy shape. The actual magnet is built inside the back of the plushie, so it doesn't have the strongest pull. It's ideal to hang up photos or papers onto your refrigerator. Subscribers will receive either a Rilakkuma or Sumikko Gurashi character.
Cube Toothbrush Stand
How cute and practical! The Cube Toothbrush Stand is a small cube made of a heavy, high-quality plastic. It comes with a hole through the middle of the stand, which can fit standard toothbrushes. You can also use this to prop up pencils, pens, or other small items. It comes in 5 possible designs: Kirby, Rilakkuma, Sumikko Gurashi, Snoopy, and Doraemon.
Kawaii Notepad
I can never get enough notepads! I received a mini booklet with bread-shaped animals, but there are several possible kawaii designs subscribers could receive. The notepad comes with a thin plastic cover for protection as well as two different sheet styles. The first style contains lined sheets, while the other half of the pad comes with pink grid-lined paper.
Pokemon Pen
The Pokemon Pen features a ball point tip that glides effortlessly on paper. It comes in a handful of Pokemon, Pikachu, or Eevee designs. I received one with adorable Pikachus and yummy foods scattered all over!
Pets Lunch Mat
The Pet Lunch Mat is the perfect placemat to bring along for picnics, which I plan to have a lot of this spring and summer! This is another variant item that comes in several shiba inu or cat designs.
YumeTwins April 2019 Review – Final Thoughts
YumeTwins definitely knocked this month out of the ballpark! It's one of my favorite boxes thus far due to all the adorable (and functional) items featured. This month included several stationery items and household items that have brightened up my home a bunch. It's hard to pick favorites this month since everything in the box was outstanding, but I loved the Shiba Strawberry Plushie, Plushie Magnet, and Cube Toothbrush Stand the most. Give me anything Summikko Gurashi and I'll be happy!
Mary Vu – http://thepointofvu.blogspot.com