YumeTwins Review April 2022
YumeTwins is a Japanese subscription full of kawaii or licensed character items from popular brands. Each box will contain cute plushies and squishies, stationery, bags and pouches, accessories, or daily practical goods straight from Japan.
They kindly sent us this box for review.
Subscription Details
The YumeTwins subscription costs $37.50 per box on a monthly plan. There will still be cost savings for longer term prepaid subscriptions. Subscriptions on 3-, 6-, and 12-month prepaid plans will cost $35.50, $33.50, and $32.50 per box respectively. Shipping cost varies depending on the available shipping courier for each country.
Each monthly YumeTwins box will still include 5-7 items to give you an experience of Japanese culture through everything kawaii. The box promises to include stationery, household and lifestyle goods, and character items. YumeTwins will also include YumeTwins Originals (these will be items designed by the YumeTwins team) and YumeTwins exclusive collaborations with brands like Sanrio to the subscription. They will also be featuring single brand or character boxes.
The theme chosen for April is "Moonlight Surprise" to celebrate magical characters like those from the Sailor Moon series. The YumeTwins team hopes that we are all reminded to draw inspiration from these characters to face any challenges in life and come out all the stronger. This is such meaningful message! Especially in times like these when world events can make everything seem so hopeless.
Each YumeTwins box comes with a booklet full of all kind of information about each of the items and featured characters. For instance, this month's booklet comes with a horoscope for all the Sailor Moon characters.
Let's take a closer look at all the items.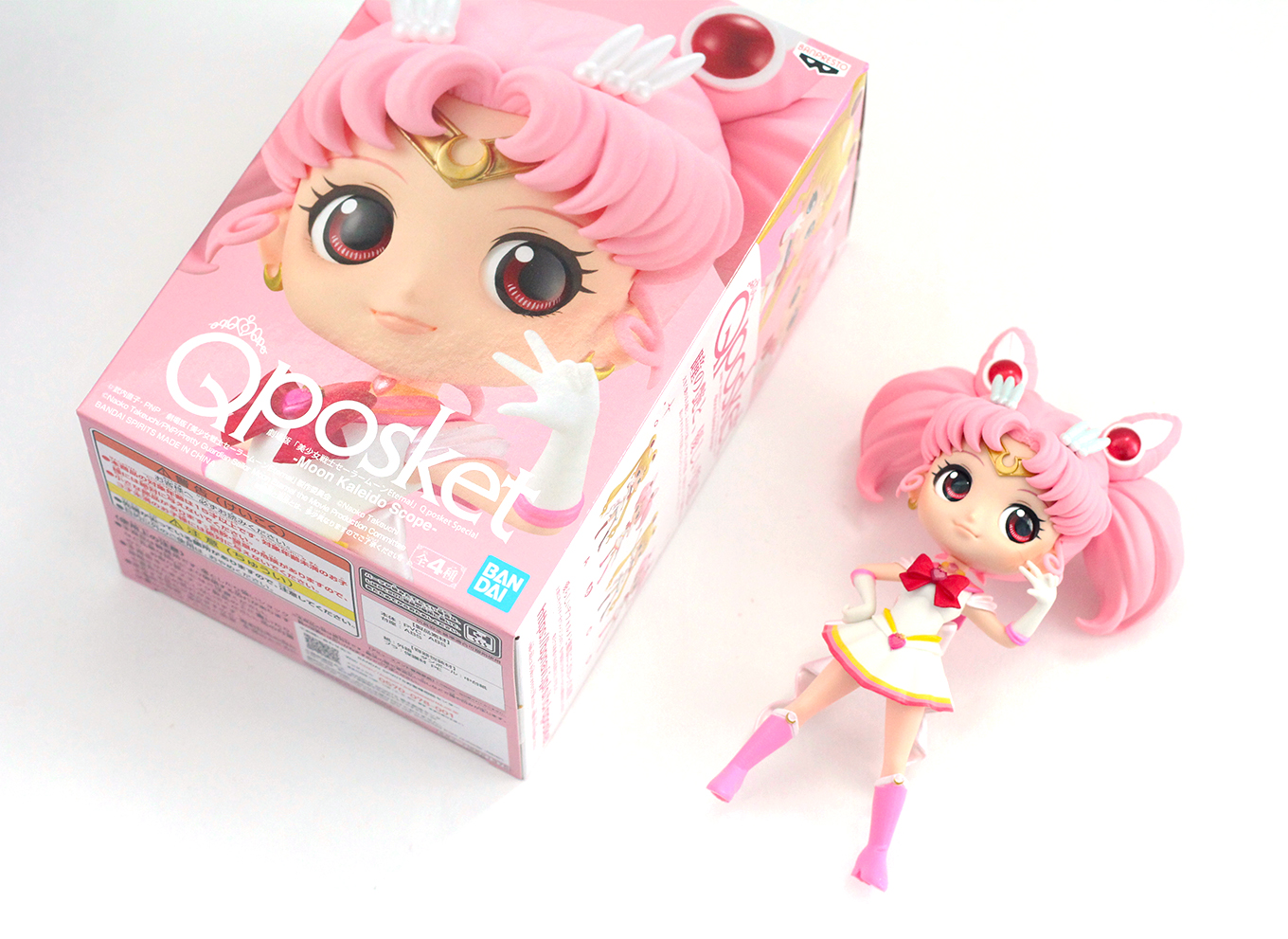 Sailor Moon Eternal Q-Posket Figure
"Marvel at the extremely detailed and adorable Sailor Moon Eternal Q-Posket figures. The trademark qualities from Q-Posket are seen in the stylized large eyes, soft cheeks, and true-to-form nuances of each character. These kawaii figures are a great prize for any Sailor Moon collector."
The level of detail on this figure is amazing! I received a figure of Sailor Chibi Moon striking an adorable pose. The figure also comes with a stand so that it can be stood up for display.
Sailor Moon Eyelash Curler
"Lift your eyelashes up to the moon for sparkling eyes just like the Sailor Guardians! Perfect for when you need a quick touch-up, and fits easily in a makeup pouch, purse, or even pants pockets!"
I typically don't curl my lashes because my stick straight Asian lashes cannot ever hold a curl, so this item is not so useful for me. Somehow the shape of this also makes it more difficult to use than the normal curler for me.
Kawaii Sanrio Makeup Stand
"The always lovable Sanrio characters are here to help you organize and kawaii-fy your makeup and daily routines! Holds lots of your most used tools in a compact design."
This super cute holder can also be used on the desk to hold pens and stationary!
Springtime Perfume Stick
"Enjoy that extra boost of confidence that comes with a classic perfume scent, but in stick form! Carry the scent of springtime on your arms, legs, or neck without overbearing sprays or liquid."
I am so excited for this! I picked up a stick like this one during a trip to Japan and fell in love with how convenient these are. You just simply stick it in your bag for a refresher without any worry of it spilling. The light floral fragrance is amazing and not overpowering at all, great if you're like me and prefer a more subtle scent.
YumeTwins Original Nyan Nyan Towel
"A long towel that's perfect for both at-home and on the go! Great for drying your hands after washing, keeping cool on a warm day, sitting on when out for a picnic, or waving it around to show your love and support for Nyan Nyan's cuteness!"
This towel is so soft! It is the perfect size for our baby to use as a bath towel.
YumeTwins Review April 2022 – Final Thoughts
This month's YumeTwins box is not as much a hit for me compared to previous boxes, BUT it also contained two of my absolute favourite and most used items from a YumeTwins box ever. The perfume stick is amazing, and I am so glad to have another. I pretty much have one in each bag LOL. The towel is used almost daily for baby's baths, have been through so many trips to the washing machine and is holding up beautifully! This is still one of my favourite subscriptions out there for cute character items. Looking forward to what next month brings!
Toby & Rocket – http://www.tobyandrocket.com