YumeTwins Review February 2018
YumeTwins is a monthly subscription box service from Tokyo Treat that delivers high-quality, kawaii Japanese items straight from Tokyo to your doorstep!   It centers around the "yume kawaii" culture which is a new kawaii movement recently emerged in Japan. Yume kawaii isn't just kawaii – it's a mixture of cuteness, fairytales and, importantly, a touch of darkness! They kindly sent us this box for review.
YumeTwins really has created a little niche for themselves. It's one of the few Kawaii themed boxes on the market, and just incase you aren't familiar with Kawaii products, they are all the rage right now with girls and tweens. Actually, this has been a popular trend for the last couple years and I have feeling it will continue to be popular for years to come.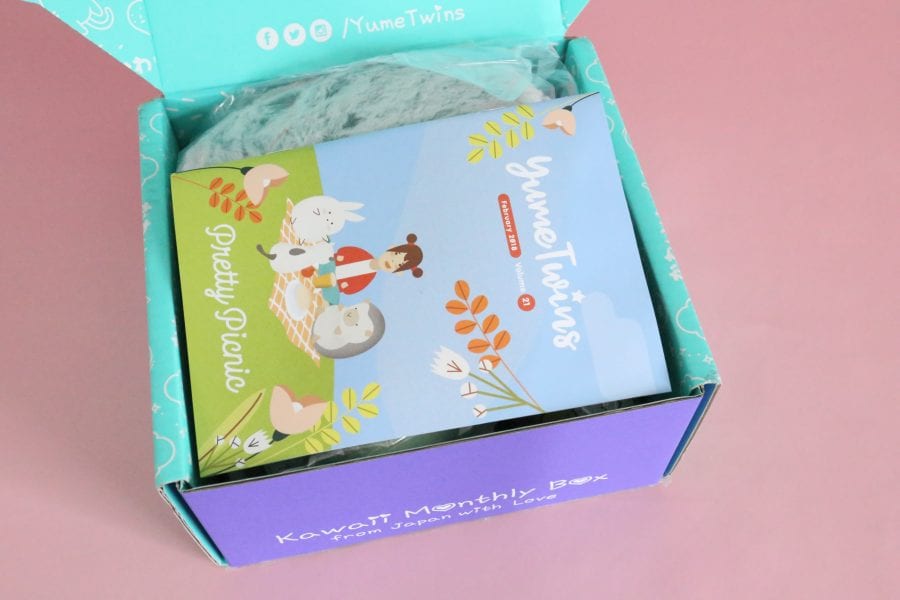 Subscription Details
YumeTwins is here to give you an authentic Japanese culture experience and provide you with the best experience possible through everything kawaii. They venture out to find high quality plushies, cute kawaii stationery, squishies and other surprises and deliver them in a super kawaii box! Best of all, shipping is free worldwide!
Each YumeTwins box is completely unique, ensuring each and every month's box will be as exciting as the last! Each monthly box includes 6-8 kawaii items ranging from plushies, squishies, practical goods, kawaii stationery & more!
Choose from the following – monthly subscription, 3-month, 6-month, or 12-month.
Here's a closer look at the items we received in the February box…..
Hedgehog Plushie
The first guest to your pretty picnic is this Hedgehog kawaii plushie! A new release in Japan, this cutie is looking fresh and is ready to join the rest of your kawaii plushies! One cute aspect you might have already noticed is that this plushie can sit up on its own, all ready to chow down on a delicious picnic!
Kawaii Character Spoon
This month's kawaii box included one of these super adorbs character spoons! This spoon is a special fusion of a regular spoon and a ramen spoon! It has the length and ease of use of a regular spoon paired with the depth of a ramen spoon and a tab at the end which allows you to hang it safely on your bowl's edge!
Sumikko Gurashi Melamine Cup
In this Japan box, we have included a cup with both an outside and inside design that are both kawaii Sumikko Gurashi! You can use this cup for a nice picnic out or when you want to relax around the house.
Disney Tsum Tsum Snack Container
We love to include useful practical goods into your cute subscription boxes, and these Disney Tsum Tsum snack containers perfectly fit that image! They are super kawaii and can fit a great amount of snacks inside too. Pair this with your spoon and cup, and you are ready to go out for a pretty picnic!
Disney Bread Squishie
Double the Disney joy is in this kawaii box! Bread is a great choice to take on a picnic, so you will find an adorable Disney themed bread squishie this month! These are incredibly popular in Japan for how squishy they are. Plus, the kawaii Disney characters don't hurt either!
Colorful & Cute Highlighter
To help mark all those snack bags for your pretty picnic, you can find a colorful & cute highlighter in your kawaii box! It is a beautiful vivid color and features dual tips – one fine and one broad.
YumeTwins Review February 2018 – Final Thoughts
YumeTwins always puts together a great box. I try to look at it from my niece's point of view as they are the perfect age for this particular box. I imagine them receiving this subscription in the mail and what their reaction would be. I know they would love the purple box, I know they would love the fact that each box includes a plushie, and they would love the fact that in addition to the plushie they would receive 4-6 other items. The product booklet is super cute and I think they would appreciate that as well. I can see one of my nieces, in particular, sitting down with the product booklet and reading about each item she received. My other niece would rip through the box as fast as possible and start playing with all the items immediately. Each one of them would have a different experience with YumeTwins but I know for a fact all three of them would LOVE to receive this box in the mail. Just a little something to think about when shopping for that special little lady in your life.
XOXO