YumeTwins Review February 2020
YumeTwins is a monthly subscription box filled with kawaii goodies sourced directly from Japan! Each month you'll receive 6-8 fun items ranging from plushies, household supplies, stationary, and other cute items that you can incorporate into your day-to-day lives. Each month's box costs $35 with free international shipping. They kindly sent me the February box for review.
Box Details: Receive 6-8 kawaii items including plushies, stationary, wearables & accessories, household items & decor, toys and so much more. YumeTwins curates high quality, trendy items to give you the full Japanese kawaii culture and experience. They're all sourced from Japan, too!
YumeTwins Packages:
Monthly Plan: $35
3 Months Prepaid Plan: $100.50 ($33.50 per box)
6 Months Prepaid Plan: $192 ($32 per box)
12 Months Prepaid Plan: $378 ($31.50 per box)
Shipping: Free Worldwide Delivery
Here's a closer look at the items I received this month….
February Theme – Cupid's Gift
Included in every YumeTwins box is a mini magazine that gives you in-depth details of each item in the box, upcoming news, and mini activities! If you are a subscriber, don't forget to scan your box in to earn points with their rewards program.
Sanrio Pouch Plushies
"This soft and squeezable range of plushies includes all your favorite Sanrio characters! A handy strap allows for easy attachment to your bag or purse for easy carry, and a fastener in the back of each plushie opens up and can hold snacks, coins, or any type of small gift! Place a heartfelt gift in the pouch for your loved one and it becomes a precious Valentine's Day present!"
How cute are these Sanrio character plushies! Each pouch plushie comes with a small zipper in the back and can hold small items like coins, snacks, or etc. I received an adorable Hello Kitty plush with her signature poofy red bow.
Heart Shaped Accessory Holders
"Coming in both a case-type with mirror and a melamine-bowl type, these Heart Shaped Accessory Holders have 10 kawaii variations of popular Sanrio & Sumikko Gurashi characters and colors. Which one will make its way to you?! Both are made of hard plastic and ooze Valentine's cuteness! Multipurpose, you can even put goodies or cosmetics inside in addition to your fave accessories."
Subscribers will receive either a case-type or bowl accessory holder in one of 10 kawaii designs this month. I received a small bowl made out of a sturdy plastic (melamine) material that's shatterproof. Not only is it cute, but it's practical and can hold many accessories, cosmetics, and more!
Zipper Gift Bags
The Zipper Gift Bags are the perfect reusable bags to hold baked goods, candies, or treats! I like to use mine for when I have to pack up foods on the go, like for my office or on a picnic. We're currently stuck in our homes due to Covid-19, but I can't wait to use these once we're allowed to go out again!
Chocolate Ball Pen
"Whether writing a sweet note to your crush, a diary entry to organize your thoughts & dreams, or even your signature, this Chocolate Ball Pen will be your go-to tool when jotting down important memos. Coming in milk, white, and strawberry chocolate color variants, this pen is appetizing to the eyes as well! And the golden ball chain makes carrying easy too."
Don't be fooled by this bar of chocolate! The Chocolate Ball Pen looks just like a bar of candy, but the hidden cap reveals a ballpoint pen. It comes with a golden chain, which makes it easy to attach this handy pen anywhere.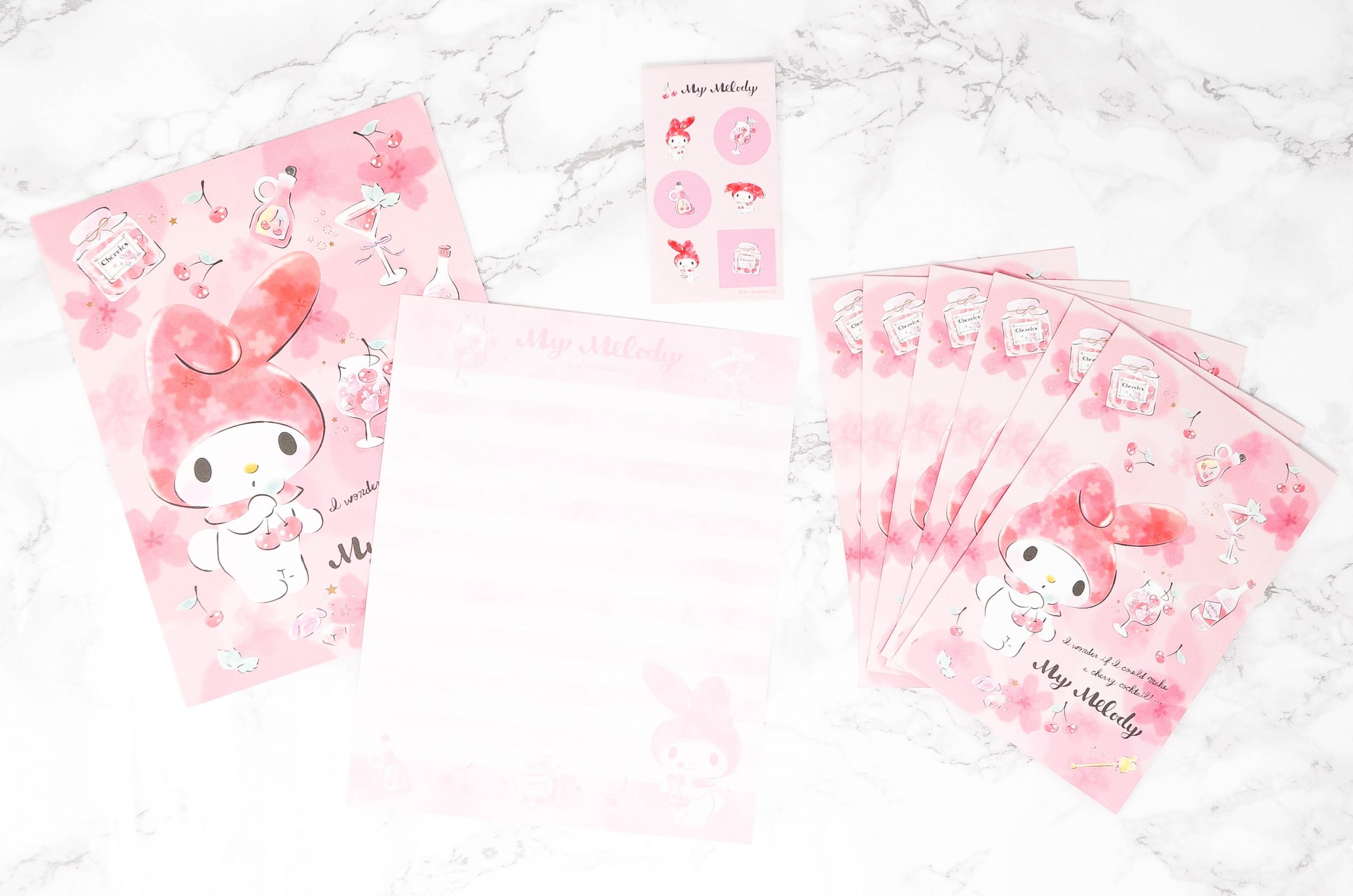 Sanrio Letter Set
The last item this month is the Sanrio Letter Set. Subscribers will receive one of 12 possible Character themed designs, and I received My Melody! Each set comes with 12 sheets of lined letter paper, 6 envelopes and a sheet of 6 stickers for you to decorate or seal the envelopes.
YumeTwins February 2020 Review – Final Thoughts
February's YumeTwins box was filled with many kawaii and sweet designs, including a handful of Sanrio Characters! I've grown up loving Sanrio, so this month definitely brought back some memories of my childhood. My favorite item this month was the Heart Shaped Accessory Holder – I'm a big fan of items being cute and practical and I've already filled this up with my daily cosmetics. I'm excited to see what other kawaii items are in store for next month!
Mary Vu – http://thepointofvu.blogspot.com