YumeTwins Review January 2018
YumeTwins is a monthly subscription box service from Tokyo Treat that delivers high-quality, kawaii Japanese items straight from Tokyo to your doorstep!   It centers around the "yume kawaii" culture which is a new kawaii movement recently emerged in Japan. Yume kawaii isn't just kawaii – it's a mixture of cuteness, fairytales and, importantly, a touch of darkness! They kindly sent us this box for review.
Subscription Details
YumeTwins is here to give you an authentic Japanese culture experience and provide you with the best experience possible through everything kawaii. They venture out to find high quality plushies, cute kawaii stationery, squishies and other surprises and deliver them in a super kawaii box! Best of all, shipping is free worldwide!
Each YumeTwins box is completely unique, ensuring each and every month's box will be as exciting as the last! Each monthly box includes 6-8 kawaii items ranging from plushies, squishies, practical goods, kawaii stationery & more!
Choose from the following – monthly subscription, 3-month, 6-month, or 12-month.
Here's a closer look at the items we received in the January YumeTwins…..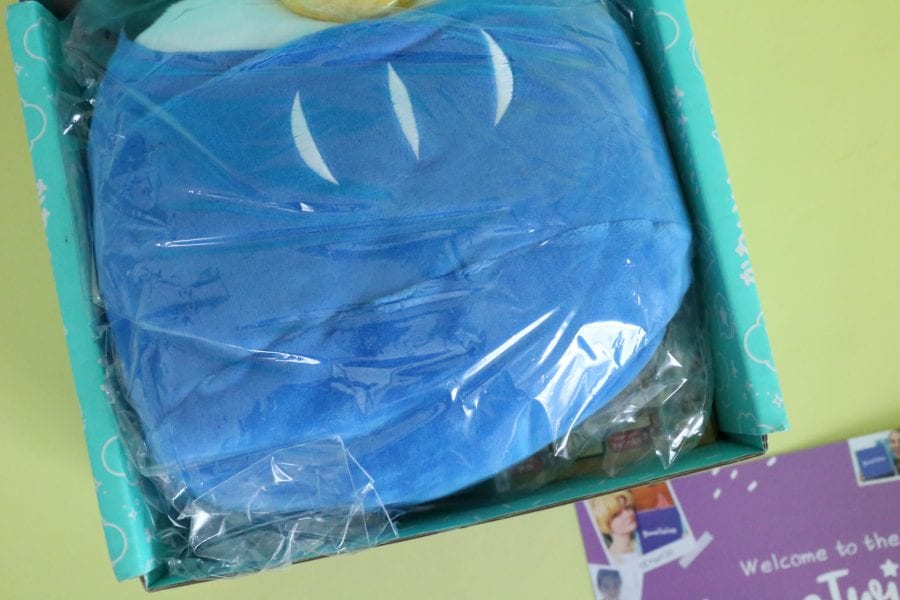 January Theme
The theme for the January YumeTwins box is Mythical Resolution.
Gudetama Folk Tale Food
Gudetama makes an appearance in your kawaii box subscription as a fusion of traditional New Year Japanese food and folklore! This mythical fusion gives a little bit of cute insight into what is eaten during New Year in Japan and what myths are talked about. This also comes with a piece of gum as a little extra treat!
This is such a fun little item to receive this month in honor of the Japanese New Year! At first I wasn't too sure what it was all about but when you open up the package there are the sweetest figurines depicting an adorable folklore meal. My daughter will get a kick out of this item! I imagine it will become an accessory for her barbies! I won't be telling her that they included a piece of gum as I am currently eating it! Oops…It does have a delightful taste of apple with a little hint of mint. Not a combo I would have imagined I would like but it is quite delicious!

Bread Animal Squishies
We love delicious looking (and smelling) squishies, and this month's kawaii squishies do not disappoint! These kawaii animal squishies are made in the image of tasty bread that is often found in Japanese bakeries! If you take a sniff, you will notice it also smells like fresh baked bread! A ball chain is attached so you can safely take your squishy around with you wherever you go!
This item will take the cake this month in our house. Not only is it adorable, Squishies have become quite the rage lately and although I would never admit this to my kids (I have vowed to not spend money on squishies) I actually get the craze! There is something relaxing and a little addictive about giving these little suckers a squeeze. I also love that it has a chain on it as well, which allows you to hang it off a backpack.

Disney Princess Nail Clippers
This month we included a kawaii Disney Princess Nail Clipper! This nail clipper is produced by Japanese manufacturer Green Bell, which is known as one of the top three metal cutting good producers in the world! These nail clippers also feature a variety of beautiful Disney Princesses to help motivate you throughout this year!
Yay! I love seeing useful items like this. This is one item is our house that we can never seem to find when we need it! These are going straight in my daughter's manicure bag and I am excited that my set doesn't need to leave my bathroom going forward. The details are adorable and it's a nice large clipper to make for easy clipping!

Disney Tsum Tsum Cute Calendar
With a new year comes all the new possibilities, and so you'll need somewhere to mark all those down! This kawaii Disney Tsum Tsum Calendar is perfect for those who love to plan and make fun schedules! As a cute addition, your calendar also comes with tons of kawaii stickers so you can easily mark those special days coming up.
How fun is this calendar! I love that this is included in January because who doesn't need a new calendar at the beginning of the year!? The best part is that the bottom opens up so the calendar fits perfectly on your desk! I am planning on giving this box to my 10-year-old daughter who just happens to be obsessed with Eeyore. I'm not even sure if obsessed covers it. She will lose her mind when she sees January is Pooh themed and Eeyore is front and center!

Marumofubiyori Clear file
One of Sanrio's newest characters, Moppu, from the Marumofubiyori series also makes an appearance in this month's kawaii box! This time he is on a clear file that we hope can help keep your goals organized as you head into this new year! This helps make a perfect set with the Moppu pencil and eraser from last month's Japan box!
Upon first glance, I wasn't too sure how this item fit with the box, or January theme, but I actually really love that this item in a continuation of last month's items. I may need to give this to Sarah to complete her set as she reviewed the December box. January is a great time to set goals and what better way to keep them organized then a fun file folder!
Wombat-San & Friends Large Daruma Plushie
Happy New Year! This month, we wanted to share a bit of Japanese culture in a kawaii way! The kawaii plushies this month feature the popular characters Wombat-san & Friends that have been transformed into Japanese darumas! We hope that Wombat-san and his friends help you reach your goals throughout this year!
Remember how I said that squishies seem to have taken over in the toy market these days? Well…this fun guy is not only cute but he's also pretty much a big squishie plushie! He is so comfy and cozy that he could easily double as a fun pillow. Can we also focus on the fact that they managed to sneak a pretty large stuffed plushie in the box? I think we all know the way to a kid's heart is with stuffed animals. Pretty great value if you ask me. Which I guess you are if you are reading this review. I think this guy will go to my son as he may feel a little jealous that my daughter is getting the rest of the box!
YumeTwins Review January 2018 – Final Thoughts
YumeTwins does it again! January was such a fun box with great value. When I saw that the theme was mythical resolutions I told Sarah that my daughter would go nuts over it. I swear mythical is her favorite word these days. I have to be honest that I don't really see the mythical theme to it but regardless each item was super cute and made the unboxing process fun! I appreciate the fact that there were a couple useful items along with the play items that the kids will go crazy over. My favorite items were the calendar and the keychain squishie because I know what a hit they will be with my daughter! I can't wait to see what else YumeTwins has in store for 2018!
XOXO