YumeTwins Review January 2019
YumeTwins is a monthly subscription box filled with kawaii goodies sourced directly from Japan! Each month you'll receive 6-8 fun items ranging from plushies, household supplies, stationary, and other cute items that you can incorporate into your day-to-day lives. Each month's box costs $35 with free international shipping! They kindly sent me January's box for review.
Box Details: Receive 6-8 kawaii items including plushies, stationary, wearables & accessories, household items & decor, toys and so much more. YumeTwins curates high quality, trendy items to give you the full Japanese kawaii culture and experience. They're all sourced from Japan, too!
YumeTwins Packages:
Monthly Plan: $35
3 Months Prepaid Plan: $100.50 ($33.50 per box)
6 Months Prepaid Plan: $192 ($32 per box)
12 Months Prepaid Plan: $378 ($31.50 per box)
Shipping: Free Worldwide Delivery
Here's a closer look at January's theme and the items I received this month….
January's Theme – Happy Zoo Year
2019 is the year of the pig, but as the new year rolls in, YumeTwins decided to celebrate by dedicating this box to ALL animals. You'll find cute animals and characters like the boar (of course), fish, and even a rockstar red panda!
Included in every box is a mini magazine that gives you in-depth details of each item in the box, upcoming news, and mini activities! If you are a subscriber, don't forget to scan your box in to earn points with their new rewards program!
Aggretsuko Plushie
Aggretsuko is a fairly new and popular Sanrio character. If you can't tell by her spunky looks, she's a red panda that's a rockstar! She has her microphone in hand to bring in the new year with a bang. I thought it was just a scary or angry fox at first, but the more I look at her the cuter she gets!
Kawaii Scrunchie & Badge Set
Lately, it seems like everything 90's is in, especially scrunchies! There are several different variations with this set, but I received the Sumikko Gurashi which was my favorite one. The scrunchie comes in a pretty pale blue hue with adorable Sumikko Gurashi characters printed all throughout. It also has a chain attached to it that you can use to hang it onto your bag so you'll never lose it. Each set also comes with a collectible pin.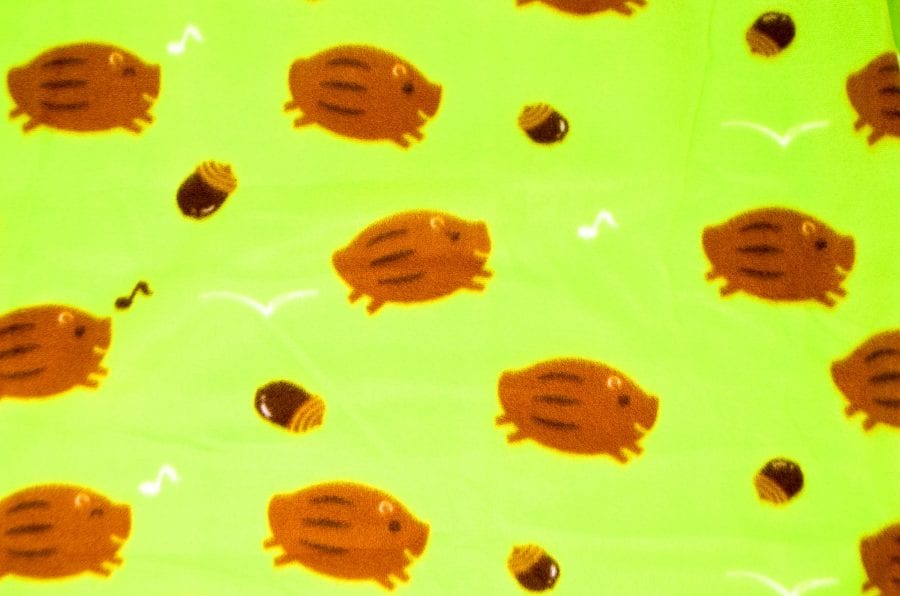 Kawaii Zodiac Boar Blanket
This lime green blanket features an all-over boar and acorn print that's super cute! I was a little disappointed by the size of it – it's really small and would best be used as a baby blanket. You can also use this to cover your lap, but don't expect to snuggle up under this.
Big Sanrio Stickers
This is another variation item where you can receive stickers featuring My Melody, Pompom Purin, or Gudetama. I got Gudetama, aka the lazy egg, and I'm obsessed! Each packet comes with 3 stickers and in 3 different designs. I can't wait to use these to decorate my planner!
Medetai Chopping Board
Unlike your typical cutting boards, this one is made of thin and flexible plastic material. It's more of a plastic sheet that can be used to chop up vegetables. I love the cute fish design which surely brightens up my kitchen with the vibrant colors. Plus, it comes with a hole at the top to hang it up with.
Medetai Kitchen Sponge
To match your new cutting board, YumeTwins included a Medetai Kitchen Sponge as well. How cute! The sponge is made up of 3 layers – 2 of the layers are made of foam while the third layer is tougher and ideal for scrubbing out tough stains.
YumeTwins January Review – Final Thoughts
YumeTwins is starting this month off right after a weak "Pokemon" themed box last month. I loved how they included two kitchen/household items because I know I'll get plenty of use out of those. Plus, the cutting board and kitchen sponge liven up my entire kitchen making it both cuter and more fun. I was a little disappointed with the Boar Blanket though because it truly was mini. It would have been nice to get an adult-sized one for the colder months.
Nonetheless, I was very pleased with this month's box and am already using my kawaii scrunchie as I'm typing this review! I can't wait to see what next month brings.
Mary Vu – http://thepointofvu.blogspot.com