YumeTwins Review January 2021
YumeTwins is a monthly subscription perfect for anyone who likes kawaii or licensed character items from popular Japanese brands. Each box will contain cute plushies and squishies, stationery, bags and pouches, accessories, or daily practical goods straight from Japan.
They kindly sent us this box for review.
Subscription Details
The YumeTwins subscription costs $35 per box on a monthly plan, with cost savings for longer term prepaid subscriptions. Subscriptions on 3-, 6-, and 12-month prepaid plans will cost $33.50, $32, and $31.50 per box respectively. Shipping ranges from $8.95-$10.95 per box depending on the available shipping courier for each country.
Each monthly YumeTwins box includes 5 items to give you an experience of Japanese culture through everything kawaii. Items range from plushies, toys, stationery, bags, wearable accessories, and practical goods curated around a theme.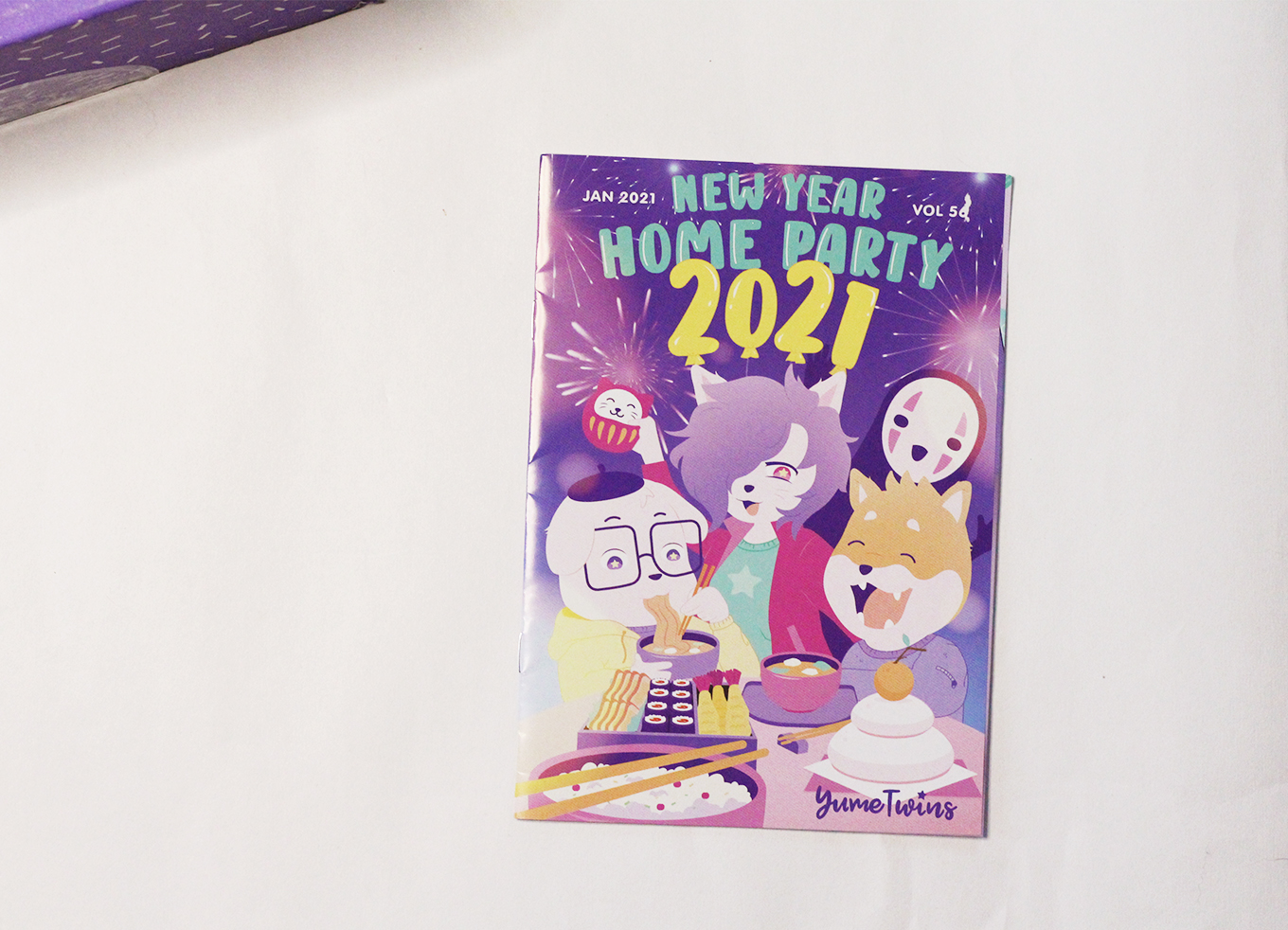 The theme for the January YumeTwins box is "New Year Home Party".
Each box comes with a cute booklet that provides a brief overview of the theme and pictures and descriptions of each item. The booklet also contains upcoming news, activities, details for a subscriber photo contest and prizes, and photos from the YumeTwins community.
Let's take a closer look at everything!
Shiba Chopstick Rest
This month, the box features a whole set of dining essentials. The first item is this super cute Shiba chopstick rest. The information card tells us that this rest can be used for forks, spoons, and knives as well! Right now, I just have it displayed as a cute decoration, but I love that it can be a practical item as well.
Ghibli No-Face Chopsticks
I love anything Studio Ghibli and am so happy to receive these chopsticks! I am embarrassed to admit that despite being Asian, my chopstick skills are really dismal. These chopsticks are made from solid bamboo with indents near the tip to prevent food from slipping – perfect for a person like me!
Shiba Serving Tray
"Better than a regular plate, this item's straight raised edges lend themselves perfectly to snacking in front of the TV, for instance, or anytime you're ready to relax and eat outside of the dining room! In a stylish half moon shape, you could even decorate with your favorite trinkets or fruit for a tasteful centerpiece! Use this tray to store leftovers as well!"
I love how multipurpose this tray is! It is really cute with a Shiba printed on, and text that says "I will stay with you". How sweet!
Shiba Bowl
To match the serving tray, we also got a cute Shiba bowl. There are three color variations for this, you could receive the bowl in red, black, or brown. This bowl is dishwasher safe, but not microwave safe.
Daruma Plushie Magnet
Loving this plushie version of a Daruma! There are seven possible variations for this according to the booklet. I got the one with a black cat. Daruma are a Japanese good luck symbol for good luck and fresh beginnings. I really like that this is a magnet to add some cuteness to my fridge.
YumeTwins Exclusive Pompompurin New Year's Plushie
Finally, we have the main item of the month – this super adorable Pompompurin plushie! This is a YumeTwins exclusive for Japanese New Year. I am loving these exclusive plushies! They make the box feel all the more special. Pompompurin is decked out here for the new year with a "hagoita" paddle and "hane", both items used to play a traditional badminton-like game to ward off evil spirits. This is possibly the softest and most huggable plushie I have received, I just can't stop squishing it!
YumeTwins Review January 2021 – Final Thoughts
I probably sound like a broken record by now, but YumeTwins really delivered again this month! I love the squishy and cute Pompompurin plushie and the daruma magnet. The dining set is not only cute, but also very practical. I could always use more bowls and trays, and it doesn't hurt to practice my chopstick skills using this cute pair. The items selected fit the theme perfectly. This subscription is perfect for you if you are someone who loves all things kawaii.
Toby & Rocket – http://www.tobyandrocket.com