YumeTwins Review July 2018
YumeTwins is a monthly subscription box filled with super kawaii goodies sourced directly from Japan! Each month you'll receive 6-8 fun and functional items ranging from plushies, household supplies, stationery, and other cute items that you can incorporate into your day-to-day lives. They kindly sent me this month's box to review.
Subscription Details
Box Details: Receive 6-8 kawaii items including plushies, stationary, wearables & accessories, household items & decor, toys and so much more. YumeTwins curates high quality, trendy items to give you the full Japanese kawaii culture and experience. They're all straight from Japan, too!
YumeTwins Packages:
Monthly Plan: $35
3 Months Prepaid Plan: $100.50 ($33.50 per box)
6 Months Prepaid Plan: $192 ($32 per box)
12 Months Prepaid Plan: $378 ($31.50 per box)
Shipping: Free Worldwide Delivery
Here's a closer look at July's box theme and the items I received this month….
July's Theme – Brunch Date
This month's theme is centered around all things brunch! This box was carefully curated with items that will help you enjoy a kawaii-filled brunch date with your friends and family this summer.
Included in every box is a mini magazine that gives you in-depth details of each item in the box, descriptions, upcoming news, and mini activities! This is both useful and helpful since many of these items don't come with instructions and if they do – they're not in English! This makes everything so much easier.
Kawaii Food Container & Hand Towel Set
Being someone who brings their lunch to work every single day, this became the star of the box for me! This month came with an entire two-piece food container set plus a matching character hand towel. There are three possible designs including Totoro, Kiki's Delivery Service, or Rilakkuma. I received the Totoro version, but all three designs are super cute. Better yet, these are microwave-safe!
Adorable Pet Lunch Cloth
This lunch cloth can be used to pack up your food containers and keep all of your utensils organized together during transportation. These also make for a cute mini tablecloth or lunch mat for your meals! The lunch cloth comes in 5 adorable animal designs.
Studio Ghibli Chopsticks
Chopsticks are my everyday utensil of choice and these Studio Ghibli ones are SO cute! These are crafted out of high-quality wood and are very sturdy. They measure 21 cm in length and come in 4 different designs. It's recommended to hand wash these to preserve the printed design.
Rilakkuma Coaster
The Rilakkuma coaster is made of a thick cork material that quickly absorbs any moisture. These come in 5 different designs and I'm in love with mine! I've been meaning to find a coaster to use for my desk at work and this is perfect.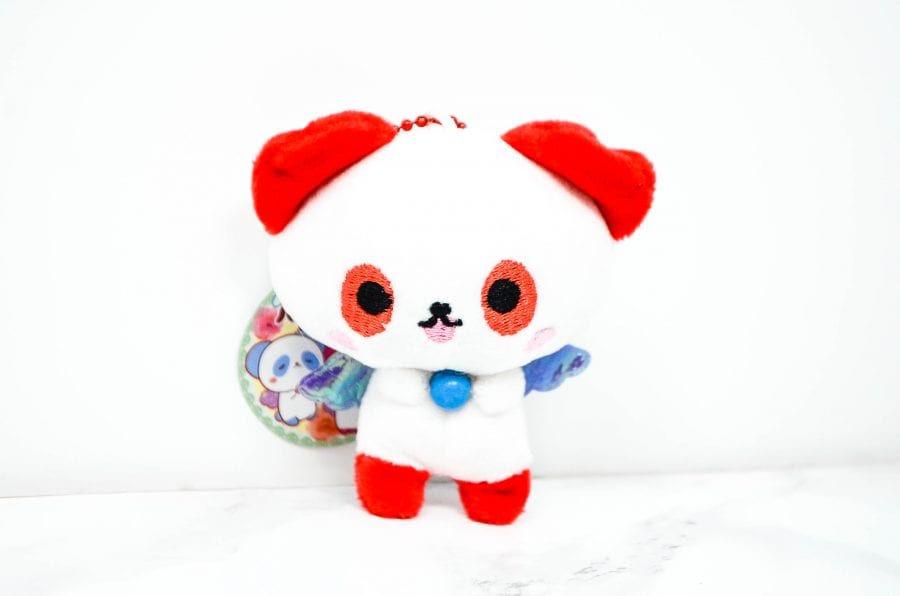 Angel Panda Kawaii Plushie
The Angel Panda Plushie comes in a miniature size and can be attached to bags or keychain rings. It comes in 8 different designs and each Angel Panda carries its own unique gemstone in its tiny arms. Too cute!
Gudetama Washi Tape
Gudetama is #1 favorite character in the whole world. He's a lazy egg and also my spirit animal. This roll of washi tape comes decked out with Gudetama's little yellow body sprawled out on toast. How could anyone resist this lazy egg?!
YumeTwins Review July 2018 – Final Thoughts
This is only my second time receiving the YumeTwins Box, but July's box has easily become my favorite! The box was filled with items that were both kawaii and functional. I can see myself using ALL of these items and in my day-to-day life as well! The variety was definitely there between product types including a plushie, stationary supplies, and very useful household/kitchen items. I'm a sucker for household/kitchen tools and my favorite item this month has got to be the Food Container & Hand Towel Set – I've been using these two containers non-stop since I've received them!
Mary Vu – http://thepointofvu.blogspot.com