YumeTwins Review June 2022
YumeTwins is a Japanese subscription full of kawaii or licensed character items from popular brands. Each box will contain cute plushies and squishies, stationery, bags and pouches, accessories, or daily practical goods straight from Japan.
They kindly sent us this box for review.
Subscription Details
The YumeTwins subscription costs $37.50 per box on a monthly plan. There will still be cost savings for longer term prepaid subscriptions. Subscriptions on 3-, 6-, and 12-month prepaid plans will cost $35.50, $33.50, and $32.50 per box respectively. Shipping cost varies depending on the available shipping courier for each country.
Each monthly YumeTwins box will still include 5-7 items to give you an experience of Japanese culture through everything kawaii. The box promises to include stationery, household and lifestyle goods, and character items. YumeTwins will also include YumeTwins Originals (these will be items designed by the YumeTwins team) and YumeTwins exclusive collaborations with brands like Sanrio to the subscription. They will also be featuring single brand or character boxes.
The June theme is "Kawaii Game Night". This box invites subscribers to have a fun game night stay-cation. It is packed with fun goodies to kawaii-fy your gaming setup.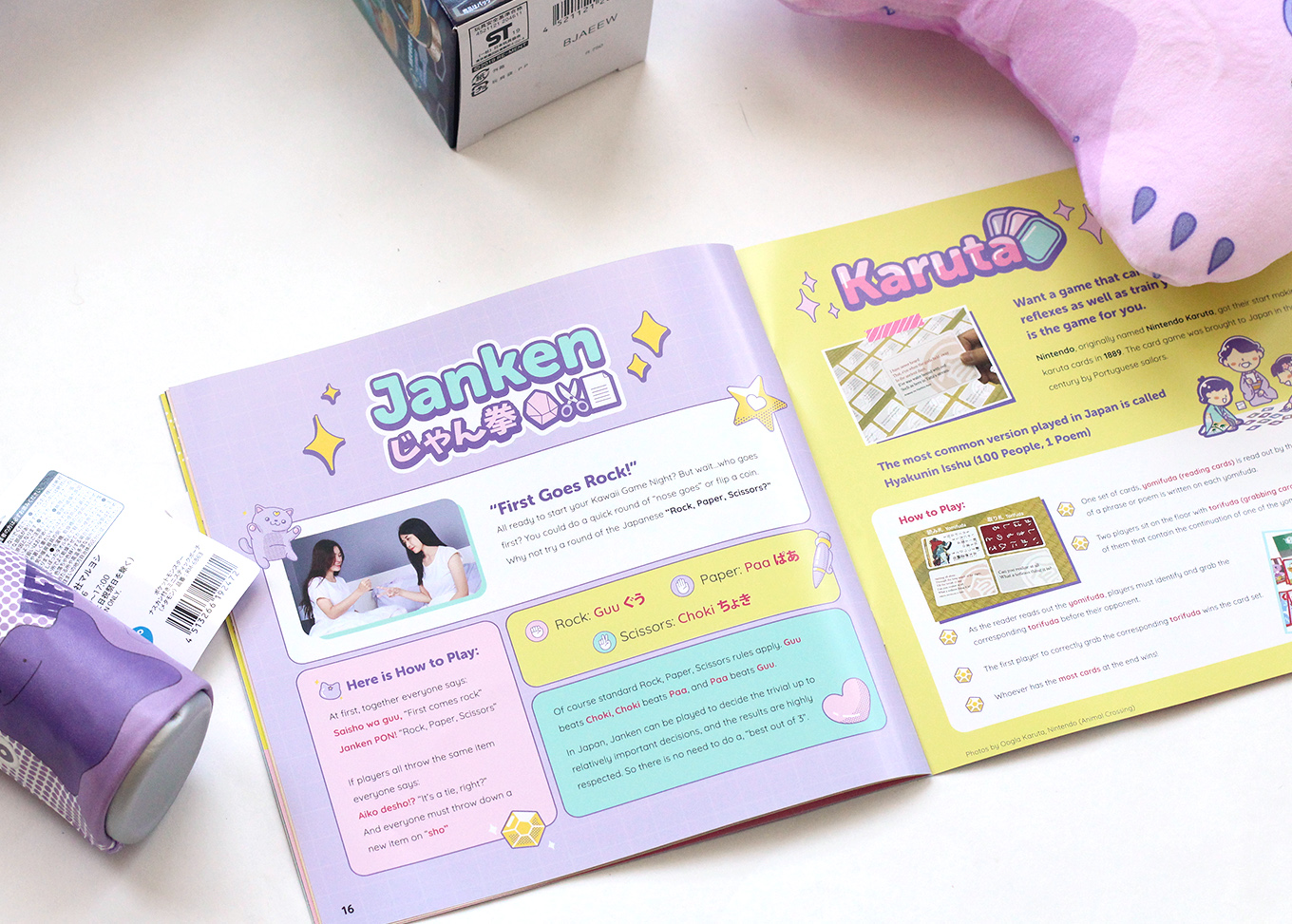 The accompanying booklet this month includes articles about the video game culture in Japan, Japanese game centers, and a close look at Kirby, a popular video game character. It even includes instructions for some simple Japanese party games like Janken (or Rock, Paper, Scissors) and Karuta.
Let's take a closer look at everything!
YumeTwins Original Magical Nyan Nyan Plush Controller
"YumeTwin's faithful mascot is here to guide you through countless dungeons, endless battles, and maybe even a rhythm game or two. Disguised as a kawaii controller, this fluffy plushie Nyan Nyan can help you no matter what games you are into."
This is just the cutest! I love all the little details, it looks just like a real controller! This pillow is indeed the best gaming companion. It does work really well as a lap pillow while gaming on my Nintendo Switch, or as a book rest.
Kawaii Kirby Re-Ment Mini Figure
"Flying in from Dream Land, the cute and squishy Kirby stars as the main focus of these highly detailed mini figures. Any space is instantly kawaii-fied with Kirby and friends playing around in different miniature settings."
Some assembly required. This little figurine comes in little parts that you get to put together. It is a little fiddly trying to get all those small pieces to fit, but it still is fun. All the little details are amazing.
Pokemon Juice Can Keychain Pouch
"Store your extra Pokeballs, Poke Candy, or Gym Badges in these Pokemon inspired juice can keychain pouches."
This will make such a cute pouch for coins or accessories. Looks exactly like a juice can! It comes with a clip that can be used to attach to bags or keys.
YumeTwins Exclusive Sanrio Loose Socks
"Sanrio characters accent these loose scrunchy socks reminiscent of the late 90s and early 2000s fashion trends. We all know fashions come back in style, and loose socks are back in full force!"
I never really got into the loose sock trend growing up, but I sure love them now for lounging around the house!
YumeTwins Mystery Item
This month's box included a random mystery item from a previous box. I received the All Purpose Rabbit keychain that was also in a previous box in collaboration with the character.
Final Thoughts
Another box full of adorable goodies! My favorites are the controller plushie (cute and actually rather useful!) and the loose socks. It is a little disappointing to receive a repeat item, but if you are new to the subscription, it is a great chance to get that item from a past box that you have been eyeing. I always love seeing how everything fits into the month's chosen theme, and YumeTwins did a great job this time around as usual. If you like cute character items like these, this is a subscription to try.
Toby & Rocket – http://www.tobyandrocket.com