YumeTwins Review May 2021
YumeTwins is a Japanese subscription full of kawaii or licensed character items from popular brands. Each box will contain cute plushies and squishies, stationery, bags and pouches, accessories, or daily practical goods straight from Japan. They kindly sent us this box for review.
Subscription Details
The YumeTwins subscription costs $35 per box on a monthly plan, with cost savings for longer term prepaid subscriptions. Subscriptions on 3-, 6-, and 12-month prepaid plans will cost $33.50, $32, and $31.50 per box respectively. Shipping ranges from $10.50-$12.50 per box depending on the available shipping courier for each country.
Each monthly YumeTwins box includes 5 items to give you an experience of Japanese culture through everything kawaii. Items range from plushies, toys, stationery, bags, wearable accessories, and practical goods curated around a theme.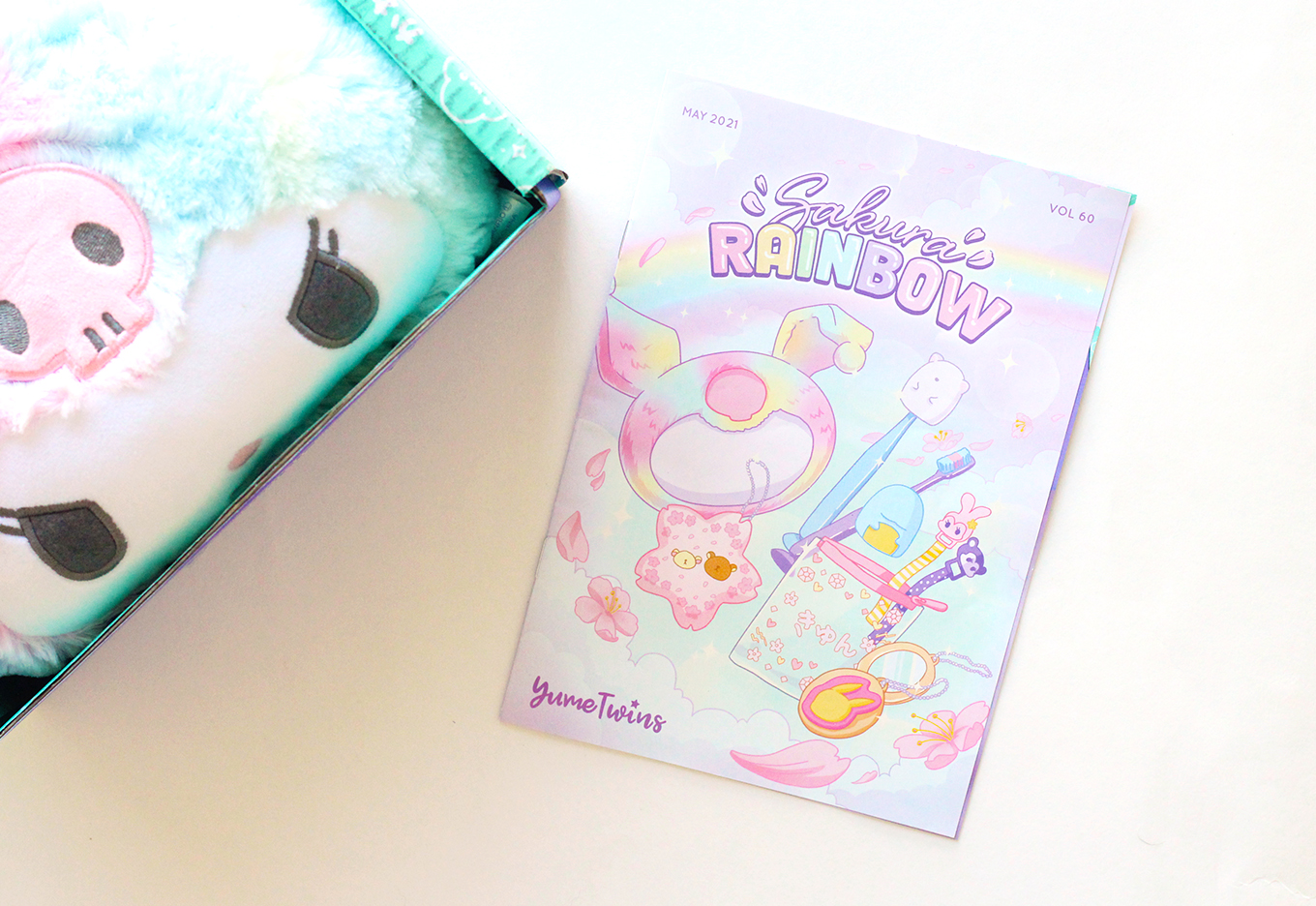 Each box comes with a cute booklet that provides a brief overview of the theme and pictures and descriptions of each item. The booklet also contains upcoming news, activities, details for a subscriber photo contest and prizes, and photos from the YumeTwins community. The theme for May is "Sakura Rainbow".
This month's feature article introduces purikura, a quintessential part of Japanese kawaii culture. Purikura is a photo booth that allows you to decorate all the pictures with cute borders and embellishments before printing. How fun!
Let's take a closer look at what is in the YumeTwins box!
YumeTwins Exclusive Kuromi Rainbow Cushion
"The fierce yet kawaii Kuromi is the star of this month's lineup! Rocking pastel rainbow colors in a YumeTwins Exclusive design, she's the perfect mascot for the 'Sakura Rainbow' world!"
She's too adorable! I love this version of Kuromi in pastel colors instead of her usual jet black fur. The cushion is soft and squishy, and the perfect size for cuddling with. I think YumeTwins did an amazing job with this exclusive plushie!
Rilakkuma Sakura Plush Keychain
"The special sakura shape of this mochi-soft item is the perfect backdrop to the idyllic scene depicted. Enjoy spring with Rilakkuma and friends, surrounded by cherry blossom petals dancing gently around a landscape of pink."
This plushie keychain has a ball chain that could be easily attached to your keys or bag. I love the cute design of Rilakkuma and Korilakkuma enjoying a moment with the spring flowers.
Sumikko Gurashi Standing Toothbrush and Cover
"Let the colorful cast of Sumikko Gurashi characters liven up a daily routine! Brush stands upright with a suction cup to save space, and stays hygienic after use with the mascot cover. Place the mascot at the brush's side when the bathroom needs a little more decoration!"
I love anything Sumikko Gurashi and this is no exception! I love the idea of a toothbrush that stands upright by itself, saves the need for a holder or a cup. You can keep the cover as a cute desk decoration when the toothbrush is no longer usable too! There are a total of 5 designs, and I got this one in blue and purple.
Pokemon Cookie Mirror
"With a textured design, this item looks and feels like a real sugar cookie with icing! But don't be fooled, you'll get daily use from this mirror encased in a Pokemon shaped rubber cover. Good for on-the-go and includes a keychain for easy attachment to a bag or pouch."
This comes in 4 variants, subscribers may get Pikachu, Eevee, Psyduck, or Mew. I got the one in Eevee and love it! Eevee looks so happy and content with a such a big smile. I love the colors chosen here. The mirror is protected by the rubber casing, and the ball chain to attach it to a bag is so convenient.
I Love You Zip Pouch
"Inspired by 'purikura' photo booths, with pop motifs and illustrations alongside trendy Japanese buzzwords like 'kyun' (aww!), this zip pouch is made of see-through vinyl and is very durable. Insert a picture or postcard and the layout of the design accents make it appear as if they've been put in a frame!"
This is the perfect size for holding stationery or other little bits and bobs. I love transparent pouches for convenience, so much easier when you can see what is inside!
Retro Kawaii Cable Band
"Having trouble keeping your earphones or charger cables from tangling? These retro kawaii cable bands compactly organize any pesky wires with an easy-to-adjust velcro band, with the add-on benefit of keeping bags or desks clean and neat too!"
This is not only practical but super cute! My desk is often a mess from all the wires from different devices, and bands like these help keep them neat and organized. Simply wrap the band around the cable, and insert the end of the band into the hold to secure.
YumeTwins Review May 2021 – Final Thoughts
This month's YumeTwins box came with a selection of kawaii items that really fit into the "Sakura Rainbow" theme! My favorite item is the Kuromi cushion, simply because it is so cute and huggable. I also love the selection of practical items, from cable bands to a toothbrush, that are not only cute but also really useful. The cable bands and pouch help me keep organized, while the toothbrush and mirror add a fun touch to my daily routines. If you are someone who is a fan of cute things and Japanese characters, then this is the box for you!
Toby & Rocket – http://www.tobyandrocket.com