YumeTwins Review November 2017
YumeTwins is a monthly subscription box service from Tokyo Treat that delivers high-quality, kawaii Japanese items straight from Tokyo to your doorstep!   It centers around the "yume kawaii" culture which is a new kawaii movement recently emerged in Japan. Yume kawaii isn't just kawaii – it's a mixture of cuteness, fairytales and, importantly, a touch of darkness! They kindly sent us this box for review.
Wow!  It looks like YumeTwins has upped their game since the last time I reviewed them and I'm loving it!  Packaging is such a huge part of the experience and this new packaging is really working for the over all feel of a YumeTwins subscription.  At first glance I'm already super pleased with what has been provided this month, but let's take a closer look.
Disney Tsum Tsum Fleece Lap Blanket
This licensed Disney Tsum Tsum blanket is a great way to keep warm anywhere as it feels amazing and is super portable!
So cute!  This blanket is the perfect size for the kiddos riding in the car.  I use to love cuddling up with a blanket in the car on road trips and this would be the perfect size for the niece or nephew as they road trip to come see me!
Sanrio Little Twin Stars Letter Set
Sanrio's Litte Twin Stars Letter Set is a great tool to send friendly letters and leave cute notes that will make anyone smile!
So adorable!  I use to love letter writing as a kid and had a couple pen-pals growing up.  New stationary was always such a big deal for me.  It was much harder to find cute stuff like this when I was a kid.  I just might have to take up letter writing again.  My niece might be receiving a lot of letters from me in the future.
AMUSE "Poteusa Loppy" Rabbit Plushie
These AMUSE kawaii plushies are so soft and delightfully huggable! The perfect plushies to spread happiness and delight far and wide!
Cute!  There are quite a few different plushies that you could have received.  All of them are wearing a different clothing item.  I'm pretty happy I received the one with the toque.  It's just too cute.
Pokémon Mini-Pouch
A kawaii Pokémon pouch with a zipper and a bag clip attached so that you can feel safe carrying items with you on your journey to become a Pokémon master!
Again, there are a number of different pouches that were sent out.  I love the variety YumeTwins provides.  This makes every subscription just a little bit different.  You never know what you will get!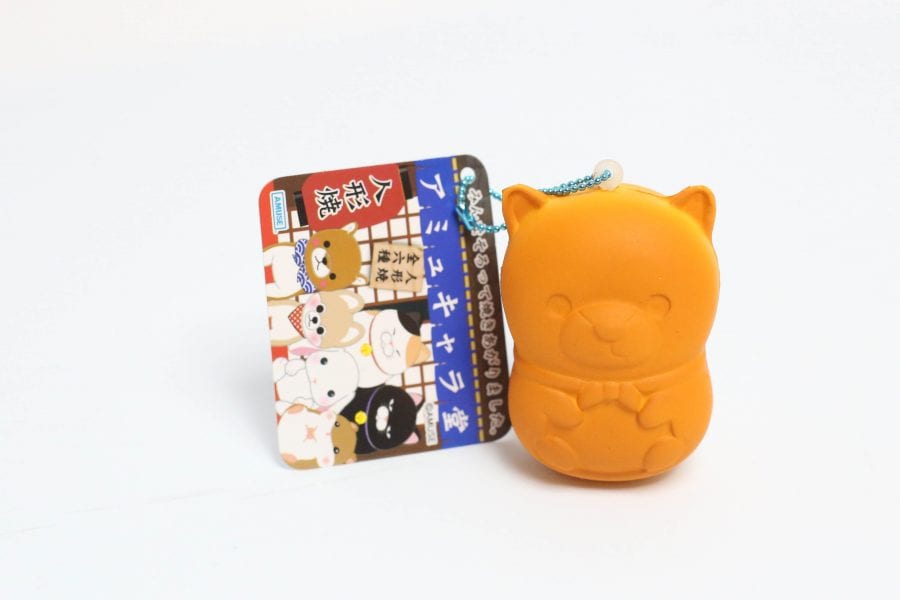 AMUSE Character Bakery Squishies
Various AMUSE characters re-imagined as baked goods is the inspiration for these delicious looking squishies! While you may be tempted to take a nibble, we recommend enjoying squeezing and squishing these instead!
I've seen a lot of items like this attached to cell phones, but I would prefer to use this on a key chain.  It could also be attached to a back pack or other bag!
Sanrio or Doraemon Key Cover
These Sanrio or Doraemon 25mm width key covers are an easy way to make an item you use on a daily basis kawaii! You'll never forget your keys because you'll never want to be apart from these cuties!
Ok, confession time, I have never been a fan of Hello Kitty…. But I squealed/evil laughed when I saw this!  Immediately after photographing it I put it on my house key.  Our place can be quite dark and I always have a hard time finding the house key on my ring at night.  This is the perfect solution!  Also, I think my husband will roll his eyes and think it's the sillies thing ever, which makes it all the better!!  I hope he has to use my keys often, because I'll get a lot of joy out of him shaking his head as he uses a Hello Kitty key cover!  I might have to go buy one for every key on my chain!
Sanrio Ruler
This kawaii licensed Sanrio ruler is a versatile good that can be used whenever you need to measure something, want to draw, or are doing other handwritten activities!
I love useful items!  Even if it is a ruler.  It's so funny how often you could use an item like this and never have one around, but once you know it's there you think how you could have ever lived without it!
YumeTwins November 2017 – Final Thoughts
Ok, I'm seriously impressed with this month's box.  I don't know if it's because of the new packaging or just the items provided, but I really loved reviewing this one!  I think it was the Hello Kitty key cover that did it for me.  YumeTwins really can be the cutest box on the market, which is how they actually brand themselves, so it's good to see they are meeting the standards!  I feel like my niece would be obsessed with this box and it might just make the perfect Christmas present for her!
-Shonah