YumeTwins Review November 2020
YumeTwins is a monthly subscription filled with kawaii goodies delivered straight from Japan to your doorstep. Boxes delivered each month are filled with items ranging from cute plushies and squishies, stationery, bags and pouches, accessories, daily practical goods, and licensed character items from popular Japanese brands. They kindly sent us this box for review.
Subscription Details
Each YumeTwins box includes 5 items to give you an experience of Japanese culture through everything kawaii. Items range from plushies, toys, stationery, bags, wearable accessories, and practical goods curated around a monthly theme.
The YumeTwins subscription costs $35 per box on a monthly plan, with cost savings for longer term prepaid subscriptions. Subscriptions on 3-, 6-, and 12-month prepaid plans will cost $33.50, $32, and $31.50 per box respectively. Shipping ranges from $8.95-$10.95 per box depending on the available shipping courier for each country.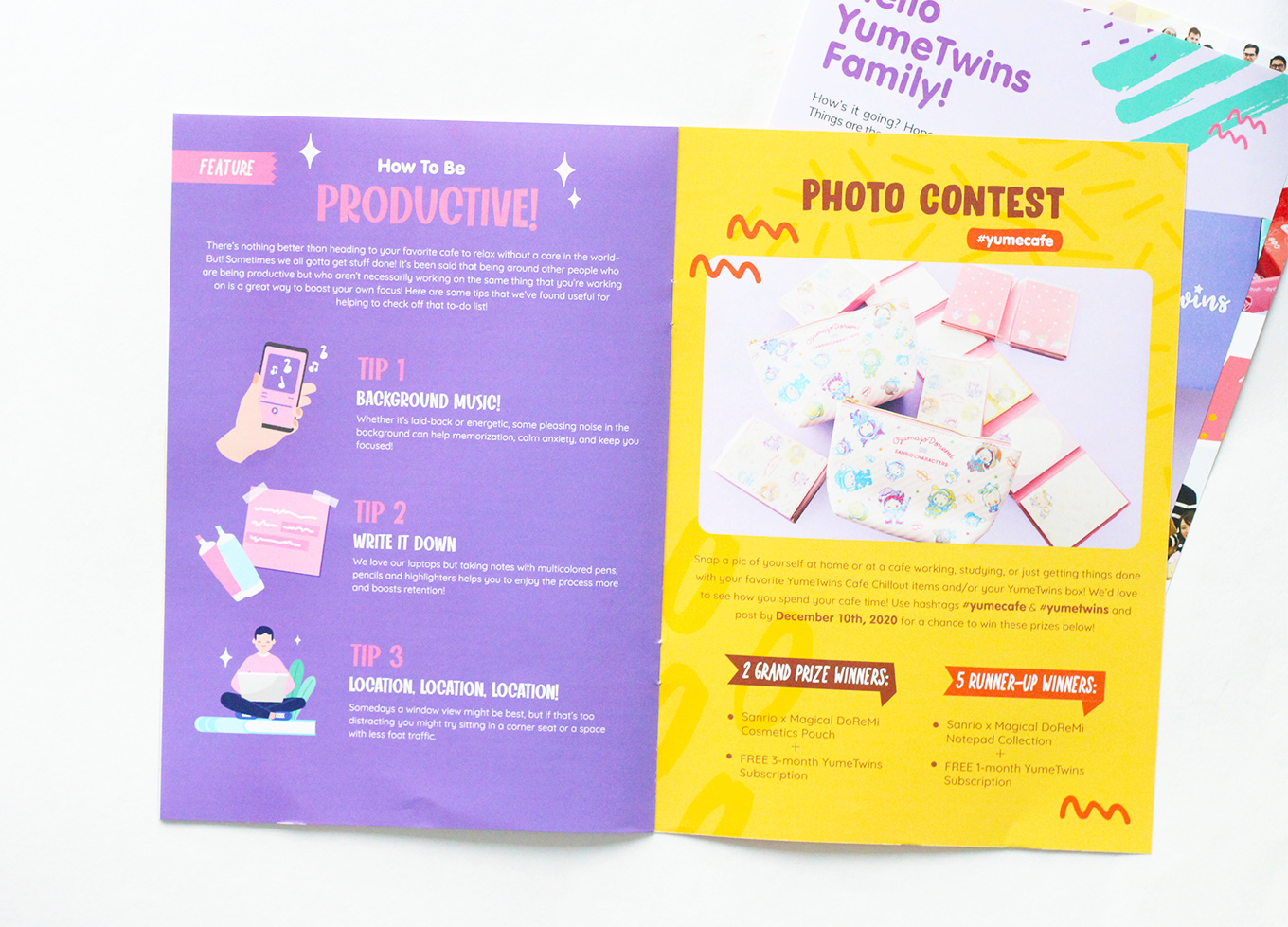 The theme this month is Cafe Chill Out. Let's take a closer look at everything in the box!
Each YumeTwins box comes with a booklet that provides a brief overview of the theme and pictures and descriptions of each item. How cute is that cover design of little animals enjoying their box goodies! The booklet also contains upcoming news, activities, details for a subscriber photo contest and prizes, and photos from the YumeTwins community. Be sure to use #yumetwins on social media for a chance to be featured in the next booklet!
Kawaii Character Plush Bag
The first item in the box is this super cute and soft plush bag. There are 9 variations of this bag you may receive, I got this one of a Sumikko Gurashi character. This is not only cute but very practical! The bag is quite spacious, with a zippered front pocket and inner compartments to keep things organized.
How cute is this little tail graphic on the back!
Giant Milk Carton Pouch
The next item is a pouch shaped like a milk carton. The pouch is made of water resistant material, and is perfect for pens, stationery, or accessories. I have been using mine to hold my eyeliners and mascaras. There are a total of 5 variations you can get.
Tsum Tsum Light Bulb Erasers
I love this! I am a huge Disney fan and these little erasers are so cute. They come in a light bulb shaped bottle with a total of 12 erasers in the bottle. There is a metal ball chain that you can use to attach the light bulb container to your bag.
Dreamy Nail Polish Highlighter
Continuing with the stationary items, we next have a cute highlighter shaped like a nail polish bottle. According to the YumeTwins booklet, the little bunny on the bottle is a popular character in the group Cotton Candies, and she is a cotton candy fairy bunny. That's adorable! There are 5 color variations, and I received the one in green.
Sanrio Reusable Pocket Straw
The last item is a set of Sanrio silicone straws. These are foldable to fit into the included carrying case. I love that it also comes with a brush for washing the inside of the straws. These are so convenient to just toss into my bag. Cute and eco friendly at the same time!
YumeTwins Review November 2020 – Final Thoughts
This is another great box from YumeTwins! They did not disappoint when it comes to delivering on the cuteness. I love that the items this month are all practical and functional. My favorite item is the Sumikko Gurashi plush bag. There is a back to school theme with this box, with the pencil pouch, highlighter, erasers, and straws. If you are one who loves kawaii items, definitely give this box a try.
Toby & Rocket – http://www.tobyandrocket.com