YumeTwins Review October 2020
YumeTwins is a monthly Japanese subscription filled with kawaii goodies delivered straight from Japan to your doorstep. Each month, you will receive a box filled with items ranging from cute plushies and squishies, stationery, bags and pouches, accessories, daily practical goods, and licensed character items from popular Japanese brands.
They kindly sent us this box for review.
Subscription Details
Each YumeTwins box includes 5 items to give you an experience of Japanese culture through everything kawaii. Items range from plushies, toys, stationery, bags, wearable accessories, and practical goods curated around a monthly theme.
The YumeTwins subscription costs $35 per box on a monthly plan, with cost savings for longer term prepaid subscriptions. Subscriptions on 3-, 6-, and 12-month prepaid plans will cost $33.50, $32, and $31.50 per box respectively. Shipping ranges from $8.95-$10.95 per box depending on the available shipping courier for each country.
The theme this month is Happy Halloween. Let's take a closer look at the box I received this month!
Each YumeTwins box comes with a cute booklet that provides a brief overview of the theme and pictures and descriptions of each item. The booklet also contains upcoming news, activities, details for a subscriber photo contest and prizes subscribers are eligible to win. If you are a subscriber, be sure to scan the included QR code to earn points on their rewards program!
Cinnamoroll Devil Pouch Plushie
"Cinnamoroll is dressed up in costume and ready to go trick or treating! This plushie is a YumeTwins x Sanrio exclusive! Our in-house designer coordinated with Sanrio to get the perfectly spooky-cute accents just right, and we're so happy to share it with you!"
I am loving this spooky but cute version of Cinnamoroll! It is perfect for Halloween. There is a zipper fastened pouch on the back of this plushie that makes it practical as well as cute! You can fit candies and small accessories in this pouch. The plushie also has a strap that allows you to attach it easily to bags or backpacks.
Hello Kitty Surprise Choco Egg
The next item is a surprise choco egg to help celebrate Halloween! If you are familiar with Kinder Surprise eggs, this is similar. Inside the chocolate egg is a capsule containing a Hello Kitty costumed figurine. There are 23 variations ranging from a robot, cheerleader, sushi kitty, Evangelion, Rascal, and other anime namesakes. I can't wait to see which one I got!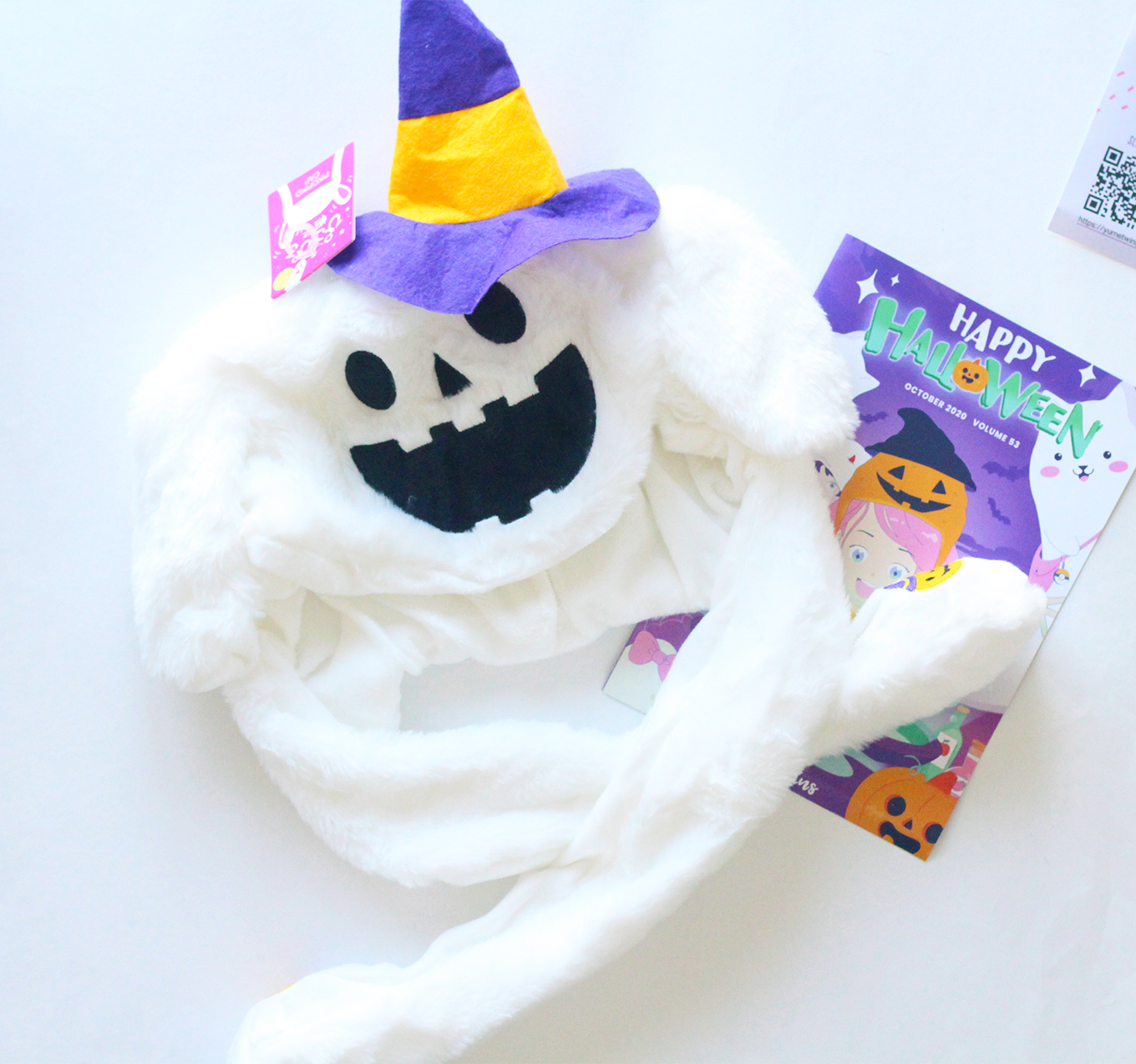 Sanrio & Ghoulish Trio Animated Long Hat
"Animated Long Hats are a staple of festive fun around the world, and you'll be feeling the Halloween spirit in no time with these entertaining hats! Just squeeze the bottom of the hats and the air-pump hidden inside will bounce the ears or wings up and down! This item is great for fun Halloween pics, selfies, or insta stories! Made of light & fluffy material, your hat will feel soft to the touch and will be enjoyable to wear all night trick or treating! Hat is free-size, meaning that anyone from kids to adults are able to wear it comfortably and have fun!"
Another super cute item! According to the booklet, there are 8 variations of this hat. I got the white ghost character in a purple witch hat! It's so cool how squeezing the arms will make the ears go up and down. We definitely made a bunch of silly videos and stories with this. This will also be perfect for Halloween zoom parties!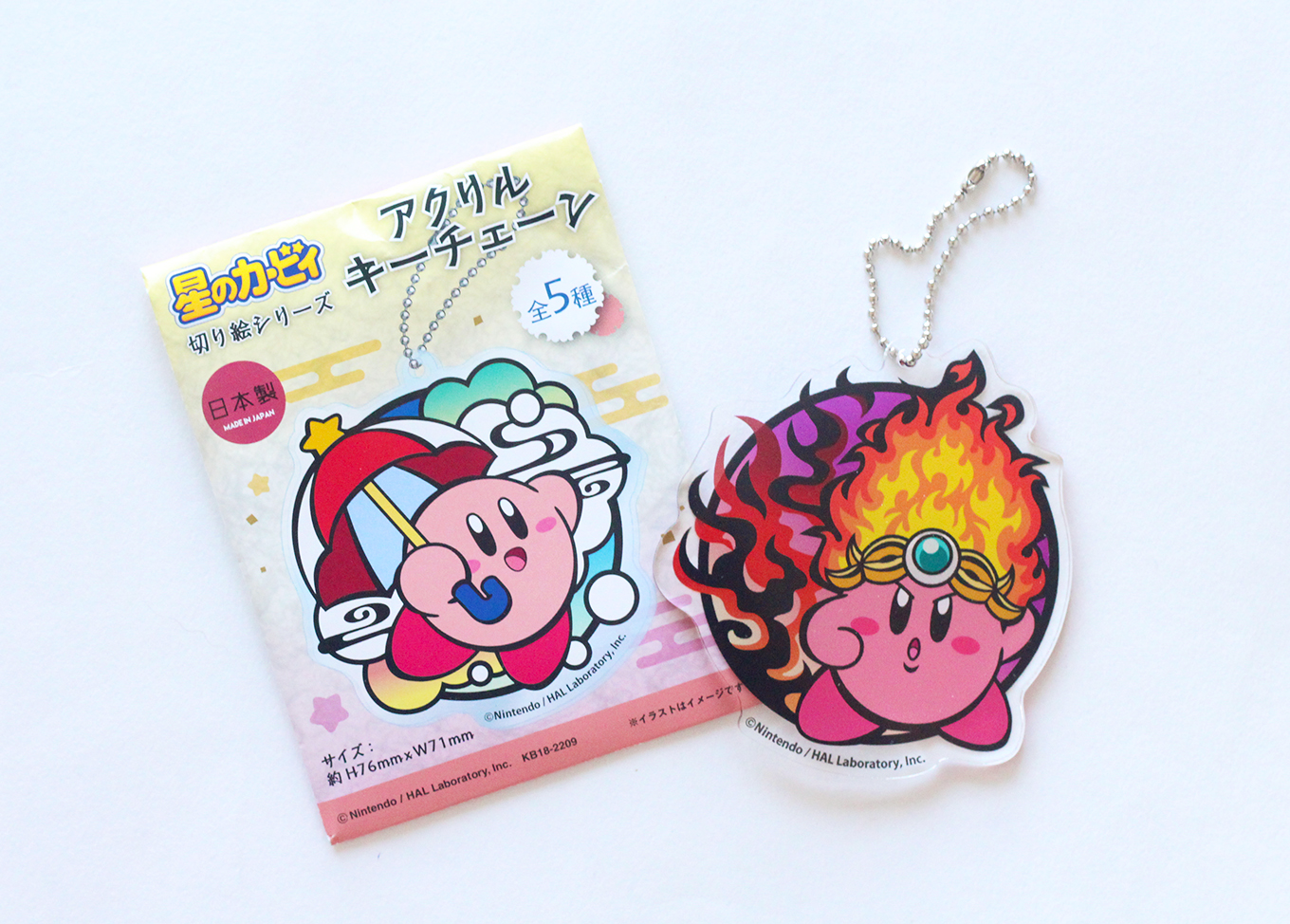 Nintendo "Kirie" Keychain
The next item is a stylish and cute keychain featuring a Nintendo character chosen to represent the imagination and costume traditions of Halloween. You can receive 1 of 5 Kirby variations or 1 of 3 Pokemon characters. I received Kirby in a Fire costume! I love that the art style here imitates the traditional Japanese paper cutting art of "kirie", where the artist uses cut out lines laid against a contrasting background to make the cut out design visible.
Halloween Ghost Bath Bomb
The final item in the box is a bath bomb in keeping with the spooky theme! You will get 1 of 2 variations, Ghost Friends or Horror Ghost Party. As an added surprise, there is a ghost mascot toy hidden in the bath bomb that will be revealed after the bath bomb is dissolved. That is so fun! I can't wait to use this to find out which toy I got.
YumeTwins Review October 2020 – Final Thoughts
This is my first time reviewing the YumeTwins box, and I am so happy with it! My favorite item is the Cinnamoroll plushie. He is not just super cute but also functional! I loved the Halloween themed long hat which is so fun and the Hello Kitty choco egg. The Kirby keychain is really cute, and I loved the addition of a wellness item in the bath bomb. YumeTwins curated a box that is so suited to the Halloween theme, and lived up to all my kawaii expectations. I am so excited to see what else is to come in next month's box!
Toby & Rocket – http://www.tobyandrocket.com