YumiBox Review January 2017
YumiBox is a monthly subscription box that was created to bring back whole grains and to inspire healthy carbohydrate choices for overall health, as well as blood sugar management. Every month they will send you a box containing a bag of savory whole grain mix, and a bag of breakfast oatmeal mix. They kindly sent me this box to review.
Last month I got into details about my high-maintenance diet, and how strict I am when it comes to the food I put into my body. I won't bore you with the details again, but let's just say that today's review is a food subscription box that I 100% approve of, and that says a lot coming from me.
Here's a look at the whole grains we received in our January box:
YUMiGRAINS: RATATOUILLE DELIGHT – Savoury whole grain mix
Did someone say Ratatouille? Our Tomato-y twist on a French Classic will be sure to fill your new year with lots of flavour!
Key ingredients: Barley, quinoa, freekeh, black lentils, wheat berries, tomato, onion, garlic, celery seeds, basil, sage, oregano, parsley, lavender, thyme
I love, love, love that they include a savoury grain mix. It makes for a quick & easy lunch. You could cook this up, add whatever veggies you have in the fridge, maybe some greens, and you have yourself the perfect little meal. The recipe they included for this mix is Ratatouille. It looks super easy to make, and will be perfect for dinner.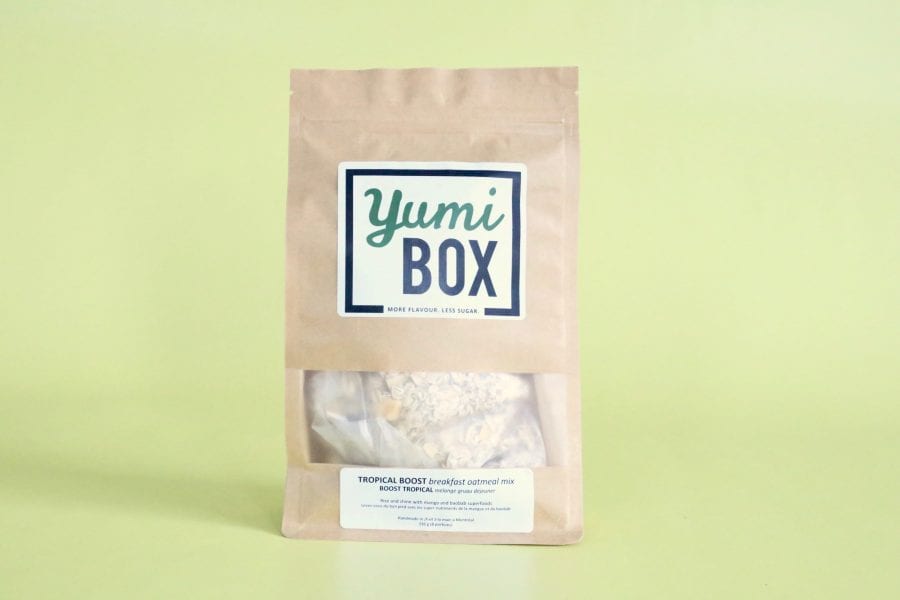 YUMiOATS: TROPICAL BOOST – Gourmet breakfast oatmeal
Rise and shine with our mango and baobab superfoods. Packed with antioxidants, especially Vitamin C! Feel the warmth from the sun.
Key ingredients: oats, freeze dried mangoes, baobab fruit powder, almonds, poppy seeds
I have heard amazing things about baobab and have always wanted to try it. It has a crazy amount of health benefits. I think this is a great little whole grain blend for the New Year. The recipe to go along with this mix is Mango Baobab Smoothie Bowl. It is made with banana, mango and almond milk. Luckily I have all of these ingredients in the fridge/freezer as we speak. I will DEFINITELY be making this tomorrow.
YumiBox Review January 2017 – Final Thoughts
Ok, so here's what I honestly think. The very first time I received this box (June of last year) I wasn't too excited about it. But now that I have taken some time to appreciate the simplicity of the subscription, and the fact that it promotes a healthy lifestyle, I am actually a HUGE fan. I cooked up last month's savoury mix and served it with my Vegan Christmas dinner, it was perfect! And thanks to their breakfast blends, I always have something quick and easy to make in the morning. I really do love this subscription. I plan on making a smoothie bowl tomorrow and am going to use the Ratatouille mix to make some healthy salads this month. I'm actually really excited about it. Yes, I really do get excited about healthy foods……I won't deny it.
XOXO