Carnivore Club Spoiler September 2018
Carnivore Club is the world's first subscription service featuring premium cured meats delivered to your door.
 Every month they feature a new artisan. Each of them blending passion and craftsmanship to create some of the finest cured meats in the world. Every artisan is different. Every box is unique.

 Whether it's French Charcuterie, Italian Salumi, or South African Biltong, the premium meat from Carnivore Club is a flavor experience your mouth won't soon forget.
---
Here's a peek at the September Snack Box from Carnivore Club:
McSweeney's meat snacks are crafted with the utmost care and attention. They use only the finest cuts of lean meat and a blend of carefully selected spices marinated in small batches and smoked over Canadian maple hardwood. McSweeney's comes from modest beginnings and over the past 25 years they have developed into a brand that's trusted from coast to coast.
And here's a peek at the September Classic Box from Carnivore Club….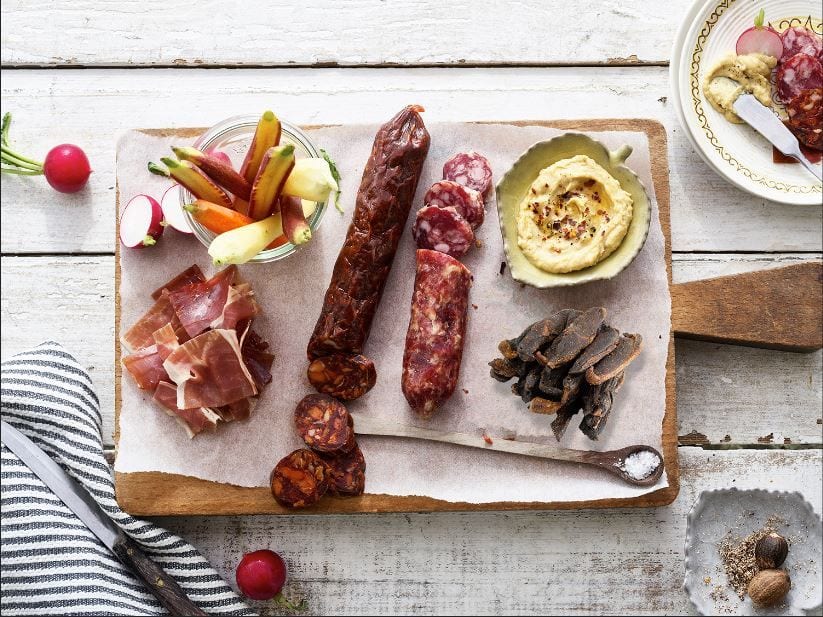 Florence Meats
Before moving to Canada, Slovenian-born Mario Goriup owned and operated a butcher shop in Johan-nesburg, South Africa for 25 years. With his European background, Mario's famous prosciuttos, pork sausage, and salamis, quickly ensured his success. After a visit to Canada, Mario recognized a good business opportunity and made the decision to emigrate from South Africa and move to Oakville. In 1977, he opened Florence Meats.
Kurtzie's Gourmet Deli
The Great Canadian Meat Company was founded in 1992, in Whitby, Ontario, Canada as a two-man operation with their flagship product, our Authentic Dry Pepperoni. Since then they have expanded the brand to include Kurtzie's Gourmet Deli, branching out into specialty sausages and salami products.
Monte Nevado
Monte Nevado's history goes back to a family from the highlands of Segovia, an area exposed to the winds of the nearby snow-capped mountain peaks with extraordinary climate conditions for curing ham. Monte Nevado is recognized for their slow and lengthy natural curing processes, which requires the selection of the highest quality hams with higher fat content.
---
Box Details: Carnivore Club has three subscription options to choose from….
Classic Box: The Classic box is delivered to your door with 4-6 premium handcrafted cured meats in every box. The classic box gives you exclusive access to handcrafted salamis, prosciuttos, bacon, and more that you won't find in your local grocery store!
Snack Box: Watch their jaw drop in awe, give the gift of cured meats. The Snack Box is packed with 4-6 meats snacks, like jerky to meat sticks, biltong, and much more! The snack box is the perfect gift for carnivores who enjoy their meat-to-go.
XOXO